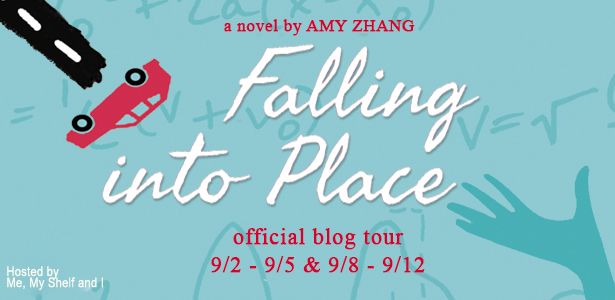 Welcome to Swoony Boys Podcast! This is our stop on the Falling Into Place Tour hosted by Me, My Shelf and I. We are so excited to be a part of this one and are looking forward to sharing our thoughts on FIP. While you're here, don't forget to enter the giveaway at the bottom of the post! You don't want to miss it! Here we go:
*****
Falling Into Place
by
Amy Zhang
Published by
Greenwillow Books
,
HarperCollins
on September 9th 2014
Genres:
Contemporary
Pages:
304
Goodreads
Buy the Book
On the day Liz Emerson tries to die, they had reviewed Newton's laws of motion in physics class. Then, after school, she put them into practice by running her Mercedes off the road.

Why? Why did Liz Emerson decide that the world would be better off without her? Why did she give up? Vividly told by an unexpected and surprising narrator, this heartbreaking and nonlinear novel pieces together the short and devastating life of Meridian High's most popular junior girl. Mass, acceleration, momentum, force—Liz didn't understand it in physics, and even as her Mercedes hurtles toward the tree, she doesn't understand it now. How do we impact one another? How do our actions reverberate? What does it mean to be a friend? To love someone? To be a daughter? Or a mother? Is life truly more than cause and effect? Amy Zhang's haunting and universal story will appeal to fans of Lauren Oliver, Gayle Forman, and Jay Asher.
***Early Praise***
"The breezy yet powerful and exceptionally perceptive writing style, multifaceted characters, surprisingly hopeful ending, and pertinent contemporary themes frame an engrossing, thought-provoking story that will be snapped up by readers of Todd Mitchell's Backwards and Gayle Forman's If I Stay." -School Library Journal
"The haunting story of a suicide attempt gone awry as high school junior Liz Emerson drives her Mercedes off the road, winding up in a coma…Zhang writes with confidence and finesse, and many readers will be moved as Liz recognizes the lives she has damaged." -Kirkus Reviews.
"An impressive debut . . . should appeal to readers who sobbed through Jay Asher's Thirteen Reasons Why." -Booklist
What We Loved:
You already know we jump at every opportunity to pick up and support debut novels. That's what sparked our interest in Falling Into Place, but there was a lot more between the covers that held our attention. Let's talk about a few of our favorite things:

Characters–  FIP contains complex characters who aren't always what they appear. There are so many layers that make up a teenager who is growing up and discovering who they really are and all of that is explored here.
Writing– Amy Zhang knows how to tell a story. We enjoyed reading the different time-frames and looking for changes and clues in all of the characters. This is one debut that will tug at your heartstrings and have you feeling so many things. Her style is gorgeous, almost lyrical, and will have you clinging to every word.

Topic– Complex characters and beautiful writing are a great combination. When you add to that mix an author who isn't afraid to tackle heavy content you have a winning combination. Zhang doesn't shy away from topics that are often taboo.

Narrator– We loved the surprise of who the "voice" of the story was. We won't spoil it for anyone, but it was such a unique twist that we have to vaguely mention how much we enjoyed it.

The Girls:
Let's be honest, Liz Emerson is the definition of a bully. She's the kind of bag girl that should be easy to dislike. But for some reason we couldn't stop ourselves from feeling for her. Yes, she did some terrible,  horrible things. No, she's not perfect. At all. But it's actually those flaws that we kind of loved. When you get to know Liz, really know her, you see her for what she truly is. She's someone that, despite everything going on around her and to her, is strong. It takes her some time to realize who she truly is and that being yourself and facing your problems head on is so much easier than living life with your walls up and not dealing with your problems. When she started to figure things out we were right beside her cheering her on.


Bottom Line:
If you're looking for a heartbreaking and beautiful read that will put you through a gauntlet of emotions, Falling Into Place is for you. It's the kind of debut novel that sticks with you long after you turn the last page.

Verdict:
Rating Report
Cover
Characters
Plot
Writing
Swoon
Overall:
4
***About Amy Zhang***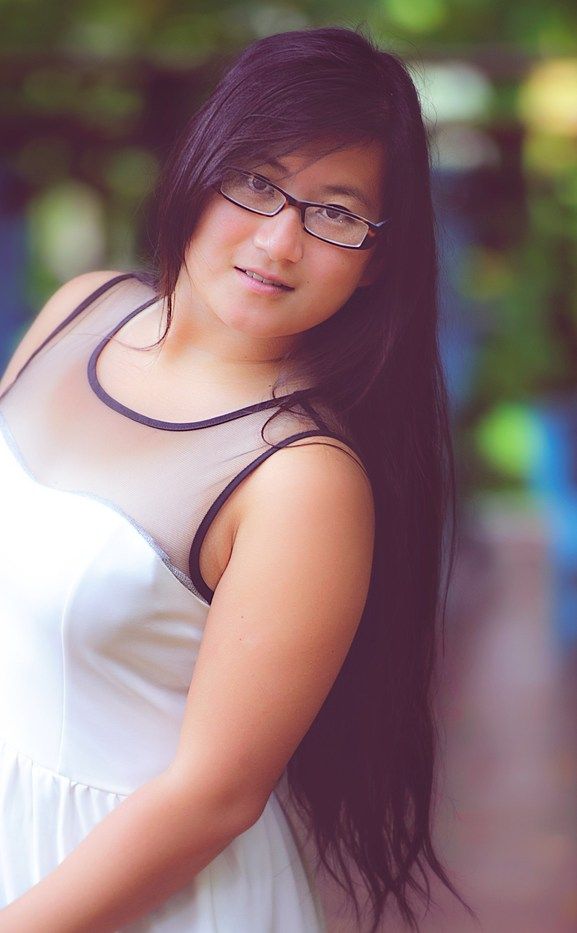 Amy Zhang used to have lots of imaginary friends. When people told her to grow up, she turned her imaginary friends into characters and started telling their stories. When she isn't writing, she can be found playing piano, hitting balls on the tennis court, or struggling through her weekly existential crisis. She lives in Wisconsin with her family.
Find Amy Here:
Website | Facebook | Twitter | Goodreads | Tumblr
***GIVEAWAY***
Must be 13+ To Enter | Ships only in US.

1 Winner will get a finished copy of FALLING INTO PLACE.
a Rafflecopter giveaway
Good luck and make sure you check out the other stops on the
Falling Into Place Blog Tour
!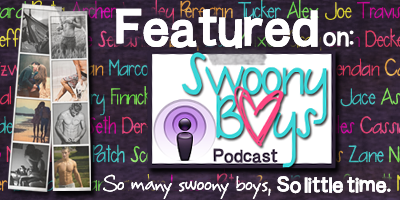 Related Posts