So many books come out each week that it makes it hard to decide what to read. We want to make that a little bit easier on you by sharing our favorite releases from the week and telling you our top 3 reasons why we think you'll love them too!
This week our selection is What We Left Behind by Robin Talley. Are you ready to hear more about this book and its author? Here we go…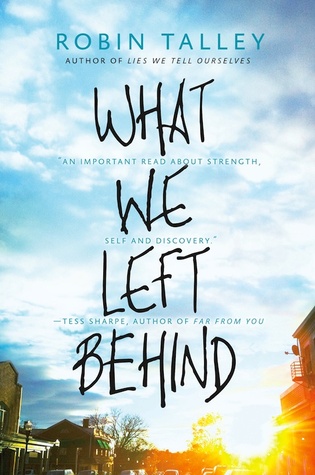 What We Left Behind by Robin Talley
Published by Harlequin Teen on October 27, 2015
Genres: Contemporary
Pages: 416
Goodreads Buy the Book

From the critically acclaimed author of Lies We Tell Ourselves comes an emotional, empowering story of what happens when love isn't enough to conquer all.

Toni and Gretchen are the couple everyone envied in high school. They've been together forever. They never fight. They're deeply, hopelessly in love. When they separate for their first year at college—Toni to Harvard and Gretchen to NYU—they're sure they'll be fine. Where other long-distance relationships have fallen apart, their relationship will surely thrive.

The reality of being apart, however, is a lot different than they expected. As Toni, who identifies as genderqueer, falls in with a group of transgender upperclassmen and immediately finds a sense of belonging that has always been missing, Gretchen struggles to remember who she is outside their relationship.

While Toni worries that Gretchen, who is not trans, just won't understand what is going on, Gretchen begins to wonder where she fits in Toni's life. As distance and Toni's shifting gender identity begins to wear on their relationship, the couple must decide—have they grown apart for good, or is love enough to keep them together?
3 Reasons You Should Read
What We Left Behind by Robin Talley
We love promoting diverse books, and this one has a storyline that is something lots of us face when going off to college: can they [we] survive a long-distance relationship? Gretchen and Toni are facing even more obstacles than that, but we think everyone can relate to (some of) what they're going through.
This story deals with subjects that we don't see much of, and for that, we applaud Robin Talley. We that there are books for everyone! The world needs more diversity in books. Especially in Young Adult books where issues like these aren't always addressed.
Our last reason has nothing to do with the actual story, but it's still important to us. We were lucky enough to meet Robin at BEA lat year and that interaction was enough to make us want to read anything she writes. We think you should too!
***About Robin Talley***
She grew up in Roanoke, Virginia, and escaped to Washington, D.C., at the first opportunity. She now lives with her wife, their antisocial cat, and their goofy hound dog on Capitol Hill and works for a progressive nonprofit organization. She spends her nights and weekends writing young adult fiction about queer characters, reading books, and having in-depth conversations with friends and family about things like whether Jasmine's character motivation was sufficiently established in Aladdin.
Her first novel, Lies We Tell Ourselves, was released in September 2014 by Harlequin Teen. It's set in 1959 Virginia, and it's about a black girl who's one of the first to integrate an all-white high school, and the white girl with whom she ultimately falls in love. Her next book, What We Left Behind, follows a high school couple — Gretchen, who identifies as a lesbian, and Toni, who identifies as genderqueer — whose relationship is tested when they're separated for their first year of college. It's coming out in November 2015.
Find Robin Here:
Website | Twitter | Facebook| Goodreads
Related Posts