We're so excited to bring you another Author Talk Podcast Episode, this time featuring In Real Life author Jessica Love. We're super excited that she stopped by to chat with us, along with our favorite twinnies from Fiction Fare. We know you're as excited as we are to hear what Jessica has to say about all the things, so jump right on in, and don't forget to let us know what you think in the comments.
While you're here, subscribe to our podcast in iTunes.
Podcast Notes
Please note: the sound quality is not the best in this episode. We're working on it!
Author Jessica Love gets us started with her elevator pitch for In Real Life.
Jessica tells us about her dreams and where the idea for In Real Life came from.
We talk about diversity–in real life and In Real Life.
Jessica talks a little about her writing process and how much online friendships mean to us. #twilightforever
We grill Jessica on her characters and favorite scenes, and whether or not this is the last we'll see of this group. Hint: She hopes not!! *jumpyclaps*
We talk about road trips and Jessica's greatest adventures.
Then we get a little personal with Jessica, including finding out what's on her TBR pile and her moments of TV fame.
Of course, we can't let her go without talking about Swoony Boys, which becomes a tribute to Jason Segal.
Finally, we play a fun game with Jessica.
***Meet Jessica Love***
Jessica Love is a high school English teacher who lives in Southern California with her husband and their two tiny dogs. She's working on her Master's Degree in Writing for Children and Young Adults from Spalding University, and her big love is contemporary YA romance. Jessica spends all of her free money on concerts, constantly tries to prove that blondes have more fun, and is pretty much always on the internet.
IN REAL LIFE was released from St. Martin's/Thomas Dunne on March 1, 2016. Co-written with Chelsie Hill from Sundance Channel's reality TV show Push Girls, Jessica's debut novel PUSH GIRL is available now.
Find Jessica Here:
Website | Twitter | Facebook | Goodreads
***About In Real Life***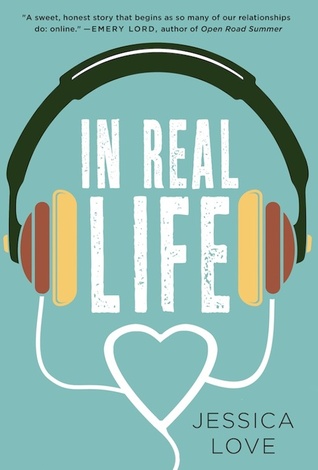 In Real Life
by
Jessica Love
Published by
St. Martin's Press
on March 1, 2016
Genres:
Contemporary
Pages:
240
Goodreads
Buy the Book
Hannah Cho and Nick Cooper have been best friends since 8th grade. They talk for hours on the phone, regularly shower each other with presents, and know everything there is to know about one another.

There's just one problem: Hannah and Nick have never actually met.

Hannah has spent her entire life doing what she's supposed to, but when her senior year spring break plans get ruined by a rule-breaker, she decides to break a rule or two herself. She impulsively decides to road trip to Las Vegas, her older sister and BFF in tow, to surprise Nick and finally declare her more-than-friend feelings for him.

Hannah's surprise romantic gesture backfires when she gets to Vegas and finds out that Nick has been keeping some major secrets. Hannah knows the real Nick can't be that different from the online Nick she knows and loves, but now she only has night in Sin City to figure out what her feelings for Nick really are, all while discovering how life can change when you break the rules every now and then.
Let us know what you think! Ask Us a Question or Make Suggestions via our Handy Dandy Suggestion Form and tell us who's got you swooning here.
Thanks for listening, everyone!
Related Posts