We were thrilled when we were invited to participate in the blog tour featuring the Ivy Pocket series, written by Caleb Krisp and illustrated by Barbara Cantini. We were lucky enough to sit down and chat with Caleb for a few moments. We've also got a great giveaway to share with you that we know you're going to want to enter, but we'll get right to what Caleb had to say about Ivy Pocket!
***INTERVIEW***
Thanks for stopping by to chat with us today, Caleb. We'll get right to it Where did Ivy Pocket come from?
Ivy Pocket came to me largely intact—I had a vague idea of the character, but it wasn't until I started writing that I heard her voice. It came to me clear as church bells—it was a wonderful and terrifying moment. Wonderful, because I knew this girl had a fantastical story to tell. Terrifying because I quickly realized that Ivy was infuriating, bombastic, delusional, thick as a brick, and completely unlike any character I had written before.
She is amazing, and we love her so much! What has been the best part of writing the series?
Writing this trilogy has been the most freeing experience I've ever had as an author. I made a decision when I wrote the very first sentence of Anyone but Ivy Pocket that I would surrender to every whimsical, nonsensical, and fantastical instinct that I had. Usually, I worry about things such as the character's likability and appeal. With Ivy I simply let her be who she needed to be—a girl with a good heart who frequently offends and is very often at the center of disaster and mayhem.
We love that. Why will kids (and parents) love Ivy?
Ivy Pocket is a twelve-year-old lady's maid who rarely does what she is told, frequently offends her elders, says things she shouldn't, and has a very flexible relationship with the truth—in other words, she's like every other twelve-year-old on the planet. What I hope kids love about Ivy is that despite all of her faults and disasters, she really is trying to help—and I think kids will enjoy that Ivy's version of "helping" involves dropping into birthday cakes from a great height, flinging dessert at an old woman, and dunking her boss's head into a bowl of fruit punch.
haha What adventures are planned for Ivy next?
The best part about writing this trilogy has been following Ivy on her sometimes perilous and disaster-filled journey toward finding out who she really is. Somebody Stop Ivy Pocket is the second book in Ivy's adventures, and in it we find Ivy adjusting to life as the daughter of a pair of rather questionable coffin makers. Ivy has always dreamed of having loving parents, but she finds that having a family is more dangerous than she imagined. The streets of London are filled with shadows—old friends reappear, new friends are made, and enemies wait around every corner. There is a lot happening in this next book, and we see Ivy tested as never before. Somebody Stop Ivy Pocket finds Ivy dealing with disaster and danger—it's a mystery adventure with a lot of laughs. Hopefully!
It totally is. We think everyone will her—we certainly do. Thanks again for stopping by today, Caleb. We can't wait to see what Ivy gets herself into in the final book of the series.
***About Caleb Krisp***
Caleb Krisp was raised by militant librarians who fed him a constant diet of nineteenth century literature and room-temperature porridge. His childhood was cut tragically short after he sold his Great Aunt Mabel for a handful of perfectly ordinary pumpkin seeds. Caleb graduated from the University of Sufferance with a degree in Whimsy and set out to make his mark in the world as a writer. Years of toil and failure followed, until, following a brief stint working in a locked box, Caleb moved to an abandoned cottage deep in the woods and devoted himself to writing about the adventures of a twelve-year-old lady's maid of no importance. His only communication with the outside world is via Morse Code or kettle drum. Caleb has a strong dislike of pastry chefs and certain domesticated rabbits.
Find Caleb Here: Website | Goodreads
***About the Books***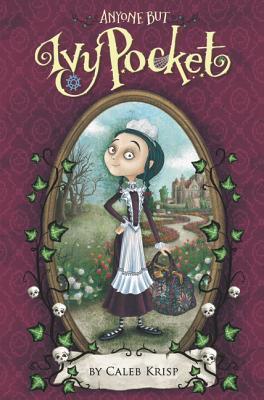 Anyone but Ivy Pocket
by
Caleb Krisp
Series:
Ivy Pocket #1
Published by
Greenwillow Books
on April 8, 2015
Genres:
Adventure
,
Historical
,
Middle Grade
Pages:
387
Goodreads
Buy the Book
Ivy Pocket is a twelve-year-old maid of no importance, with a very lofty opinion of herself. Dumped in Paris by the Countess Carbunkle, who would rather run away to South America than continue in Ivy's companionship, our young heroine (of sorts) finds herself with no money and no home to go to ... until she is summoned to the bedside of the dying Duchess of Trinity.

For the princely sum of £500 (enough to buy a carriage, and possibly a monkey), Ivy agrees to courier the Duchess's most precious possession – the Clock Diamond – to England, and to put it around the neck of the revolting Matilda Butterfield on her twelfth birthday. It's not long before Ivy finds herself at the heart of a conspiracy involving mischief, mayhem and murder.

Illustrated in humorous gothic detail by Barbara Cantini, Anyone But Ivy Pocket is just the beginning of one girl's deadly comic journey to discover who she really is ...
Somebody Stop Ivy Pocket by Caleb Krisp
Series: Ivy Pocket #2
Published by Greenwillow Books on May 31, 2016
Genres: Adventure, Historical, Middle Grade
Pages: 416
Goodreads Buy the Book
Are you ready for Ivy Pocket? The wickedly funny, completely unreliable maid of no importance returns—this time as a coffin maker's daughter—in this action-packed sequel to Anyone but Ivy Pocket. School Library Journal says, "Fans of . . . Lemony Snicket's A Series of Unfortunate Events will love Ivy Pocket's zany adventures." Featuring extensive black-and-white interior art by Barbara Cantini throughout.

Everyone seems to want a piece of Ivy Pocket. Her adoptive parents keep trying to get her to clean the funeral home, even though Ivy's certain she's already the picture of a perfect daughter. A beautiful heiress named Estelle wants Ivy to uncover the dark truth behind her brother's death. Her new friend, Miss Carnage, keeps asking Ivy the most curious questions (the poor, clueless dear). To top it all off, Ivy must protect the Clock Diamond from the evil Miss Always, who seems to be lurking around every corner! A fast-paced and hilarious follow-up to Anyone but Ivy Pocket, which Booklist praised as "a droll chapter book with a Victorian setting and a one-of-a-kind protagonist." This is the second of three books about Ivy Pocket!
***GIVEAWAY***
Win one of two sets of Ivy Pocket Books! (US only)
a Rafflecopter giveaway
Good luck and don't forget to check out the other stops on the blog tour for Ivy Pocket by Caleb Krisp!
Week 1:
Week 2:
Related Posts