We were so excited to be invited to participate in the blog tour for Dream On, Amber, the awesome new middle-grade book from author Emma Shevah. We've got a great giveaway to share with you, but first, let's see what Emma had to say when we sat down to talk with her about Dream On, Amber:
***INTERVIEW***
Thanks for stopping by to chat with us today on Swoony Boys Podcast, Emma.
It's a pleasure to be here. Thanks for having me!
Tell us a little about Dream On, Amber. Was it a fun book to write?
It was, but it was also hard. I cried as much as I laughed but I wanted it to be ultimately uplifting so I put lots of comedy in there, and oodles of love. Love rocks. The voice of Amber came to me easily and just flowed out onto the page faster than I could type, which was a joy. That is not my current experience, which is frustrating. I'm having a hard time with the book I'm writing at the moment. I'd like Amber to be my narrator again and I asked her to help me out but she told me to get lost.
haha What sparked the idea for Dream On, Amber?
My dad held me when I was a baby and left soon afterwards, never to be seen again. I went to find him when I was eighteen but I found out he'd died when I was six, so I never got to meet or know him. When I was young there weren't any books for kids like me whose fathers had upped and disappeared: there were books about children who were orphans, and about children whose fathers were away fighting in wars but none about children who had to deal with the aftermath when their fathers left for no apparent reason. So I wanted to write one. But I wanted to replace the dad-shaped hole with something positive, so I came up with the idea of Dream Dad.
What a poignant story, Emma. What kind of research did you have to do to make the story seem believable?
I didn't do much research for Amber really. I had to find out about samurai and their swords, and googled things like 'death from cat pee' and 'germ phobia'. I hope no one ever scrutinizes my internet searches because they'd be worried about me.
We think you can tell a lot about a person by their google search history! How would you introduce Amber to readers?
Amber Miyamoto is half Japanese and half Italian and loves art. She's the smallest child in ever school year in every school she's been in and she's afraid of everything and everyone. She'd like to be a fearless warrior but she isn't, and she's growing up without a father. But she has a hilarious and embarrassing Nonna, mother and sister, and she's fiesty. Amber's cool. You should check her out.
If you could introduce one of your characters to another character from any other book, who would it be and why?
I would introduce Bella to Lola from Charlie and Lola. I think they'd get on.
How would you describe yourself in three words?
Nomadic, adventurous, curious and rebellious.
What is the one thing readers would be surprised to learn about you?
I'm a Russian spy. (That's a joke, CIA)

OK, I'm not a spy. I'm the great great granddaughter of a King.

OK, I'm not the great great granddaughter of a ki—

Actually I am.
You're fun! Do you have any interesting writing quirks or rituals?
Not really, but I have an enormous, lavish wooden desk that has cabinets with glass doors on all four corners, like something belonging to the CEO of a multinational corporation, and I usually write there. Someone gave it to me: I'd never have bought something so mighty and authoritative but I do like it. I fold my legs under me while I'm writing and then when I try to stand up to get the door or make tea, they buckle and go numb so I can't walk and hop around going 'ahh ahh'. Not something I'm proud of.
What's your favorite genre to read?
It's not really a genre but award-winning and shortlisted fiction: I like the decent stuff.
We get it. Which character makes you swoon the most (yours or someone else's)?
Theo Decker in The Goldfinch: he's totally swoon-worthy. I'm a bit in love with him (OK, more than a bit). And I love Joe in The Sky is Everywhere and Noah in I'll Give You The Sun because they're passionate and bursting with life.
We don't know Theo, but we Noah and Joe Fontaine with the fire of a thousand suns. Do you have any current or future projects you can tell us about?
My next book is coming out in the US in July 2016: it's about a girl who was adopted from an orphanage in Cambodia when she was a baby and wants to be a famous actor. It's called Dara Palmer's Major Drama. And I'm writing another book as we speak.
Wow, that sounds interesting. Is there ever anything that you always wish someone would ask you, but they never do?
Yes. It goes like this:

'Emma, would you kindly accept this cheque for ten million pounds?'

And I say, ' Well, alright then. That would be lovely, thank you.'

I'm not sure why no one ever asks me that. I'm still waiting I guess.
You'd be surprised how many times we hear something along those lines. Thanks again for coming by, Emma. We can't wait to get our ::grabbyhands:: on Dream On, Amber!
Pleasure! Hope you like it!
***About Emma Shevah***
Emma Shevah is half-Irish and half-Thai born and raised in London. She has lived in Australia, Japan, India (her first child was born in the Himalayas) and Jerusalem before moving back to the UK. Emma has busked as a fire-juggler, been a restaurant manager, a copy writer, an English teacher, and is now a blogger and author.
Find Emma Here: Website | Twitter | Goodreads
***About Dream On, Amber***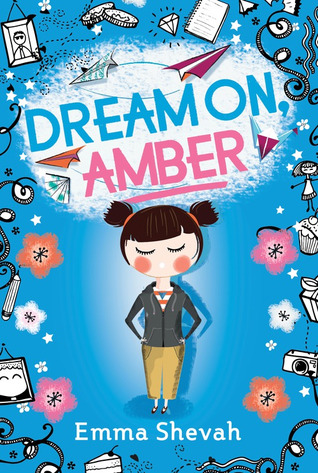 Dream On, Amber
by
Emma Shevah
Published by
Sourcebooks Jabberwocky
on October 6, 2015
Genres:
Contemporary
,
Middle Grade
Pages:
272
Goodreads
Buy the Book
My name is Amber Alessandra Leola Kimiko Miyamoto.
I have no idea why my parents gave me all those hideous names but they must have wanted to ruin my life, and you know what? They did an amazing job.

As a half-Japanese, half-Italian girl with a ridiculous name, Amber's not feeling molto bene (very good) about making friends at her new school.

But the hardest thing about being Amber is that a part of her is missing. Her dad. He left when she was little and he isn't coming back. Not for her first day of middle school and not for her little sister's birthday. So Amber will have to dream up a way for the Miyamoto sisters to make it on their own…
***GIVEAWAY***
Win a copy of Dream On, Amber
a Rafflecopter giveaway
What do you think, Pretties? Doesn't this book look awesome?
Related Posts