We were absoulutely thrilled when we were invited to participate in the blog tour for Time Traveling With a Hamster by Ross Welford. We've got a great giveaway to share with you and were lucky enough to sit down and chat with Ross for a few moments. It's one of our favorite interviews ever, so we'll get right to it!
***INTERVIEW***
Thanks for stopping by Swoony Boys Podcast today, Ross.
Thanks for asking me! It's nice to be here. Love what you've done with the place. Shall I sit down? I'll just move this pile of teen dystopias…
Tell us a little about Time Traveling with a Hamster. What sparked the idea for it?
I'd always been interested in what I now know is called "the Grandfather Paradox" – the idea that you might travel back in time and murder your own grandfather before your father was born, which means YOU cannot be born, which means you cannot travel back in time to murder your grandfather. This paradox is still a central thread running through Time Traveling with a Hamster, but there's loads of other stuff as well, now!
So interesting. What was your favorite part to write?
The "high tension" sequences are usually good fun. Things like the moped chase, or Al and Carly's late-night excursions, or the fire in the school: they are often quite quick to write, and require less rewriting than some other parts. I don't know why that is, but when I have a section like that to write, I look forward to it.
What is the most interesting thing you have Googled in the name of research?
For "Hamster"? I was surprised at how comparatively recent even the idea of time travel is, at least in Western culture. In Dickens's A Christmas Carol, (1843) Scrooge is shown the past and the future by a ghost. It's pretty much the first popular depiction of time travel in English-language fiction. Ancient cultures, though, like the Sumerians or Australian Aboriginals, viewed time in a much less linear way – more rotational or seasonal, which is very hard to imagine if – like most of us – you have grown up to view the progression of time as a sequential thing. More recently I have been researching the properties of light and trying to learn what light actually is. I'm still not absolutely certain, but I'm in good company – turns out no one is absolutely certain.
We never even thought about A Christmas Carol being time travel! How would you introduce Al to readers?
"This is Al. He once existed only in my imagination but now, through the power of the written word, he exists in thousands and thousands of people's imaginations." God, that sounds pretentious. How about, "Meet Al – he's got a time machine!"
hahaha If you could introduce one of your characters to another character from any other book, who would it be and why?
Am I allowed a movie instead? What about introducing Grandpa Byron to Nemo's friend Dory? Dory is so forgetful that she'd definitely benefit from Grandpa Byron's memory training!
What a great matchup! How would you describe yourself in three words?
Skeptical, immature, greedy
*grin* What is the one thing readers would be surprised to learn about you?
I dropped science at school when I was 14. The science in Time Traveling with a Hamster is solid and properly-researched, but I had to teach myself.
Wow. We never, ever would have guessed that. What is your most anticipated upcoming book-to-screen adaptation?
Wow, people can answer this? Like they have a mental list of books they'd like to see adapted, and they can name what is top of that list? They're lying, surely?
You could have named more than one. What advice can you give to aspiring writers?
No one except you reads your first draft. As Hemingway put it, "the first draft of anything is shit," Pithy, as ever, but he was right. He also said, "The only kind of writing is rewriting." We can all learn a lot from Papa.
Agree. Do you have any current or future projects you can tell us about?
My next book is called What Not To Do If You Turn Invisible and is released in the UK on December 29. We're doing the line-edits right now. In fact, that's what I should be doing instead of this, so if it doesn't hit the shops in time for the new year, I shall blame the Swoony Boys Podcast.
*grin* Thanks for that, Ross. Is there ever anything that you always wish someone would ask you, but they never do?
Well, ahem…erm, yes. But I don't think it's suitable for a wholesome website like this one.
Thanks again for coming by, Ross. You've been so much fun. We can't wait for our readers to get their ::grabbyhands:: on Time Traveling with a Hamster!
It's been a pleasure. I'll see myself out, shall I? Thanks for the tea.
***About Ross Welford***
Ross Welford was a journalist and television producer before becoming a full-time writer. He lives in London with his wife, children, a border collie, and several tropical fish. Ross is the author of Time Traveling With A Hamster, a thrilling, funny and heart-warming middle-grade novel that tells the story of a boy's quest to live up to his dad's memory, published by HarperCollins Children's Books, and of a second book, titled What Not to Do If You Turn Invisible, that will be published in the UK in December 2016.
Find Ross Here: Website | Twitter | Goodreads
***About the Book***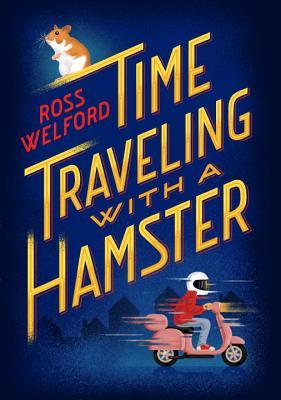 Time Traveling with a Hamster
by
Ross Welford
Published by
Schwartz & Wade
on October 4, 2016
Genres:
Adventure
,
Middle Grade
,
Sci-Fi
,
Time-Travel
Pages:
432
Goodreads
Buy the Book
Back to the Future meets The Curious Incident of the Dog in the Night-Time in this original, poignant, race-against-time story about a boy who travels back to 1984 to save his father's life.

My dad died twice. Once when he was thirty-nine and again four years later, when he was twelve. On his twelfth birthday, Al Chaudhury receives a letter from his dead father. It directs him to the bunker of their old house, where Al finds a time machine (an ancient computer and a tin bucket). The letter also outlines a mission: travel back to 1984 and prevent the go-kart accident that will eventually take his father's life. But as Al soon discovers, whizzing back thirty years requires not only imagination and courage, but also lying to your mom, stealing a moped, and setting your school on fire—oh, and keeping your pet hamster safe. With a literary edge and tons of commercial appeal, this incredible debut has it all: heart, humor, vividly imagined characters, and a pitch-perfect voice.
***GIVEAWAY***
Win a copy of Time Traveling with a Hamster by Ross Welford (US Only)
a Rafflecopter giveaway
Good luck, pretties!
Related Posts