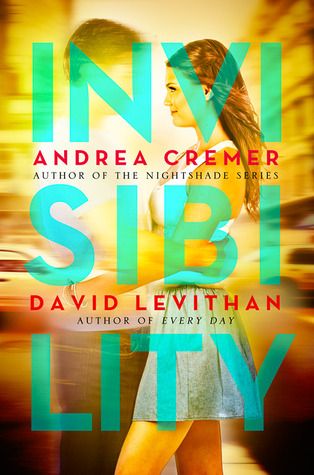 Invisibility
by
Andrea Cremer
,
David Levithan
Also by this author:
Nick & Norah's Infinite Playlist
,
Two Boys Kissing
,
Mind the Gap Dash & Lily
,
My True Love Gave to Me: Twelve Holiday Stories
Published by
Philomel Books
on May 7, 2013
Genres:
Paranormal
Pages:
358
Goodreads
Buy the Book
Stephen has been invisible for practically his whole life — because of a curse his grandfather, a powerful cursecaster, bestowed on Stephen's mother before Stephen was born. So when Elizabeth moves to Stephen's NYC apartment building from Minnesota, no one is more surprised than he is that she can see him. A budding romance ensues, and when Stephen confides in Elizabeth about his predicament, the two of them decide to dive headfirst into the secret world of cursecasters and spellseekers to figure out a way to break the curse. But things don't go as planned, especially when Stephen's grandfather arrives in town, taking his anger out on everyone he sees. In the end, Elizabeth and Stephen must decide how big of a sacrifice they're willing to make for Stephen to become visible — because the answer could mean the difference between life and death. At least for Elizabeth.
The 411:

Stephen is an average teenage boy except for one thing. He's invisible. Because of a curse cast by his grandfather, he's never been seen, not even by his own mother. Elizabeth is new to town and has moved into the apartment next door. Somehow she can see through the curse and for the first time ever, Stephen becomes visible to someone.
The two of them set out on a quest, along with Elizabeth's brother Laurie, to find a way to break the curse. What they end up finding is a world filled with spellseekers, cursecasters, and other things they never even imagined.

What We Loved:

It's no secret that we've been obsessed with loved David Levithan ever since reading Nick and Nora's Infinite Playlist. Anything that has his name on it automatically goes at the top of the to be read pile. When you throw in another amazing author like Andrea Cremer it just makes our happy squeals even louder.
So let's talk about our likes:
Writing– We expected great writing from these two and we weren't disappointed. We don't always love alternating point-of-views, and lately it seems as though it's overused, but there is no other way this one could have been done. We needed to hear both Stephen and Elizabeth's sides. The way Levithan and Cremer weaved them together was magical. (No pun intended.)
Characters– Invisibility has a great cast of characters. We have our favorites, more on that below, but we also think that within this crew there is someone for everyone.
Plot– There is A LOT going on here. In our minds it's part magic and part contemporary. You've got a boy that is basically living like Harry Potter under his cloak and a girl who is anything but normal. You've got all kinds of twists and turns alongside funny/scary/interesting side notes going on throughout the story. It's well crafted and thought out.

Um…Not So Much:
While there was a lot to love, we also had a few disappointments.
We hate what happened to Laurie. We know that it's real and that, unfortunately, it happens every day. But it absolutely kills us that anyone, but especially someone as amazing as him, would ever have to go through what he does. (Vague enough for you? We are trying so hard not to spoil anything!)
Insta-love? Okay, okay we admit it, we hate insta-love. This one is on the fence. When we think about the characters and how they fall for each other we think that maybe it happened a little too quickly. We flip-flip on this though. It almost makes sense to us why Stephen may have fallen so hard so quickly. After all, she's the first person that's ever seen him. But, Elizabeth? The verdict is still out on that one.
Our last complaint is that we needed more closure. This is mostly just us being greedy, but there were so many loose ends that were not tied up. Honestly, we're hoping this just means that a sequel might eventually be written.

The Boys:
Stephen is a very unique character. His personality is so well developed and so are his thoughts. Part of that is the writing, the other part is that an invisible boy has to have a lot of depth to him in order to deal and not go crazy.
He's adorable, and says some amazing things. Like this:
"Yes. I keep to myself. Only now I'm not keeping to myself. I'm keeping to–you, I guess. I'm keeping to you."
Swoony, right? We love him.
Then there's Laurie. We think it's pretty safe to say that without him, there might not be a Stephen and Elizabeth to talk about. When they needed him most, he was there for them. He filed the pages with wit and humor and we'd honestly die for a book all about him. Or maybe him and Sean.
Just look at this:
"'Easy things are worthless,' Laurie says, and I realize he's talking to both Sean and me. 'It's the hard things that matter. Those are the things worth leaping for"
and this…
"News flash," he says. "I'm gay, not a witch. Gay and witch is Dumbeldore, and last time I checked, he was still just a guy in a book."
What's not to love?

The Girls:
We had a love/hate relationship with Elizabeth. Moments when we thought she was kick-ass and awesome, and then with the flip of a page we wanted to smack her around a little. Of course when you really think about it, life with any teenage girl is just like that. We love her determination and her love for Stephen and Laurie. For that, she's pretty great in our book.

Bottom Line:
Two awesome authors, a great cast of characters, and a story that is definitely not invisible.
Verdict: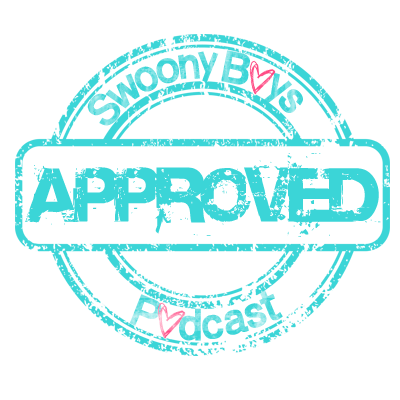 Dream Cast:
How do you cast an invisible boy? Especially a swoony, wonderful boy. At first we thought maybe we shouldn't because we think everyone has a Stephen in their mind while reading, but we just couldn't help ourselves. Here's our Stephen:
———-
What We Think Will Happen Next:
We are keeping our fingers and toes crossed that this writing duo decides to continue Stephen, Elizabeth, and Laurie's story someday. There is so much more we want to know, and while it's not the worst cliffhanger ending, our minds won't be at rest until we have the whole story.

Other Books by Andrea Cremer:
(Some) Other Books by David Levithan:
Other Invisibility Posts:
Rating Report
Cover
Characters
Plot
Writing
Swoon
Overall:
4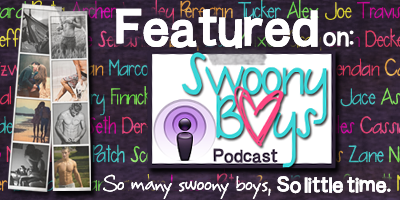 Related Posts