Little Black Dresses, Little White Lies by Laura Stampler has been on our most-anticipated reads lists ever since we heard about it. What's not to love about a fledgling dating blogger–with no experience in dating, natch–who takes NYC by storm? We couldn't wait, and now it's finally here! We were lucky enough to chat with Harper and Ben from the book, plus we've got a fun giveaway to share with you, along with what we thought about it (hint: we it!). First, you know the drill. Here's the 411 on Little Black Dresses, Little White Lies by Laura Stampler:
***About the Book***
Little Black Dresses, Little White Lies
by
Laura Stampler
Published by
Simon Pulse
on July 19, 2016
Genres:
Contemporary
,
Romance
Pages:
320
Goodreads
Buy the Book
The Devil Wears Prada meets Sex and the City in a wickedly funny debut novel about a girl who lands a dream internship at a magazine in New York City. If only she hadn't lied about being a dating expert on her résumé. . .

Harper Anderson has always thought she should have been born somewhere more glamorous than her sleepy Northern California suburb. After all, how many water polo matches and lame parties in Bobby McKittrick's backyard can one girl take?

Already resigned to working at a Skinny B's Juice Press for the summer, Harper is shocked when the ultra-prestigious teen magazine, Shift, calls to say they want her to be their teen dating blogger for the summer. All she needs to do is get her butt to New York in two days.

There's just one teeny, tiny problem: Apart from some dance floor make-outs, Harper doesn't have a whole lot of dating experience. So when Shift's application asked for an "edgy" personal essay, Harper might have misappropriated her best friend's experiences for her own. But she can just learn on the job...right? Will the house of lies Harper has built around her dream job collapse all around her, or will she be able to fake it until she makes it in the big city?
***CHARACTER INTERVIEW***
Today we're sitting down with Harper and Ben from Little Black Dresses, Little White Lies. Hi, you two! Welcome to Swoony Boys Podcast! We are excited to have you here and we can't wait for our readers to get to know you both a little better. Ready to get started? Here we go…
First impressions are everything! Tell us what you thought of each other when you first met.
Ben: Well there I was, minding my own busi-ness, walking a group of sweet, innocent, FRAGILE dogs —
Harper: Oh boy, here we go…
Ben: When this totally distracted girl with weaponized stiletto heels danger-ously ran directly into my dog-walking wards!
Harper: More like, a hyperactive Golden Doodle ran into me! And when I was lying on the ground, injured for all you knew, instead of offering to help you verbally berated me!
Ben: Please!
Harper: So what was the question again? Oh yeah. My first impression of Ben can be summed up in two words: Neanderthal Jerk.
Ben: And mine can be summed up in four: I plead the fifth.
Okay…we can see that's still somewhat of a touchy subject for both of you. *grin* Everyone has a spirit animal. What is yours? (Ours might just be Princess the Pug!)
Harper and Ben (simultaneously): Princess!
If you had to describe each other using three words or less, what would they be?
Harper: Since I already used "Neanderthal Jerk" I'm going to use three other words that I'd use to describe Ben after I got to know him. And those are: Surprising, creative, and loyal.
Ben: Did neanderthals have tear ducts? Because you're making me tear up!
Harper: Ha ha Mr. Funny Guy
Ben: Actually that's one of my words for you: Funny. No, make that hilarious. Hilarious, Caring, and also surprising.
Harper: Copy cat.
Ben: It's the highest form of flattery.
Ya'll are fun. Harper, what was the hardest part about leaving behind everything you'd ever known and starting over in a new city? If you knew what you know now, would you have done anything differently?
Harper: The hardest thing was definitely leaving my best friend Kristina, especially on such short notice. And to stay on that theme, I think I've learned that you don't have to be in the same place to stay emotionally close with someone.
What's the best part about living in NYC? The worst?
Harper: I feel like I have a new favorite part of NYC every day! But I'd say that the best thing so far has been the people I've met. And the worst thing is getting lost on the subway.
Ben: New York is my home — I don't know anything else, and I don't really want to. The best part of this city is that it has everything. And even its worst parts, like subway rats, help make it special.
Harper: Subway rats?
Ben: Remember the subway rat who ran away with a slice of pizza? There's no way the YouTube video of that didn't make you say "I love New York."
Haha! That wasn't so bad, right? Before we let you go we are going to take the pressure off of Harper and ask Ben the five questions that we ask every guy who stops by our site. Ready?
***The Swoony 5***
(The Five Questions We Have To Ask All Our Favorite Boys!)
Boxers or Briefs? (We know it's cliché, but that doesn't mean everyone doesn't want the answer!)
Come on, buy a guy dinner first!
Do you think you're a good kisser? What's the best kiss you've ever had?
Ben: Just like the tango, it takes two people to have a really good kiss.
Harper: Wait, you tango?
Ben: It's a phrase, Harper. Also, aren't you supposed to be relaxing quietly while I answer this part of the q&a.
Harper: Aren't you supposed to be answering who your best kiss was with?
Ben: As I said, it takes two people to have a great kiss. So she knows who she is.
What's your favorite book?
Ben: Even though Harper thinks I'm illiterate —
Harper: You said it, not me!
Ben: My favorite book has always been and will always be Ender's Game.
It's one of our favorites, too. If someone wanted to make you breakfast in bed, what would you want on the menu?
Bagels, bagels, and more bagels.
Nice. Last question. Since we're all about the swoon here at Swoony Boys Podcast, we have to ask. What do you think makes you swoony?
The usual. Long walks on the beach (with all of my dog-walking wards in toe, of course) and a candle lit dinner. Of bagels.
haha Thanks so much for stopping by, Ben and Harper! This was fun.
***About Laura Stampler***
Laura Stampler is a Californian turned New Yorker. After graduating from Stanford University, she became a journalist, interning—and then worked on staff—at various newspapers and magazines. Laura has written about everything from dating to social media stars to social justice issues at Time magazine, Business Insider, Huffington Post, The Nation, The New Republic, and The Jewish Journal of Greater Los Angeles. When she isn't writing, she's probably looking at pug gifs on the Internet.
Find Laura Here: Twitter | Goodreads
***Our Thoughts***
The 411:
Harper has just landed her dream job–a summer internship in NYC being a relationship blogger for a teen magazine. Only problem is, she knows nothing about relationships because she has pretty much no experience. So, she uses her friend's trials and tribulations in the love world as source material.

What We Loved:
First, let's take a look at that cover. It's beautiful. We cannot stop staring at it! We feel like we have to mention that we loved Harper's name. We think it's used a lot in YA, but it's one of our favorites. She's fun and her thoughts are totally realistic. We also loved the setting and how much of NYC Stampler packed in. It felt like we were right there, strolling the sidewalks of the City with them. We enjoyed the Devil Wears Prada aspect of it, and Sex and the City is one of our favorite shows, so we loved the bits that were relatable there.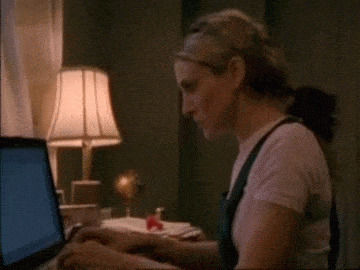 There were laugh out loud funny moments and super cute banter with Ben, a charming dog walker who captures Harper's heart, and some of the other interns. Harper's aunt Vee and her pug, Princess, were totally our favorite parts of this book.
Despite having a subject that could have been heavy–girl struggles to find her authentic self in a world full of phonies–this book was pretty fluffy.

Um...Not So Much:
There were some things that we didn't love, mostly centering around the total unbelievability of it all. We're sure there are high school students who get internships–even in NYC–but we feel like it was unrealistic for Harper to have the responsibilities that she does. If you're able to suspend belief on that front, then this book is really a lot of fun and a quick read.

What We Think Will Happen Next:
We're not expecting any companion books, but we totally wouldn't say no to getting more from these characters!

Bottom Line:
A quick, fun read with relatable characters, a perfect setting, and a bit of swoon, Little Black Dresses, Little White Lies is a must-read for contemporary YA fans.

Verdict:
Rating Report
Cover
Characters
Plot
Writing
Swoon
Overall:
4
***GIVEAWAY***
Win a copy of Little Black Dresses, Little White Lies!
(Must be 13 or older to enter. Giveaway is US only. Giveaway ends July 26th at 11:59 PM Pacific. Book will be ordered from Amazon. Prizing courtesy of Rockstar Book Tours.)
a Rafflecopter giveaway
Good luck and don't forget to check out the other stops on the blog tour for Little Black Dresses, Little White Lies by Laura Stampler:
Tour Stops:
Week One
Week Two
Week Three
Related Posts