Lola and the Boy Next Door
by
Stephanie Perkins
Also by this author:
Anna and the French Kiss
,
Isla and the Happily Ever After
,
My True Love Gave to Me: Twelve Holiday Stories
Series:
Anna and the French Kiss #2
Also in this series:
Anna and the French Kiss
,
Isla and the Happily Ever After
Published by
Dutton Juvenile
on September 29, 2011
Genres:
Contemporary
Pages:
338
Goodreads
Buy the Book
Budding designer Lola Nolan doesn't believe in fashion...she believes in costume. The more expressive the outfit--more sparkly, more fun, more wild--the better. But even though Lola's style is outrageous, she's a devoted daughter and friend with some big plans for the future. And everything is pretty perfect (right down to her hot rocker boyfriend) until the dreaded Bell twins, Calliope and Cricket, return to the neighborhood.

When Cricket--a gifted inventor--steps out from his twin sister's shadow and back into Lola's life, she must finally reconcile a lifetime of feelings for the boy next door.
Roller coaster.
Have you ever been on one? You know that feeling that you get when you are going up …up …up and your heart is pounding and you're gripping the bar in front of you, like it's actually holding you in? Then you reach the pinnacle and there is like this moment where you feel like you are on top of the world–all flailyswoony–and weightless before the car takes a turn and then nose-dives, causing your heart to leap up into your throat and making you feel almost sick?
That's what Lola and the Boy Next Door is: a roller coaster.
******
The 411:
Quirky seventeen year old Lola Nolan spends her days in San Francisco whipping up fashion masterpieces and hanging out with her hot twenty-two year old guitarist boyfriend, Max.  When she finds out the first boy she ever loved, Cricket Bell, is moving back into the house next door, she's all aflutter. Cricket left quickly and broke her heart two years ago, and Lola doesn't know how she'll be able to handle being near him again. What happens when you're reunited with your first love? And what if you never stopped loving them? That's the story that unfolds in Lola and the Boy Next Door.

What We Loved:
If you read Anna and the French Kiss, you already know that Stephanie Perkins is an amazing author. Amazing is an understatement–she nails the emotions and swoons and heartbreak every single time.
The characters in this are amazing, from Lola (and of course the boy next door) to the dads to the twin to even little Abigail, the adorable niece. They are rich and multi-faceted and real, and we love that about them.
Now let's talk about the one thing you're dying for us to say. Was there swoon? The answer is a big yes. The swoon was very present and solidified the fact that Ms. Perkins is the queen of YA romance.
"Just because something isn't practical doesn't mean it's not worth creating. Sometimes beauty and real-life magic are enough."

Um...Not So Much:
Without being too spoilery, we did feel like Lola took a little too long to get it together.  We know we have to account for the fact that the girl is only seventeen, and that there are other circumstances to consider for her lack of decisiveness, but still. There are some other things about her that we really, really didn't like, but we can't tell you what they are without spoiling all the things. So we'll just leave it at that. She's no Anna.
We also have a tiny complaint about the boys in this one. But it's a HUGE spoiler. So let's just say that when a certain older boyfriend goes from being perfect to being…not perfect? It really caught us by surprise. It felt convenient. But boy were we happy with the result.
We feel like we have to mention that contrary to so many of our friends, we didn't love Lola like we loved Anna and the French Kiss. That doesn't mean that we don't think that it's amazing and that everyone should pick up a copy immediately, because we do. But come on, we're totally in love with Étienne.

The Boys:
Where do we even start with Cricket Bell? –the hair? the height? the socks? the blue sugar on his lips? the bracelets? *flails* the bracelets.
"Here's the thing about Cricket Bell. You can't NOT notice him when he walks into a room. The first thing that registers is his height, but it's quickly followed by recognition of his energy. He moves gracefully like his sister, but with an enthusiasm he can't quite control- the constantly moving body, hands, feet. He's been subdued the last few times I've seen him, but he's fully revived now."
Not only is he ridiculously good looking, he's also uber smart. What else would you expect from a descendant of Alexander Graham Bell? He more than lives up to the family name. We think it's safe to say that we have a crush on the boy next door. Especially when he says things like this:
"Go out with me tonight.  Tomorrow night, every ni–"
And this…
"Remember that day I made you the elevator?" he suddenly asks.

I give him a faint smile. "How could I forget?"

"That was the day I had my first kiss."

My smile fades.

"I'm better now," He sets the apple beside me. "At kissing, just so you know."
We also have to mention Lola's boyfriend, Max. He is swoonworthy in his own right (until he's totally, totally not). But in the beginning he says things like this:
I peek at my phone, and I'm thrilled to find the text is from Max:

saw two fallen branches in the shape of a heart. thought of you.

I grin like an idiot.
Then there's, Étienne. Yep, he's there–and happily, blissfully in love with Anna. And we love Stephanie Perkins for that, even more than we did before, which was a lot. We can't thank her enough for giving us more of him. And them. And their kisses. And this:
"Anna prods St. Clair's shoulder. "Come on. Weren't you gonna show me that thing?"

"What thing?"

She stares at him. He stares back. She cocks her head toward Cricket and me.

"Ah, yes." St. Clair stands. "That thing."

They rush out. The door shuts, and St. Clair shouts, "Lola, Cricket wants to show you his thing, too-oo!"
We love how solid Anna's and Étienne's relationship is and we love how he is able to impart some of his wisdom to Lola to help her deal with what she's going through.  ::le sigh:: Did we say 'love' enough for you to get the point? Love, love, love.

The Girls:
Lola is quirky and fun. She makes you feel normal for all those emotions, boy thoughts, and insecurities you had in high-school because she has them too. We loved watching her learn lessons and find deeper meaning from her "costumes" and from her mistakes. But most of all, we loved her relationship with her dads. It was perfection. She also gets bonus points for thoughts like this:
"I collapse in bed and fall asleep with my other hand clasped around the blue rubber band. And I dream about blue eyes and blue nails and first-kiss lips dusted with blue sugar crystals."

Dream Cast:
The way Cricket is described is so specific that made it difficult to find exactly who we thought should play him. But we suffered through it and found just the right guy. Are you ready to see who we picked? We're ready to share. Here he is:

What We Think Will Happen Next:
When we originally read this back in 2012, we had lots of ideas about how things would go and how the lives of Anna and Lola would all crash together.  We're pleased that some of our theories were correct and even happier about all the surprises Stephanie Perkins threw in for us in Lola and the Boy Next Door.  As long as they're all happy (and still together), Perkins could detail them heading to the grocery store, and we'd be thrilled.

Bottom Line:
Lola and the Boy Next Door has everything–it's funny, it's heartbreaking, it's romantic, it's soooo hot that you'll melt into a pile of smoldering goo, and it's about time you read it!

Verdict:
Rating Report
Cover
Characters
Plot
Writing
Swoon
Overall:
4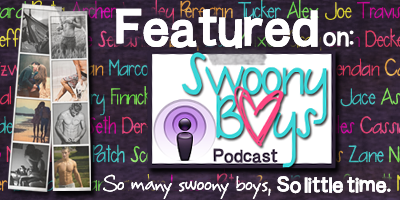 Related Posts