Fangirl
by
Rainbow Rowell
Also by this author:
Eleanor & Park
,
My True Love Gave to Me: Twelve Holiday Stories
Published by
St. Martin's Press
on September 10, 2013
Genres:
Contemporary
Pages:
433
Goodreads
Buy the Book
From the author the New York Times bestseller Eleanor & Park

A coming-of-age tale of fan fiction, family and first love.

Cath is a Simon Snow fan.

Okay, the whole world is a Simon Snow fan . . .

But for Cath, being a fan is her life — and she's really good at it. She and her twin sister, Wren, ensconced themselves in the Simon Snow series when they were just kids; it's what got them through their mother leaving.

Reading. Rereading. Hanging out in Simon Snow forums, writing Simon Snow fan fiction, dressing up like the characters for every movie premiere.

Cath's sister has mostly grown away from fandom, but Cath can't let go. She doesn't want to.

Now that they're going to college, Wren has told Cath she doesn't want to be roommates. Cath is on her own, completely outside of her comfort zone. She's got a surly roommate with a charming, always-around boyfriend, a fiction-writing professor who thinks fan fiction is the end of the civilized world, a handsome classmate who only wants to talk about words . . . And she can't stop worrying about her dad, who's loving and fragile and has never really been alone.

For Cath, the question is: Can she do this?

Can she make it without Wren holding her hand? Is she ready to start living her own life? Writing her own stories?

And does she even want to move on if it means leaving Simon Snow behind?
The 411:
Cath and Wren are identical twins who are headed off to college. For the first time in their lives they aren't sharing a room and while Wren is happy about it, Cath isn't sure what to think. She may not have Wren, but she still has her fanfiction, a snarky roommate, and her roommates boyfriend who is always around. Everything is new and different. But maybe, just maybe, different isn't so bad.

What We Loved:
We knew as soon as we read the summary that we desperately needed to read this one. That's not true, we knew as soon as we aw that Rainbow had another book coming out that we needed to read it. She stole our hearts with Eleanor & Park, and without a doubt made our love for her grow with Fangirl.
Here are a few of our favorite things:
The Feels– This book will have you feeling everything. It's honest and full of all of the emotions. That's right, all of them.
The Fan-Fiction Aspect– We'll be honest, this is the part that we related to Cath with the most. (Well that and all the Levi kissing!) We know exactly what it feels like to get so immersed, so lost in a world that you don't want to do anything else. We owe our friendship to that kind of obsession. Rainbow Rowell perfectly described what it means to be in a fandom and to be a fangirl.
The Characters– Every person in Fangirl leaps of the page. There is so much depth to them, and at the same time, so much more you want to know.
Levi– We'll get to him later, but he deserved to be mentioned here too.
The Romance – It's not secret that we hate insta-love, although it's something that runs wild in most fan-fiction communities. We were a little worried about that with this one, but we are happy to say that you won't find a trace of it. Instead you get the sweetest, slowest, perfectest (we don't even care that that's not a word) kind of love story. It's so real, so raw, so new… and exactly what we were hoping for.
We could go on and on, but by the time we finish we're not sure we would leave anything unspoiled. Just promise us that as soon as you read it you'll tell us so we can talk all about it.

Um...Not So Much:
What didn't we love??? Is that really a question? If we have to answer, which I guess we don't since we're in charge around here, we will mention a couple of things that weren't on our favorite list.
Levi's hairline. We don't mind that it was receding, but sometimes we wish Cath didn't notice it so much.
Levi and "the situation that shall not be named". It's not so much that we don't want to spoil you as we just really don't want to talk about it.
Cath and Wren's "mom"…enough said.

The Boys:
Where do we even start? Cath was right. Levi is "magical." He's the perfect mix of farm boy, geek, and major swooner. We love him from the second he appeared on the page. With an "official" intro like this, who could resist:
"Look…" Cath said. "I can't just let strange guys in my room. I don't even know your name. This whole situation is too rapey."

"Rapey?"

"You understand," she said, "right?"

He dropped an eyebrow and shook his head, still smiling. "Not really. But now I don't want to come in with you. The word "rapey" makes me uncomfortable."

"Me, too," she said gratefully.

He leaned against the wall and slid back onto the floor, looking up at her. Then he held up his hand. "I'm Levi, by the way."
We love that he understands Cath, that he just gets her. He doesn't judge her for her "fangirlishness" he actually encourages it. He's older, more experienced, more everything really and he doesn't let that get between them either. Add all of that to his amazing words… and we couldn't help but love him. Just look at this:
"You're not the ugly one." Levi grinned. "You're just the Clark Kent."

Cath started checking her email.

"Hey, Cath," Levi said, kicking her chair. She could hear the teasing in his voice. "Will you warn me when you take off your glasses?"
and this…
"I mean…" Levi leaned forward, hands still fisted in his pockets. "I mean, I spent four months trying to kiss you and the last six weeks trying to figure out how I managed to fuck everything up. All I want now is to make it right, to make you see how sorry I am and why you should give me another chance. And I just want to know– are you rooting for me? Are you hoping I pull this off?"
There aren't really words to properly describe how much we love Levi. Let's just say this- In our group of friends we are each allowed two exclusive "book boyfriends" that no one else can claim as theirs. Both of us have kept our second spot open because we knew a boy would eventually come along that we could claim and everyone would be sick with jealousy because they had already filled both of their spots. Meg decided after reading Fangirl that she'd finally found the boy who deserved her second spot. Of course, she almost always shares with Kass. Lucky Levi… LUCKY US!

The Girls:
Before we tell you all the things we love about our heroine, we think it's only fair to say that we have plenty of nice things to say about Reagan and Wren too, (Although there are so not so nice things we could say about Wren too!) but we want to focus on Cath.
We love her for all her awkward adorableness. We love her for her naiveness, her whit, and her fears. At some point in everyone's life they find themselves lost in the newness of something. That's Cath's story. For the first time in her 18 years she finds herself facing new situations every single day and doing them without the comfort of her sister by her side. She feels alone, scared, and overwhelmed. We've been there, we've felt those things and we can't get over how vulnerable and just… real Cath is.
Now part of that may sound sad, and at times her story is exactly that. But when she's happy? Oh, man does this girl do happy right too! She's one of those main characters that we would love to be friends with, especially with narrative like this:
"Look at you. You've got your shit together; you're not scared of anything. I'm scared of everything. And I'm crazy. Like maybe you think I'm a little crazy, but I only ever let people see the tip of my crazy iceberg. Underneath this veneer of slightly crazy and mildly socially retarded, I'm a complete disaster."
She's awesome.

Dream Cast:
We had our Levi in our heads as soon as we read his description. We dare anyone to tell us that Levi could be anyone else. We have a spreadsheet full of facts that has all signs pointing to our guy being the right guy. Below are just a few pictorial examples:

What We Think Will Happen Next:
As usual, Rainbow left us happy with the ending but desperate for more. We know she' said someday she might revisit Eleanor & Park, we're crossing EVERYTHING that she'll take pity on us and give us more Cath & Levi.

Bottom Line:
A "geeky" love story full of laughs, swoons, and snark. 

Verdict:
Rating Report
Cover
Characters
Plot
Writing
Swoon
Overall:
5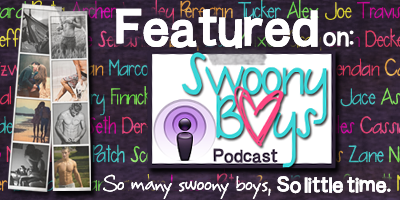 Related Posts