It's time for another installment of Waiting on Wednesday, where we give you the 411 on the books that we can't wait to read.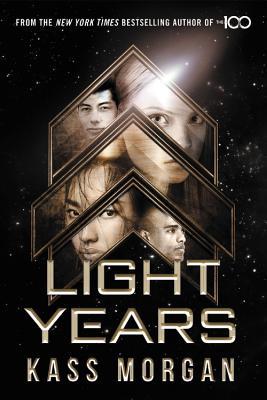 Light Years by Kass Morgan
Anticipated Arrival Date: 10/9/2018
Ender's Game
meets
The 100
as hidden secrets and forbidden love collide at an interstellar military boarding school in a new sci-fi series from
New York Time
s bestselling author Kass Morgan.
Reeling from the latest attack by a mysterious enemy, the Quatra Fleet Academy is finally admitting students from every planet in the solar system after centuries of exclusivity.
Hotshot pilot Vesper, an ambitious Tridian citizen, dreams of becoming a captain–but when she loses her spot to a brilliant, wisecracking boy from the wrong side of the asteroid belt, it makes her question everything she thought she knew. Growing up on the toxic planet Deva, Cormak will take any chance he can get to escape his dead-end life and join the Academy–even if he has to steal someone's identity to do it. Arran was always considered an outsider on icy Chetire, always dreaming of something more than a life working in the mines. Now an incoming cadet, Arran is looking for a place to belong–he just never thought that place would be in the arms of a Tridian boy. And Orelia is hiding a dark secret–she's infiltrated the Academy to complete a mission, one that threatens the security of everyone there. But if anyone finds out who she really is, it'll be her life on the line.
These cadets will have to put their differences aside and become a team if they want to defend their world from a cunning enemy–and they might even fall in love in the process.
Light Years is the first book in a thrilling and romantic new sci-fi series from the bestselling author of The 100.
Pre-Order Light Years Here

♥

Add Light Years to Your TBR.
So, like totally tell us what's got you bouncing in anticipation this week. What are you waiting on?
Related Posts