So many books come out each week that it makes it hard to decide what to read. We want to make that a little bit easier on you by sharing our favorite releases from the week and telling you our top 3 reasons why we think you'll love them too!
This week one of our selections is Defy the Fates by Claudia Gray. Are you ready to hear more about this book and its author? Here we go…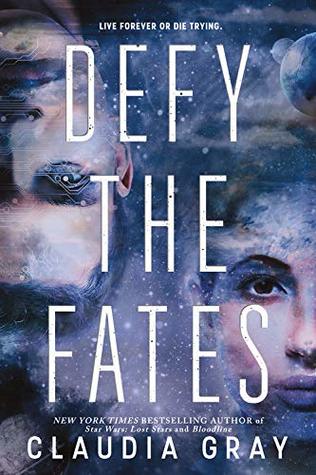 Defy the Fates by Claudia Gray
Series: Constellation #3
Published by Little Brown Books for Young Readers on 4/2/2019
Genres: Science Fiction
Pages: 400
Goodreads Buy the Book

Hunted and desperate.

Abel only has one mission left that matters: save the life of Noemi Vidal. To do that, he not only has to escape the Genesis authorities, he also must face the one person in the galaxy who still has the means to destroy him. Burton Mansfield's consciousness lives on, desperate for a home, and Abel's own body is his last bargaining chip.

Alone in the universe.

Brought back from the brink of death, Noemi Vidal finds Abel has not only saved her life, but he's made her into something else, something more. Not quite mech, yet not quite human any longer, Noemi must find her place in a universe where she is utterly unique, all while trying to create a world where anyone--even a mech--can be free.

The final battle between Earth and the colony planets is here, and there's no lengths to which Earth won't go to preserve its domination over all humanity. But together, the universe's most advanced mech and its first human-mech hybrid might have the power to change the galaxy for good.
3 Reasons You Should Read…
Defy the Fates by Claudia Gray
Simply put, Claudia Gray has a way with words. She enchants us and keeps us coming back for more book after book. Defy the Fates is another perfect example of that.
Fact, we will never have enough Abel and Noemi. But we are left pretty satisfied with how their story ends in this book. We'd still like more, but we suppose we can't be too greedy…
If you haven't started this series yet, you should most definitely add it to your list. We feel like it's flown under the radar a little bit and we want to shine a spotlight on it to get it in the hands of more readers! Go grab all three and enjoy!
Related Posts