So many books come out each week that it makes it hard to decide what to read. We want to make that a little bit easier on you by sharing our favorite releases from the week and telling you our top 3 reasons why we think you'll love them too!
This week our selection is Royal Bastards by, Andrew Shvarts. Are you ready to hear more about this book and its author? Here we go…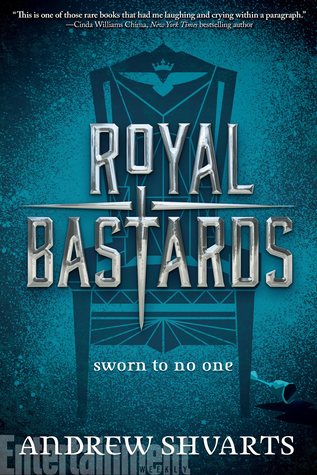 Royal Bastards by Andrew Shvarts
Published by Disney-Hyperion on May 30th, 2017
Genres: Fantasy
Pages: 352
Goodreads Buy the Book

Being a bastard blows. Tilla would know. Her father, Lord Kent of the Western Province, loved her as a child, but cast her aside as soon as he had trueborn children.

At sixteen, Tilla spends her days exploring long-forgotten tunnels beneath the castle with her stablehand half brother, Jax, and her nights drinking with the servants, passing out on Jax's floor while her castle bedroom collects dust. Tilla secretly longs to sit by her father's side, resplendent in a sparkling gown, enjoying feasts with the rest of the family. Instead, she sits with the other bastards, like Miles of House Hampstedt, an awkward scholar who's been in love with Tilla since they were children.

Then, at a feast honoring the visiting princess Lyriana, the royal shocks everyone by choosing to sit at the Bastards' Table. Before she knows it, Tilla is leading the sheltered princess on a late-night escapade. Along with Jax, Miles, and fellow bastard Zell, a Zitochi warrior from the north, they stumble upon a crime they were never meant to witness.

Rebellion is brewing in the west, and a brutal coup leaves Lyriana's uncle, the Royal Archmagus, dead—with Lyriana next on the list. The group flees for their lives, relentlessly pursued by murderous mercenaries; their own parents have put a price on their heads to prevent the king and his powerful Royal Mages from discovering their treachery.

The bastards band together, realizing they alone have the power to prevent a civil war that will tear their kingdom apart—if they can warn the king in time. And if they can survive the journey...
3 Reasons You Should Read…
Royal Bastards by Andrew Shvarts
This one has been high up on our 'we-need-this-book' list for a while now! We were lucky enough to get an advanced copy from Disney and we are so glad we did. It's pages are filled with action, adventure, some magic and romance, and lots of fantasy elements that we loved.
We love a good slow-burn romance and that's exactly what we got with Tilla and Zell. As much as we loved the swoon that these two provided, we also really loved the relationship that Tilla had with her half-brother, Jax.
This one should definitely be on your to-be-read list if it isn't already. You won't want to put it down until it's over and you'll be sad when it ends. We aren't sure if a sequel is in the works, but we are really hoping so. This one closes in a way that left us wanting more, more, more.
Rating Report
Cover
Characters
Plot
Writing
Swoon
Overall:
4.5
***Meet Andrew Shvarts***
Andrew was born in the Soviet Union, but immigrated to the US when he was four years old. He doesn't remember much of life there, but has retained a love for weird Russian cartoons and a total indifference to being cold. Andrew's passion has always been storytelling, in all its forms: fiction, cinema, narrative video games, and long, rambling, frequently-exaggerated anecdotes. He spent his childhood devouring books, and his adolescence watching straight-to-DVD horror movies and playing jRPGS. Andrew graduated from Vassar College with degrees in English and Russian literature (aka, the two languages he was already fluent in). While there, he was falsely accused of releasing a bear on campus, and once stole a fence and buried it in a swamp. Since 2008, Andrew has worked as a videogame writer, producer, and designer. His focus has been on narrative mobile games, especially episodic ones. Some of these titles include Choices: Stories You Play, Surviving High School, Cause of Death, and High School Story. Andrew is both color-blind and tone-deaf, which probably means he has some latent superpowers he just hasn't discovered. He is represented by the amazing Sara Crowe of Pippin Properties. Andrew lives in San Jose, California, with his wife, son, and two cats. The best videogame of all time is Metal Gear Solid 3: Snake Eater. This is not a fun fact about Andrew, but an objective truth of the world.
Find Andrew Here:
Website | Twitter | Instagram | Goodreads
Save
Save
Related Posts