Did you know know that Harlequin Escape is one year old this week? We're celebrating this momentous occasion with a week filled with interviews, reviews, and excerpts, plus awesome giveaways, here on Swoony Boys Podcast and on our sister site featuring New Adult and adult fiction titles: Steamy Guys After Dark!
Today, we're chatting with Carly Drake, author of Words Once Spoken:


***INTERVIEW***
Thank you so much for stopping by Swoony Boys Podcast today, Carly. We're excited to get to know you and your books!
Thank you for having me! I love your site, one could easily procrastinate looking at those pictures…ahem…
LOL we hear you! Tell us a little about Words Once Spoken. Was it a fun book to write?
It was! This book was the first of several book attempts that actually took off on its own. I remember sitting at my kitchen table, plotting the story, and squealing, "Ohhh, that's good!" and typing away furiously with a maniacal grin on my face. I think my husband still has nightmares!
Awww. Give us your twenty second elevator pitch about Words Once Spoken.
Evelyn is the daughter of a feudal lord in Medieval England who would rather be traipsing around the woods than trying to catch a husband. When a stranger reveals answers to secrets she has never revealed her world is turned upside down and she is introduced to her long last ancestry of the predatory fey as well as their vampire and werewolf creations.
Oooh! How do you build your characters? Do you know every single detail of their lives?
Pretty much. I find those details essential in how they make decisions and what they say. I don't always write everything down, though. The characters are almost real breathing people walking around in my head, telling me their story. I'm sure they have secrets that even I don't know!
Interesting! How would you introduce Evelyn to readers?
Think Selene from the Underworld Series, but with a bow and arrow and fey. She's pretty fierce, but with a good heart.
Nice. What kind of research did you have to do to make the story seem believable?
I did a lot of research on the clothing of the period, and how life was in general for those people. The medieval times were quite violent, which is why Evelyn is so tough. They were also very superstitious back then, and since she knew she was different, she didn't go into shock when she was told of her parentage.
How would you describe yourself in three words?
Creative, goofy, and sarcastic.
Those are fun! Do you have any interesting writing quirks or rituals?
I need copious amounts of tea, and believe it or not, I can't be too comfortable. Otherwise I get lazy!!
We can't imagine you getting lazy. What is the one thing readers would be surprised to learn about you?
I never knew I wanted to be a writer until I wrote this book. Yes, my degree is in English and I love reading, but for the majority of my life I've hated writing, even though it came naturally. (Also, I can't verbally tell a story or joke very well. I have to write it out first!)
Which character makes you swoon the most (yours or someone else's)?
Probably Jace from The Mortal Instrument Series. He's blonde, can fight (meaning you know that bod is sexy!), can play music, is witty, and is a voracious reader…umm…what's not to love?
We still need to read those! Do you have any current or future projects you can tell us about?
Oh, I've always got lots of projects! However, most importantly I am currently working on the second book to this one, Curses Once Spoken.
Is there ever anything that you always wish someone would ask you, but they never do?
Noooot really, no… 🙂
LOL Thanks again for coming by today, Carly.
Thanks for having me, ladies!
***About Carly Drake***
Carly Drake loves books, but loving them is not enough — she finds she has to write them too. As a reader and as an author, she gravitates toward period pieces and supernatural works, stories that offer escape to a different time and set of rules. Mix a magical world with the drama of young adults choosing who they want to be, often conflicting with what they are, and you have a recipe for her favorite favourite brand of make-believe. A former fashion design student, a Coast Guard wife, and eternal devotee of actors from across the pond, Carly currently endures the heat of Texas with her husband, two children, and her four legged guardians.
Find Carly Drake Here: Website | Facebook | Twitter | Goodreads
**About the Book**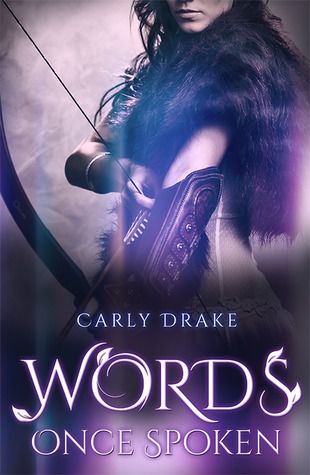 Words Once Spoken by Carly Drake
Published by Harlequin Escape on October 1, 2013
Pages: 143
YA meets high fantasy in this lush series debut about a girl who never quite fit in — and the reason why…

Evelyn might not love the confines of her village life, but she takes her small freedoms where she can get them. But everything changes when her parents decide it's time for her to wed. Suddenly she loses her tunic and breeches, her bow, her horse, and gains rigid gowns, restrictive manners, and carriage rides.

The best way to escape is through her dreams, but as they become more and more real, Evelyn begins to worry that she is losing her grasp on reality. It is only when she makes two new friends that the truth is revealed: she is destined for far, far more than even she could imagine.
**Read the First Chapter of Words Once Spoken:**
***GIVEAWAY***
eBook copies of Words Once Spoken, The Children of the Mist, A Missing Peace, Riding on Air, and Finding Home
a Rafflecopter giveaway
Good luck and be sure to check out all the other interviews and reviews we've got going on to celebrate the first Birthday for Harlequin Escape!
Related Posts