It's time for another installment of Waiting on Wednesday, where we give you the 411 on the books that we can't wait to read.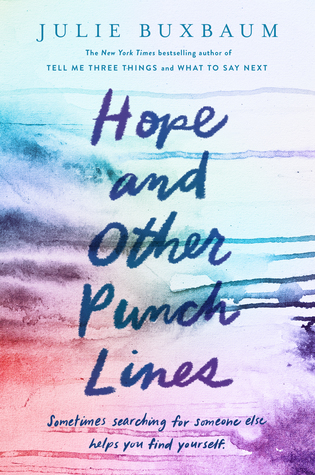 Hope and Other Punchlines by Julie Buxbaum
Anticipated Arrival Date: 5/7/2019
Sometimes looking to the past helps you find your future.
Abbi Hope Goldstein is like every other teenager, with a few smallish exceptions: her famous alter ego, Baby Hope, is the subject of internet memes, she has asthma, and sometimes people spontaneously burst into tears when they recognize her. Abbi has lived almost her entire life in the shadow of the terrorist attacks of September 11. On that fateful day, she was captured in what became an iconic photograph: in the picture, Abbi (aka "Baby Hope") wears a birthday crown and grasps a red balloon; just behind her, the South Tower of the World Trade Center is collapsing.
Now, fifteen years later, Abbi is desperate for anonymity and decides to spend the summer before her seventeenth birthday incognito as a counsellor at Knights Day Camp two towns away. She's psyched for eight weeks in the company of four-year-olds, none of whom have ever heard of Baby Hope.
Too bad Noah Stern, whose own world was irrevocably shattered on that terrible day, has a similar summer plan. Noah believes his meeting Baby Hope is fate. Abbi is sure it's a disaster. Soon, though, the two team up to ask difficult questions about the history behind the Baby Hope photo. But is either of them ready to hear the answers?
Why We Can't Wait
Julie Buxbaum had us at waffles and we're pretty sure we'd be along for the ride no matter what she decided to publish. Hope and Other Punchlines definitely seems like it's going to tug on our heartstrings but we can't wait for all the feels.
So, like totally tell us what's got you bouncing in anticipation this week. What are you waiting on?
Related Posts