It's time for another installment of Waiting on Wednesday, where we give you the 411 on the books that we can't wait to read.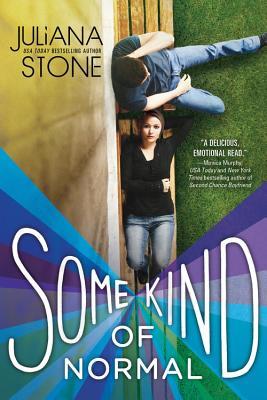 Some Kind of Normal by Juliana Stone
Anticipated Arrival Date: 5/5/2015
What is Normal?
For Trevor normal was fast guitar licks, catching game-winning passes and partying all night. Until a car accident leaves Trevor with no band, no teammates and no chance of graduating. It's kinda hard to ace your finals when you've been in a coma. The last thing he needs is stuck-up Everly Jenkins as his new tutor—those beautiful blue eyes catching every last flaw.
For Everly normal was a perfect family around the dinner table, playing piano at Sunday service and sunning by the pool. Until she discovers her whole life is a lie. Now the perfect pastor's daughter is hiding a life-changing secret, one that is slowly tearing her family apart. And spending the summer with notorious flirt Trevor Lewis means her darkest secret could be exposed.
Pre-Order Some Kind of Normal Here

♥

Add Some Kind of Normal to Your TBR.
So, like totally tell us what's got you bouncing in anticipation this week. What are you waiting on?
Related Posts