Squee! We're ready for another installment of Waiting on Wednesday, where we give you the 411 on the books that we can't wait to read.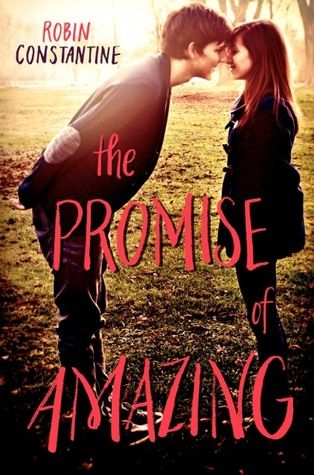 The Promise of Amazing by Robin Constantine
Anticipated Arrival Date: December 31, 2013
Wren Caswell is average. Ranked in the middle of her class at Sacred Heart, she's not popular, but not a social misfit. Wren is the quiet, "good" girl who's always done what she's supposed to—only now in her junior year, this passive strategy is backfiring. She wants to change, but doesn't know how.
Grayson Barrett was the king of St. Gabe's. Star of the lacrosse team, top of his class, on a fast track to a brilliant future—until he was expelled for being a "term paper pimp." Now Gray is in a downward spiral and needs to change, but doesn't know how.
One fateful night their paths cross when Wren, working at her family's Arthurian-themed catering hall, performs the Heimlich on Gray as he chokes on a cocktail weenie, saving his life literally and figuratively. What follows is the complicated, awkward, hilarious, and tender tale of two teens shedding their pasts, figuring out who they are—and falling in love.
You guise. This is exactly the kind of story that we love. We're practically panting in anticipation for this one.
Pre-Order The Promise of Amazing Here

♥

Add The Promise of Amazing to Your TBR.
So, like totally tell us what's got you bouncing in anticipation this week. What are you waiting on?
Related Posts