It's time for Waiting on Wednesday, where we give you the 411 on the books that we can't wait to read. This week we chose a summer romance: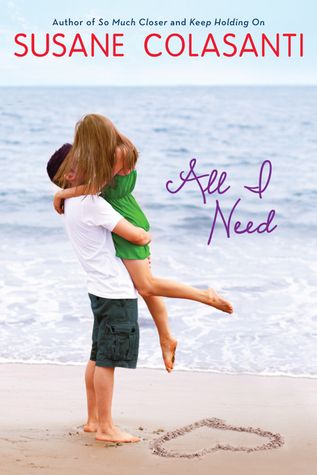 All I Need by Susane Colasanti
Anticipated Arrival Date: May 21, 2013
Skye wants to meet the boy who will change her life forever. Seth feels their instant connection the second he sees her. When Seth starts talking to Skye at the last beach party of the summer, it's obvious to both of them that this is something real. But when Seth leaves for college before they exchange contact info, Skye wonders if he felt the same way she did—and if she will ever see him again. Even if they find their way back to each other, can they make a long-distance relationship work despite trust issues, ex drama, and some serious background differences?
Teen favorite Susane Colasanti returns to the alternating-voice style of her beloved debut When It Happens in this Serendipity-inspired story about summer, soul mates, and the moments that change our lives forever.
The cover is the first thing we noticed about this book. When we realized that it's alternating POVs, we knew we wanted to check it out. We haven't read anything by Suzanne Colasanti yet, but we definitely want to. Have you read it yet? Lettuce know what you think!
You can Pre-Order It Here and Add it to YourGoodreads Here.
So, like totally tell us what's got you bouncing in anticipation this week. What are you waiting on?
Waiting on Wednesday is a weekly meme hosted by Breaking the Spine. We ♥ it!
Related Posts