So many books come out each week that it makes it hard to decide what to read. We want to make that a little bit easier on you by sharing our favorite releases from the week and telling you our top 3 reasons why we think you'll love them too!
This week one our selections is Sea Witch by Sarah Henning. Are you ready to hear more about this book and its author? Here we go…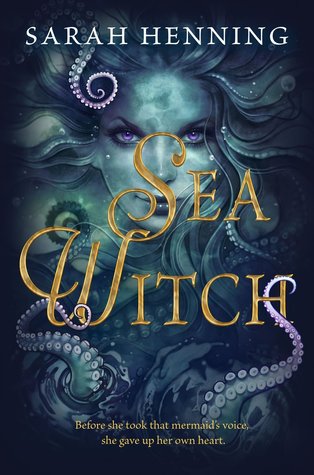 Sea Witch by Sarah Henning
Published by Katherine Tegen Books on July 31st 2018
Genres: Fantasy, Paranormal, Retellings
Pages: 368
Goodreads Buy the Book

Everyone knows what happens in the end.
A mermaid, a prince, a true love's kiss.
But before that young siren's tale, there were three friends.
One feared, one royal, and one already dead.

~~~~~~~~~~

Ever since her best friend, Anna, drowned, Evie has been an outcast in her small fishing town. A freak. A curse. A witch.

A girl with an uncanny resemblance to Anna appears offshore and, though the girl denies it, Evie is convinced that her best friend actually survived. That her own magic wasn't so powerless after all. And, as the two girls catch the eyes—and hearts—of two charming princes, Evie believes that she might finally have a chance at her own happily ever after.

But her new friend has secrets of her own. She can't stay in Havnestad, or on two legs, unless Evie finds a way to help her. Now Evie will do anything to save her friend's humanity, along with her prince's heart—harnessing the power of her magic, her ocean, and her love until she discovers, too late, the truth of her bargain.

The rise of Hans Christian Andersen's iconic villainess is a heart-wrenching story of friendship, betrayal, and a girl pushed beyond her limits—to become a monster.
3 Reasons You Should Read…
Sea Witch by Sarah Henning
You guys know we love supporting debut authors and when you add that to a synopsis that draws you in with a fairy-tale spin and an amazing cover, you have the perfect recipe to entice into a new read.
We are big mermaid story fans, but more than that we are Little Mermaid lovers. We were hesitant but optimistic to pick this one up and we weren't disappointed. We loved the characterization and the spin on this classic. It was everything we hoped for and more.
This should be your next read if you're looking for a villain origin story that will break your heart, make you cheer for someone you thought was unlovable, and leave you wanting more words from a new author. Go get yourself a copy today!
Related Posts