So many books come out each week that it makes it hard to decide what to read. We want to make that a little bit easier on you by sharing our favorite releases from the week and telling you our top 3 reasons why we think you'll love them too!
This week one of our selections is The Beauty of the Moment by Tanaz Bhathena. Are you ready to hear more about this book and its author? Here we go…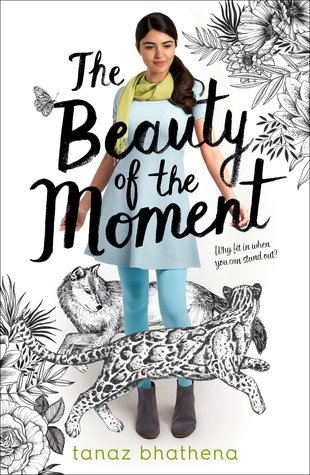 The Beauty of the Moment by Tanaz Bhathena
Published by Farrar Straus Giroux on 2/26/2019
Genres: Contemporary, Romance
Pages: 312
Goodreads Buy the Book

Susan is the new girl—she's sharp and driven, and strives to meet her parents' expectations of excellence. Malcolm is the bad boy—he started raising hell at age fifteen, after his mom died of cancer, and has had a reputation ever since.

Susan's parents are on the verge of divorce. Malcolm's dad is a known adulterer.

Susan hasn't told anyone, but she wants to be an artist. Malcolm doesn't know what he wants—until he meets her.

Love is messy and families are messier, but in spite of their burdens, Susan and Malcolm fall for each other. The ways they drift apart and come back together are testaments to family, culture, and being true to who you are.
3 Reasons You Should Read…
The Beauty of the Moment
by Tanaz Bhathena
Diversity? Check. Romance? Check. Relatable characters? Triple check. We loved Tanaz Bhathena's debut "A Girl Like That" and much to our delight, this sophomore novel is even better.
Susan Thomas and Malcolm Vakil are both dealing with their own struggles. They kept us on our toes and had us wishing for more as soon as we closed the book.
If you're in the market for a diverse YA coming-of-age story / rom-com that reads quickly, look no further. Grab yourself a copy this week!
Related Posts