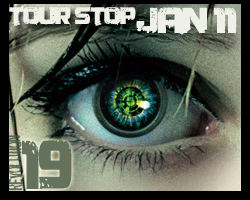 Revolution 19
Summary: Twenty years ago, the robots designed to fight our wars abandoned the battlefields. Then they turned their weapons on us.Only a few escaped the robot revolution of 2071. Kevin, Nick, and Cass are lucky —they live with their parents in a secret human community in the woods. Then their village is detected and wiped out. Hopeful that other survivors have been captured by bots, the teens risk everything to save the only people they have left in the world—by infiltrating a city controlled by their greatest enemies. Revolution 19 is a cinematic thriller unlike anything else. With a dynamic cast of characters, this surefire blockbuster has everything teen readers want—action, drama, mystery, and romance. Written by debut novelist Gregg Rosenblum, this gripping story shouldn't be missed.
Release: January 8th, 2013
Author: Gregg Rosenblum
Publisher: Harper Teen
Revolution 19 has been on our radar for a while now. So when we were asked if we wanted to participate in the blog tour for Harper Teen, there was no way we could resist.
Whether you've had this one on your to-be-read list for a while, or this is the first time you've heard of it, we think you'll walk away from this interview ready to dive right in.
Here's what he had to say:
Before we begin we just want to say thank you so much for taking the time to "sit down" with us. We have a weakness for debut authors, especially those with writing skills like yours! Here we go:
Do you have a favorite character or one you enjoyed writing the most?
I'm not going to pick between the three siblings…can't do it…so I'll say Doc. I had a lot of fun writing him.
Nick is our favorite character, so this question is really about him, but we'll take answers for Cass and Kevin too. What's his/their favorite type of juice?
They didn't have access to many different kinds of juices living out in the forest…apple juice was pretty much all they had, plus some occasional scavenged military juice packs that tasted like metal. So I'll have to say apple juice for everyone.
There are many different types of robots in this story. Since they are so diverse, what were your visual inspirations for the different types of bots?
"Form follows function"…so they needed to be practical for their work. The sphere bots needed to be small and nimble and fast, hence their shape. The Peteys and Lecturers and Senior Adviser I decided to make mostly humanoid, because they evolved as stand-ins for mankind—on our battlefields and classrooms (and, frankly, I think it's creepier that they look somewhat human).
Have you written a book you love that you haven't tried to have published?
Yes and no. I've written a novel and a collection of short stories that have not been published. I appreciate them, because they were necessary steps in my writing apprenticeship, but I don't love them!
The topics dealt with in Revolution 19 could have been written for any audience. What made you decide to gear it towards YA?
I fell in love with SciFi and fantasy books as a kid…I devoured them…and writing Revolution 19 was an effort to get back to that feeling, that sense of joy and excitement and fun that was missing in my "adult", "serious" writing.
One of the things that stood out the most to us was your unique writing style. It reads in a way that makes you feel as though you're watching it on the big screen. Did you visualize it that way when you were writing it?
I do tend to write "cinematically"…I'm glad that worked for you! When the writing is flowing, I feel myself watching a scene, and it's simply my job to transcribe it fast enough to not interrupt it's flow in my mind. (Does that make any sense?)
Is there a book or author that has influenced you or made an impact on your life?
So many! Where do I start? If we're talking "canonical" writers, nothing for me beats the short stories of Hemingway. As a bridge between "serious" writers and SciFi, there's Vonnegut, who blew my mind as a teenager and will always have a special place in my heart. And yes, it's a cliché, but Tolkein's Lord of the Rings really was a turning point for me as a kid. There are so many more I could list, but I won't get started…
Do you have any writing rituals?
Procrastinate, procrastinate, write, eat, procrastinate, write. Seriously, though, I do have a few. I need my iTunes and headphones and need to listen to something without words. Usually Miles Davis' Kind of Blue gets played. And I have a pair of rings that I wear only when I'm writing…they're guitar strings twisted and soldered into rings, that my wife gave me. Without them I can't write anything. They're like my Samson's hair. Is that strange?
What's can readers expect to see from you next?
Revolution 19 is planned as a trilogy, so I'll be in Nick, Cass, and Kevin's world for a while! I'm currently hard at work on draft 2 of book 2.
More more more. Ooops. What we meant to say was, will we be seeing any more from these characters?
Thanks again to Mr. Rosenblum for indulging us, and to Harper Collins for letting us help spread the love for this debut.
Interested in picking up your own copy of Revolution 19? Check it out here.
Related Posts