Welcome to Swoony Boys Podcast! Today we've got an awesome interview with Rebecca Serle, author of  Famous in Love! We are excited to share a little more about this story and its author. Ready to get started? Here we go..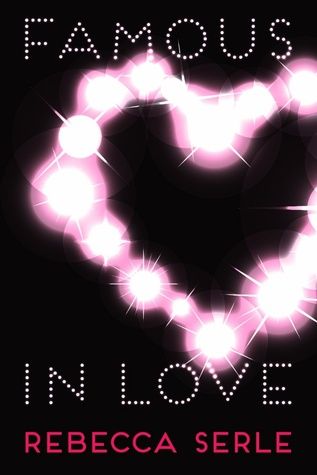 Famous in Love
by
Rebecca Serle
Also by this author:
Truly, Madly, Famously
Series:
Famous in Love #1
Also in this series:
Truly, Madly, Famously
Published by
Little Brown Books for Young Readers
,
Poppy
on October 21st, 2014
Genres:
Contemporary
,
Contemporary Romance
Pages:
336
Goodreads
Buy the Book
The romantic story of a girl who gets plucked from obscurity to star in the next major feature film franchise based on a book and the ensuing love triangles she gets entangled in on—-and off screen.

Meet Paige Townsen, Rainer Devon, and Jordan Wilder…

When Paige Townsen, a young unknown, gets cast in the movie adaptation of a blockbuster book series, her life changes practically overnight. Within a month, Paige has traded the quiet streets of her hometown for a crowded movie set on the shores of Maui, and is spending quality time with her co-star Rainer Devon, one of People's Sexiest Men Alive. But when troubled star Jordan Wilder lands the role of the other point in the movie's famous love triangle, Paige's crazy new life gets even crazier.

In this coming-of-age romance inspired by the kind of celeb hookups that get clever nicknames and a million page views, Paige must figure out who she is – and who she wants – while the whole world watches.
Author Interview
Tell us a little about Famous in Love. What was your favorite scene to write?
Famous in Love is about a girl, Paige Townsen, who gets plucked from her hometown Portland to star in the major movie adaptation of the new bestselling YA book series. This entire thing was wish fulfillment for me—so much fun to write. I've always been curious about what it would REALLY be like to be cast in this kind of mega hit, to take on such a beloved character, and then to fall in love with the world watching.

My favorite scene to write was one that occurs about midway through the novel. Paige, Rainer and Jordan shoot their first magazine feature and she's super torn between the boys. And they see her looking super hot for the first time—I had a blast with that one.
If you could introduce one of your characters to another character from any other book, who would it be and why?
Honestly, I think I would introduce Trevor (The Edge of Falling) and Rosaline
(When You Were Mine). I know Len is the perfect guy for her, so I'm not talking romance, but I think they would be friends. And I think they might help each other overcome some of the difficulty they have speaking up and saying what's on their mind (and in their heart).
What is the one thing readers would be surprised to learn about you?
I grew up on Maui where the majority of Famous in Love takes place. Also, I was blonde in college 🙂
Is there ever anything that you always wish someone would ask you in an interview, but they never do? (We want the answer too!)
My personal health secrets? No but really, health is super important to me. I spend a lot of my time in the health sphere—reading new books, studying up on foods, etc. It's something I'm really passionate about. I'm the person that if someone says they're giving up sugar isn't going to say "ugh, why?" but instead "I'm so excited for you!" We only get one body, I think it's our job to take care of it.

I could keep rambling, but we'll move on…
Since we are all about the swoon at Swoony Boys Podcast we can't let without asking just one more thing. Which character makes you swoon the most? (It can be one of yours or someone else's!)
JORDAN WILDER. I made that boy out of every swoony fantasy I've ever had. Frankly, I think I'm gonna have a hard time sharing him. And my all time: Marcus Flutie. I just…Jessica Darling, you are one lucky lady.
***Meet Rebecca Serle***
Rebecca Serle is the author of When You Were Mine and is an obsessive lover of all things pop culture. She blogs about The Vampire Diaries for New York magazine's Vulture and can be found on Twitter: @RebeccaASerle. She, like Caggie, lives in Manhattan—just far from the Upper East Side.
Find Rebecca Here:
Website | Facebook | Twitter | Goodreads
Related Posts