Welcome to Swoony Boys Podcast! Today we've got an awesome interview with Christina Lauren, the author duo who wrote Sublime! We are excited that they dropped by and can't wait to share a little more about this story and its authors. Ready to get started? Here we go..
Sublime
by
Christina Lauren
Published by
Simon & Schuster Books for Young Readers
on October 14, 2014
Genres:
Paranormal
Pages:
336
Goodreads
Buy the Book
When Lucy walks out of a frozen forest, wearing only a silk dress and sandals, she isn't sure how she got there. But when she sees Colin, she knows for sure that she's here for him.

Colin has never been captivated by a girl the way he is by Lucy. With each passing day their lives intertwine, and even as Lucy begins to remember more of her life—and her death—neither of them is willing to give up what they have, no matter how impossible it is. And when Colin finds a way to physically be with Lucy, taking himself to the brink of death where his reality and Lucy's overlap, the joy of being together for those brief stolen moments drowns out everything in the outside world. But some lines weren't meant to be crossed…
***AUTHOR INTERVIEW***
Let's start off easy. Tell us a little about Sublime. What was the spark that brought this story from your heads onto the page?
The original idea for Sublime came from a conversation Lauren (Lo) had with her boss. Lo has a PhD in neuroscience, and one day they were discussing the lack of creativity in disease research: every early-stage drug people were getting excited about worked, in essence, because they shut down cell functioning. This looked great in cellular models of disease but would never work in humans.

He brought up a story of a boy that fell into a lake, saying, "It's like that urban legend of the kid up in Nova Scotia who fell in a frozen lake and stopped breathing from the shock. The story says he was revived a few hours later, but because everything had sort of shut down, he was totally fine. We just can't put the system in a frozen lake to protect it."

So what if a daredevil of a boy did fall in a frozen lake, and it shut his body down just enough that he was in this world, and that one, too. Just enough that he could touch someone who was also in that world: a ghost.

Add to that the Legend of the White Lady, the Lucy poems by William Wordsworth and one of Lo's favorite scientific concepts—sublimation—where a solid turns to a gas without ever going through a liquid phase, and you have Sublime.
There was a line in Sublime that sort of grabbed us and really pulled us into the story. The line was "I think I'm here for you." Do either of you have a line or a scene like that? Something that you knew, no matter what else got edited out, had to be there?
We think Sublime is some of our best writing, and that one of our favorite parts of the story became the atmosphere. The world in Sublime is cold, covered in frost and snow and clouds that could open in a winter storm at any minute. We wanted the atmosphere to almost feel like a character itself. One of Christina's favorite moments comes from that. The scene where Colin is looking out his window after the first big snow storm, and sees the shriveled tomatoes on the forgotten vine. That scene was just so vivid in her head at the time that she could literally see it.

I'm (Christina) taking over, and going to answer this one for Lo, too. The scene where they're together and run into the shed, and share those few moments. I still remember her sending me that section, and reading the words, "He curses under his breath, a sound of wonder, cupping her face and kissing her so hard, so hungry, and then he's walking her backward, around, helping her down onto the air mattress, shoving aside the pile of blankets. Dust clouds up around them, leaves crumble beneath, but the setting doesn't matter. His skin, her skin, it slides and presses, hot and smooth. Not too much, not too little. Perfect." I would have gone to the mat if someone would have changed a word of that.
If you could introduce one of your characters to another character from any other book, who would it be and why?
Christina: I'd love Chloe from Beautiful Bastard to meet Delilah from our next YA book. They're both such badasses.

Lo: I'd love Colin to meet Harlow's dad, Alexander, in Dirty Rowdy Thing. One, because it would get Colin away from Saint Osanna's, and two because Alexander is so nurturing, I love the idea of him being Colin's adoptive dad and showing Colin how big the world is.
Is there ever anything that you always wish someone would ask you in an interview, but they never do? (We want the answer too!)
People always ask us who writes what etc, but nobody really asks HOW we do it. We rarely write together. First of all, we live in different states, so geography plays an issue. But also, we're totally different writers, who require completely different environments to get the creative juices flowing. Lo can write pretty much anywhere as long as she has headphones and music. She will listen to the same song on repeat while she writes, and once her brain gets into Writing Mode, watch out (This is Christina so I can totally brag my girl up). She also writes on her phone A TON. She'll write down lines or ideas–sometimes in the thousands of words–as they come to her.

Christina basically needs to be in a cave with no sound, no light, no internet, and no social interaction whatsoever.
Since we are all about the swoon, and we know you are too, we have to ask just one more question. Which fictional character makes you swoon the most? (It can be one of your own characters or one who belongs to someone else!)
I think we'd both probably say Joe Fontaine from The Sky is Everywhere. He's a musician, funny, loving and genuinely wants to make Lennie happy again. Plus he calls her John Lennon and how cute is that?? And of course, let's not forget about his eyelashes. BAT BAT BAT.
***Meet The Authors***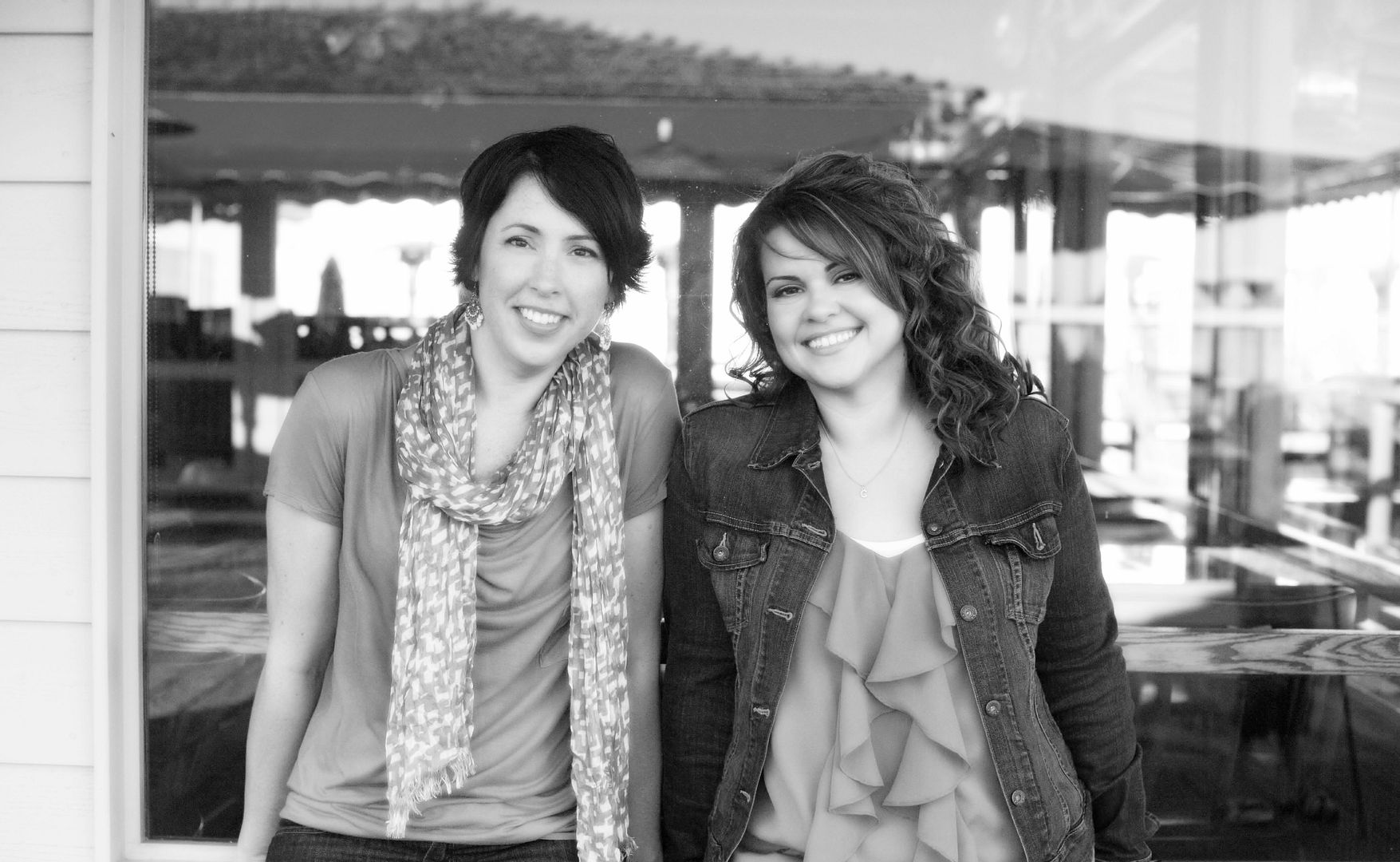 Christina Lauren is the combined pen name of long-time writing partners/besties/soulmates/brain-twins Christina Hobbs and Lauren Billings. The coauthor duo writes both Young Adult and Adult Fiction, and together has produced seven New York Times bestselling novels. Their books have been translated into 22 languages. (Some of these books have kissing. Some of these books have A LOT of kissing.)
Lauren Billings (but everyone calls her Lo) has a Ph.D. in neuroscience and before she made writing her full-time job, would spend her days doing nerdy research-type things wearing a lab coat and goggles. She is silly Mommy to two littles, wife to one mountain biking homebrewing scientist, bestie to a shoe-stealer, and an unabashed lover of YA and romance.
Christina Hobbs (but you'll always hear Lo call her PQ) used to spend her days in a junior high counseling office surrounded by teenagers. Married to the cutest boy in school, she has a thirteen year old daughter, is an unapologetic lover of boy bands and glitter, and also likes to steal Lo's shoes.
Find Christina Here:
Website | Facebook | Twitter | WattPad
Find Lauren Here:
Website | Facebook | Twitter | WattPad
Related Posts