We've been posting the Book Birthdays (almost) every week for a few months but thought we'd switch things up a bit and will now post the books we are most excited each month. We were inspired by Tara at Hobbitsies. Next month, we'll have awesome prize packs for you!
There are tons more books that are coming out this month. You can check out lots of them on our Calendar.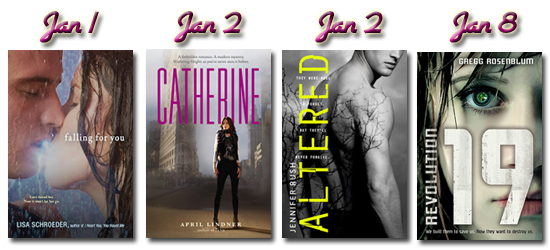 Falling For You by Lisa Schroeder ♥ Amazon ♥ Goodreads
gah. the cover is beautiful. we know, we know…cover h00rs. this one looks angsty, but beautiful.
Catherine by April Lindner ♥ Amazon ♥ Goodreads
who doesn't want to read a modern day retelling of Wuthering Heights?
Altered by Jennifer Rush ♥ Amazon ♥ Goodreads
we've already read and loved. this is another one that has a beautiful cover and we can't wait for more (and for everyone to read :))
Revolution 19 by Gregg Rosenblum ♥ Amazon ♥ Goodreads
we've already read this one too and loved.
Crash by Lisa McMann ♥ Amazon ♥ Goodreads
this is a brand new series from the author of the popular Dream Catcher Series, which some of our friends loved. this one looks creepy, but awesome.
The Wrap-Up List by Steven Arntson ♥ Amazon ♥ Goodreads
the cover's interesting, and the premise is very captivating.
Through the Ever Night by Veronica Rossi ♥ Amazon ♥ Goodreads
if you haven't read the other book (and novella) in this series, stop what you're doing right now and read them. right now. this is amazing and full of action (and perry and roar), and we cannot express the amount of love we feel.
Uses for Boys by Erica Lorraine Scheidt ♥ Amazon ♥ Goodreads
this cover is beautiful. this story is sad, sad, sad and though it hurts our little hearts, it's pretty amazing.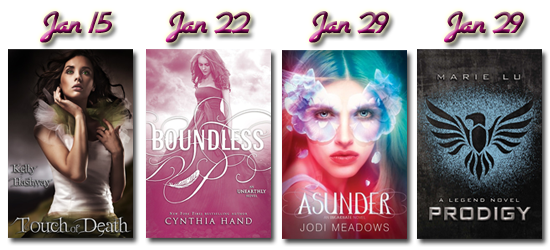 Touch of Death by Kelly Hashway ♥ Amazon ♥ Goodreads
we loved touch of death from a debut author and can't wait for you to read it, too!
Boundless by Cynthia Hand ♥ Amazon ♥ Goodreads
Unearthly is one of our favorite books and we. cannot. wait. for the conclusion of this series. and for more Jeffrey.
Asunder by Jodi Meadows ♥ Amazon ♥ Goodreads
Incarnate was so good (and Sam was so swoony). where is Jodi Meadows taking us now?
Prodigy by Marie Lu ♥ Amazon ♥ Goodreads
we can't wait to find out what happens with June and Day in the second book of the Legend Series. we're sure it's going to be action-packed!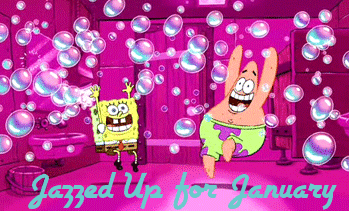 In honor of all the lovely books celebrating their birthdays this month, we're having a giveaway! You can choose from any of the books we've mentioned here. Open anywhere the Book Depository delivers (which is worldwide). Ends at 11:59pm EST on January 31, 2013.
a Rafflecopter giveaway
Related Posts