Stalked by Death
by
Kelly Hashway
Also by this author:
Touch of Death
,
Our Little Secret
Series:
Touch of Death #2
Also in this series:
Touch of Death
Published by
Spencer Hill Press
on August 13, 2013
Genres:
Mythology
Pages:
320
Goodreads
Buy the Book
Jodi knows that any slip-ups made by the Ophi--a special group of necromancers born under the 13th sign of the zodiac--will fall on her shoulders... and that Hades is just waiting for them to screw up so he can wipe out the Ophi line.

Unfortunately, Jodi has only convinced one Ophi to join her school: A hot guy named Chase who jeopardizes her relationship with Alex. Jodi loves Alex, but Chase can enhance her powers with just a touch—making her stronger than any Ophi has ever been.

Her mixed emotions send her powers surging out of control, and the dead start rising without her conscious summoning—exactly what Hades doesn't want! If she chooses Alex over Chase, she may lose the battle to Hades, leading the Ophi race to extinction. If she chooses Chase, she might be able to stop Hades for good… but lose everything else.

Jodi needs to figure things out fast--because death is stalking her at every turn.
We are so excited to be a part of the Stalked by Death Tour brought to you buy Spencer Hill Press! There's an awesome giveaway to go along with today's review that you can enter below!
Here's our review:
The 411:
Things haven't been easy for Jodi since her run in with Hades. She has a lot of tough decisions to make and when a new Ophi joins the team he might just threaten to take away the one person closest to her. Being in charge is more difficult than she ever imagined. She has to find a way to keep everyone safe, make Medusa proud, and most importantly, stay true to herself.

What We Loved:
We have been on the edge of our seats waiting for this one since the second we closed Touch of Death. When we talked to Kelly Hashway at BEA we told her how scared (and excited) we were to read Stalked by Death. When she told us that the ending of this one was going to have us even antsier for the next book, she was so right. SbD is fast-paced, full of action, and absolutely filled to the brim with emotion. Every character, the ones we've known and loved and the new additions, are put through the ringer. All the things we couldn't get enough of in Touched are still there. The Mythology, Alex, romance, full of twists, and did we mention Alex? We love Hashway's words, especially when they give us such strong quotes like this:
"That which has the power to save, has the power to destroy."

Um...Not So Much:
There was a lot to love about this one, but there were also a couple of things that we could have done without. At the top of our list is Chase. UGH! We get the purpose of his arc, we can see how he move the story forward, but that doesn't mean we won't stop wishing he didn't exist.
As much as we love Jodi, and we do, there were times that we found ourselves annoyed with her too. There are MANY reasons for this, and some of our "issues" were even justified within the circumstances of the story. We're going to leave this one up to you!
Lastly, there's the ending. YOU GUYS! This ending….. that's all we'll say.

The Boys:
We'll start with Chase. We are actually shocked at just how much we loathe him. From the second he entered, we knew something was off. We just had that feeling. Like every time he would touch her or look at her we wanted to reach through the pages and smack him. We can appreciate just how good looking he is, but for us that's where his good qualities end.
Then there's Alex. We cannot get enough of this boy. The way he supports, loves, and defends Jodi is beyond swoony. He's still the cocky, flirty, and lovable guy we met in ToD, but he's continued to grow. Plus, he says things like this that have us giggling out loud:
"Yeah, but what can I say– once a stalker, always a stalker."
We love him.
Our only complaint? There were a few times when we just wanted to be able to cuddle him and tell him that he deserved better. Even if we didn't really mean it.

The Girls:
Although there are a few other girls we could mention here, we're going to stick with Jodi. One of the things we continue to love about her character is just how strong she is. In this one she is still the same kick-ass chick we met before, but with a whole lot of responsibility on her shoulders. As the new leader of the Ophi she has to keep everyone safe and keep Hades away. That's a lot of pressure, and she handles it well!
You already know our opinion of Chase, and when Jodi falls for his "spell" we wished like crazy that we could shake some sense into her. Her reactions to him drove us a little crazy, but by the last page we couldn't help our empathy and understanding.

Dream Cast:
We had such a hard time picking the right Alex after reading Touch of Death, but that wasn't the case after Stalked by Death. This time it was east. Here's our Alex:

What We Think Will Happen Next:
AHHHHHHHHHHHHHHHHHHHHHHHHHHHH. We have no idea! All we will say is that we need Face of Death immediately.

Bottom Line:
Mythology, action, and romance. What's not to love?

Verdict:

Other Books by Kelly Hashway:
Rating Report
Cover
Characters
Plot
Writing
Swoon
Overall:
4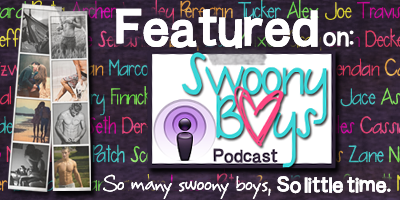 Related Posts