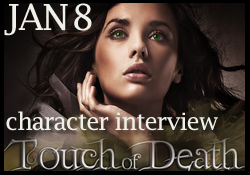 Summary:Jodi Marshall isn't sure how she went from normal teenager to walking disaster. One minute she's in her junior year of high school, spending time with her amazing boyfriend and her best friend. The next she's being stalked by some guy no one seems to know.After the stranger, Alex, reveals himself, Jodi learns he's not a normal teenager and neither is she. With a kiss that kills and a touch that brings the dead back to life, Jodi discovers she's part of a branch of necromancers born under the 13th sign of the zodiac, Ophiuchus. A branch of necromancers that are descendents of Medusa. A branch of necromancers with poisoned blood writhing in their veins. Jodi's deadly to the living and even more deadly to the deceased. She has to leave her old, normal life behind before she hurts the people she loves. As if that isn't difficult enough, Jodi discovers she's the chosen one who has to save the rest of her kind from perishing at the hands of Hades. If she can't figure out how to control her power, history will repeat itself, and her race will become extinct.
Release: January 15th, 2013
Author: Kelly Hashway
Publisher: Spencer Hill Press
We were lucky enough to receive an advanced copy of Touch of Death by Kelly Hashway from Spencer Hill Press. We were even luckier to get the opportunity to interview our favorite character from this new series, Alex.
You know if we love him that he has to be swoony, right? Right. He does not disappoint at all.
Here's what he had to say when we sat down with him:
1. There were times when it seemed like you might have enjoyed "stalking" Jodi. Is there any truth to that or was it just part of your assignment?
Have you seen her? She may have been an assignment, but she's hot. Of course I enjoyed following her around.
2. In Touch of Death we saw you eating mac & cheese for every meal. Do you think in Stalked By Death that you'll start adding more variety to your diet?
I do eat other things, too, and I think Jodi might make me branch out a little more.
3. I think we've already determined that Abby is a little crazy, but we have to know if what she said is true. Were you ever really "hers"?
Only in her head.
4. Does the relationship you have with your family make it harder for you to trust/love?
I consider all the Ophi my family. No family is perfect. You wish you could do without some, and others you'd do anything for. Yeah, I know that doesn't exactly answer your question, but I haven't even told Jodi I love her yet, so it's kind of awkward to tell you how I feel about her. You know?
5. After reading Touch of Death we immediately ran to read the description of Stalked by Death and it's got us a little worried. Anything you want to say to reassure us?
I've been sworn to secrecy on that one. You'll have to read it.
Boxers
7. Do you think you're a good kisser? What's the best kiss you've ever had?
I haven't had any complaints. My first kiss with Jodi was pretty awesome, but I think you can expect some even better ones to come.
8. What's your favorite book?
All we get to read is Ophi history books. The stuff about Medusa is pretty cool, though.
9. If Jodi wanted to make you breakfast in bed, what would you want on the menu?
I'm sorry, I didn't hear what you said after bed. I was too busy picturing Jodi wearing my t-shirt.
10. Since we're all about the swoon here at Swoony Boys Podcast, we have to ask. What do you think makes you swoony?
If you ask Jodi, it's my eyes, but I think she liked me showing up everywhere she was, too. Girls seem to like my confidence.
Trust us when we say you want Touch of Death on your reading list. We cannot wait to get our hands on book #2, Stalked by Death.
Make sure you come back to check out our full review posting later this month.
Related Posts