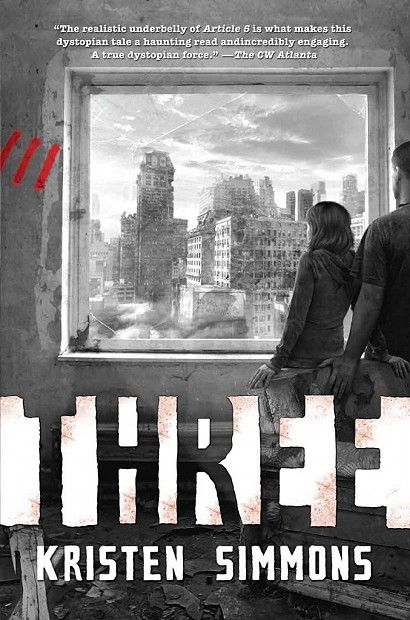 THREE by Kristen Simmons
Published by TOR Teen on February 11th, 2014
Pages: 384
Ember Miller and Chase Jennings are ready to stop running. After weeks spent in hiding as two of the Bureau of Reformation's most wanted criminals, they have finally arrived at the safe house, where they hope to live a safe and quiet existence.

And all that's left is smoking ruins.

Devastated by the demolition of their last hope, Ember and Chase follow the only thing left to them—tracks leading away from the wreckage. The only sign that there may have been survivors.loo

With their high profile, they know they can't stay out in the open for long. They take shelter in the wilderness and amidst the ruins of abandoned cities as they follow the tracks down the coast, eventually finding refugees from the destroyed safe house. Among them is someone from Chase's past—someone he never thought he'd see again.

Banding together, they search for a place to hide, aiming for a settlement a few of them have heard about…a settlement that is rumored to house the nebulous organization known as Three. The very group that has provided Ember with a tiny ray of hope ever since she was first forced on the run.

Three is responsible for the huge network of underground safe houses and resistance groups across the country. And they may offer Ember her only chance at telling the world her story.

At fighting back.
We are ridiculously excited to be on the tour for THREE by Kristen Simmons hosted by the awesome ladies over at Book Nerd Blog Tours. We've got a great character interview with Chase and Sean plus a giveaway for you all to enjoy! (And trust us, you're really going to enjoy this one!)
Here we go…

***INTERVIEW***
Today we're sitting down with Chase and Sean from the Article 5 series. Hi, guys! Welcome! We're going to be honest. Having you guys here makes us nervous. We might need to crack a window. It suddenly feels very warm in here…
You guys are both the embodiment of strong alpha males. But we want to see the other side. What are your biggest fears?
Sean: OHMYGOD ROACHES.

Chase: Are you serious?

Sean: Don't pretend you're not creeped out. They can live without a head, you know. They literally feast on human flesh.

Chase: …

Sean: Let me guess: you were going to say "nothing," weren't you? You're so full of it.

Chase: Ember.

Sean: Ember?

Chase: Mmm hmmm.

Sean: You're right. She is pretty scar… (ducks to avoid getting punched)
We know how the world looks right now. Do you have a vision for what you'd want it to look like some day? (Besides keeping yourself, the girls, and as many others as possible alive?)
Chase: Simpler. Not always having to look over your shoulder.

Sean: Tell them about the house.

Chase: Shut up.

Sean: What? Tell them or I will.

Chase: (sigh.) I always kind of thought Em and I would have a little place on the water. She talked about that before I went away a couple times. A place with a room full of contraband books and her mom's old music. When I think of our someday, I think of that. It's nothing crazy. Just a couple rooms and a view of the ocean.

Sean: And a big, king-sized bed… (ducks to avoid getting punched)

Chase: What about you?

Sean: Becca and I will be lounging out on the sun in your back yard.
Even though what you did was very different, we already know that both of you went through a lot in your training. We see all the bad, but was there anything you learned that was useful or that you value?
Sean: How to stay alive.

Chase: How to kick their asses.

Sean: Nice. There was a ton of classroom crap. Education on the Statutes, rules and regs, weapons training.

Chase: Fighting.

Sean: Well, he'd know more about that.

Chase: (shrugs) The best thing they taught me was how to stop feeling. For a while, staying numb was the only thing that got me through. Ember shot that all to hell of course.

Sean: She ruins everything.

Chase: (grins) Watch it.
Ember and Rebecca are both pretty amazing. They've always been very clear about what they love about you guys, (we agree with all of it by the way) but we want to know your favorite things about them.
Sean: What'd they say about me? Us, I mean.

Chase: Answer the question.

Sean: It's all too inappropriate. I can't. She'll kill me.

Chase: Fine, I'll go. Ember's strong.

Sean: Like an ox.

Chase: Keep it up and I'll kill you.

Sean: …

Chase: She's strong, like I said. She thinks I'm the strong one, but I'm nothing next to her. She's had all this stuff thrown at her. Stuff she never even imagined. And she still gets back on her feet and comes up swinging. You don't meet people that live through the kinds of things she has, and aren't just filled with hate. She's the bravest person I've ever known.

Sean: And she's decent looking, which helps…

Chase: She's…yeah. She's pretty. It's not the right word… Look, this is kind of private. You go.

Sean: Well since you got all sappy. Becca's hot. Smokin' hot. And she's funny – she's got a great laugh. And…

Chase: And?

Sean: And she's better than me. And that makes me want to be better for her.

Chase: Yeah. I get that.
In every book of this series, you guys are forced to spend time apart from the girls. We know what that was like for them, but what was it like for you two? (Come on, guys. We know it's a tough question, but we won't tell anyone if you talk about your feelings.)
Chase: It was terrible.

Sean: Right. Terrible. Thanks for bringing it up.

Chase: Thinking she was safe – that everything you were doing and going through was for her protection and then finding out that none of it mattered, and that not only was she going to be hurt, but be hurt because of you? That's the kind of thing you never really get over, even after it's all done.

Sean: Terrible.

Chase: Let's go find the girls.

Sean: Good plan.
That wasn't so bad, right? We wanted to ask you questions about your bromance (because we love it so much!) but we thought you might not finish the interview if we did.
***The Swoony 5***
(These are the five questions we ask all our swoony boys!)
Boxers or Briefs? (We know it's cliche', but that doesn't mean we don't want to know!)
Chase: Seriously?

Sean: I'm so glad you asked. I prefer to go commando.

Chase: You would.

Sean: And you don't? No…you're too much of a control freak. But there's that crazy side, too…

Chase: You've clearly thought a lot about this.

Sean: Boxer briefs. The combo. I'm right, aren't I?

Chase: You'll have to ask Ember.

Sean: Hey! Ember! (ducks to avoid getting punched)
Do you think you're a good kisser? What's the best kiss you've ever had? 
Chase: I guess I'm all right. Best? That's really none of your business.

Sean: I'll answer. I'm an excellent kisser, ask Becca. She'll tell you. The best kiss I ever had was our first. It was in a shower at the reformatory – hot, right? She kissed me. I guess I was basically irresistible in my uniform.

Chase: Wow.

Sean: Why don't you tell them about the barn?

Chase: Why don't you shut your mouth?

Sean: All right.
(We are dying, but we'll try to move on.) What's your favorite book?
Chase: Frankenstein by Mary Shelley. Em turned me on to it.

Sean: I bet she turns you on to a lot of… Ouch. I read many books. I'm well versed in the literary world. Some people even consider me a scholar.

Chase: You don't have one. A favorite book.

Sean: I mean…do I have to have just one?

Chase: Say the name of a book. Any book.

Sean: Frankenstein by Mary Shelley.

Chase: Exactly.
 If Ember & Becca both wanted to make you breakfast in bed, what would you want on the menu?
Chase: Um…I…

Sean: I think we all know where that's going. I'd take eggs over easy, bacon, fresh squeezed orange juice, and some pancakes. Also a naked Becca.
Okay, last question. Since we're all about the swoon here at Swoony Boys Podcast, we have to ask. What do you think makes you swoony?
Sean: My dashing good looks.

Chase: Ember seems to like my scars. That and I'd die for her.

Sean: Seriously? You can't do that.

Chase: I just did.

Sean: I should have said that. Now anything I say just makes me look like a joke.

Chase: So be original.

Sean: Fine. Fine, okay? I'd…kill a cockroach for her. Barefoot.

Chase: Huh.

Sean: I hate you.
Just when we thought we couldn't love the two of you more, you guys go and give us the best interview ever!

♥♥♥
***Kristen Simmons***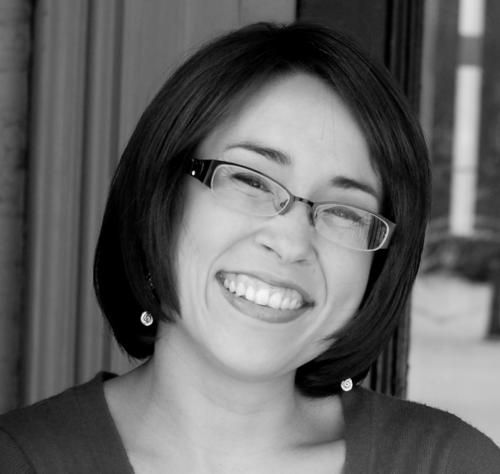 Kristen Simmons has a master's degree in social work and is an advocate for mental health. She loves Jazzercise, her husband, and her precious greyhound, Rudy. Also chocolate. She currently lives in Tampa, Florida.
Find Kristen Here:
Website | Facebook | Twitter | Goodreads
***GIVEAWAY***
a Rafflecopter giveaway
Be sure to check out the other stops on the tour by clicking the link below:
Related Posts