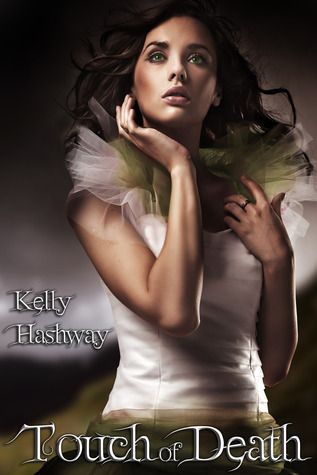 Touch of Death
by
Kelly Hashway
Also by this author:
Stalked by Death
,
Our Little Secret
Series:
Touch of Death #1
Also in this series:
Stalked by Death
Published by
Spencer Hill Press
on 01-15-2013
Genres:
Mythology
Pages:
235
Goodreads
Buy the Book
After the stranger, Alex, reveals himself, Jodi learns he's not a normal teenager and neither is she. With a kiss that kills and a touch that brings the dead back to life, Jodi discovers she's part of a branch of necromancers born under the 13th sign of the zodiac, Ophiuchus. A branch of necromancers that are descendents of Medusa. A branch of necromancers with poisoned blood writhing in their veins.

Jodi's deadly to the living and even more deadly to the deceased. She has to leave her old, normal life behind before she hurts the people she loves. As if that isn't difficult enough, Jodi discovers she's the chosen one who has to save the rest of her kind from perishing at the hands of Hades. If she can't figure out how to control her power, history will repeat itself, and her race will become extinct.
The 411:
Jodi is a typical teenage girl, with a great boyfriend. Then everything changes. Unexplainable things start happening around her, and they aren't good. When Jodi learns that she is a Necromancer and one of Medusa's descendents, her whole life is turned upside down. Without meaning to, she puts everyone she loves in danger and no one is safe, not ever her mom. Things get even more interesting when Jodi learns that there's a group of Necromancers, the Ophi, who are depending on her to save them.

What We Loved:
We were super excited to read this one, the summary sucked us in and it didn't disappoint. So what did we love most? Let's see:
The romance. Jodi and Alex's relationship is very real. It's not insta-love, but it does have teenage romance elements. One minute they are sweet and innocent and the next minute things turn steamy. We loved that once they were together we never doubted for a second that they would stay together. (More on that later.)
Necromancer aspects. As far as we can remember we haven't read another YA about necromancy. It' not something we knew a lot about, but after a little research, we've realized just how powerful this magic really is. It's definitely fun to read about.
Greek mythology aspects. Amazing.  This was one of things that grabbed out attention when we read the summary and we were thrilled that it was such a huge part of the book. Medusa has a big role in this book, but she's not the Medusa you would expect, and we liked that too.

Um…Not So Much:
We love the storyline of a typical girl becoming more, but the way it happens is a little too…weird for us. Before Jodi realizes what she is, she finds herself in tons of strange situations. Maybe too many. We're pretty sure if we started killing things and bringing them back to life as weird zombies, we'd know something was up after the first or second time. It takes Jodi a little longer.
Touch of Death has a lot of secondary characters, and there are a few we could have done without. With that said, our biggest issue is that as soon as we finished the last page of Touched by Death we ran to read the summary for book #2, Stalked by Death. It has us scared. Really, really scared.

The Boys:
If you've heard us swoon about Alex before, you already know we love him. Now we get to tell you why. When we first meet Alex he's a bit of a creepy stalker. It just speaks to his character that even with his creepiness we couldn't help but swoon over him from the beginning. He's a gorgeous green-eyed Ophi, who has amazing one liners like this:
"The name's Alex," he said. "I know you've been wondering."
We're not ashamed to admit that he actually had us giggling out loud while we were reading.
The best part about Alex is the way he cares for Jodi. His sweetness is a complete contradiction to his tough outer-shell, which is just one more reason to love him.

The Girls:
Jodi is pretty awesome. She's brave and powerful, and yet still completely relatable. Hashway created a main character who has flaws and makes mistakes, but learns from them and allows them to make her better. She's one of those heroines that is a great role model for girls.
She's not perfect though, and even though we loved her, there were a view things about Jodi that drove us a little crazy. She seemed do be an accident waiting to happen. We're talking lots of bumps, bruises, and blood. Her klutziness seems to be related to her lack of common sense. Luckily by the end of the books she's worked out most of her kinks and becomes the rock-star we knew she could be.

Bottom Line:
If you're looking for a mythological YA with an awesome bad-boy, Touch of Death is for you.

Verdict:
What We Think Will Happen Next:
As you can tell from above, we're really nervous about what's going to happen next. We even tried getting info out of Alex when we did a character interview. (Read that here.) The Stalked by Death summary mentions another boy and that gives us the feeling that we'll be reading it with our fingers placed partially over our eyes. Eeeeek!

Other Books by Kelly Hashway:
Stalked by Death (Touch of Death #2), Into the Fire (Spring 2014), The Monster Within (April 2014)
Other Touch of Death Posts:
Other Posts About Alex:
Rating Report
Cover
Characters
Plot
Writing
Swoon
Overall:
4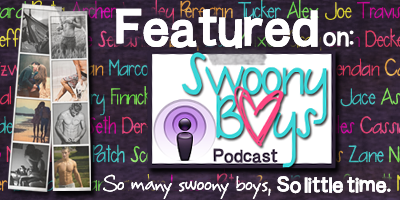 Related Posts