by
Trivia Night
,
WhaddaYA Know Wednesday
,
WYAKW
Hey, guys! Last year we started a monthly trivia night with our besties over at Fiction Fare! We are continuing WhaddaYA Know Wednesday again this year, but with some new rules/scoring system! Ready to hear all the details? Here we go…
What Is WhaddaYA Know Wednesday?
Who: You. Book Inhalers. YA Lovers. Reading Enthusiasts. And even Book Novices. Everyone is welcome!
What: WhaddaYA Know Wednesday
When:

The 3rd Wednesday of every month at 9pm CST! (Except this month! Things got crazy this month!)
Why:

We love interacting with all of you. We love talking books, book boys, and gushing over our favorite authors. We couldn't think of a better way to do all of that than by combining all of those things, throwing in some awesome prizes, and having a blast while doing it!
How: The rules are simple. Follow both @SwoonyBoys and @FictionFare on twitter to play. Tune in TOMORROW (and then the 3rd Wednesday of everything month) and answer our questions. You will earn a point for every correct answer and then an extra point if you get all 10 answers correct. We will then turn each of your points into an entry and enter everything into random.org to pick a grand prize winner! This person will get a book and some fun swag to go with it! Want to earn even more points? Bring a friend who hasn't played before and you get a point for them joining in! The more friends you bring, the more points you will earn! Pay attention to our twitter accounts because some months will be based off of a specific theme or genre, other months will be more free-style.
Questions? Comments? or Concerns? Send us an email at:
swoonyboyspodcast@gmail.com!
We can't wait for our very first WKW of the year and hope that all of you will join us tomorrow night at 9pm CST! This month's theme is all about DIVERSE BOOKS! Join us for the fun, the prizes and of course, for the books. See you soon!
Where Can You Find Us?
CLICK HERE TO FOLLOW FICTION FARE ON TWITTER
CLICK HERE TO FOLLOW US ON TWITTER
Snag A Graphic
(Grab one and let the world know you're participating!)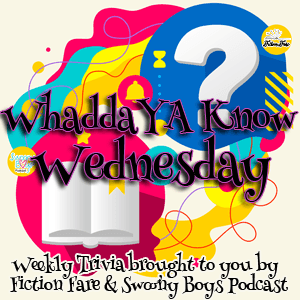 Related Posts