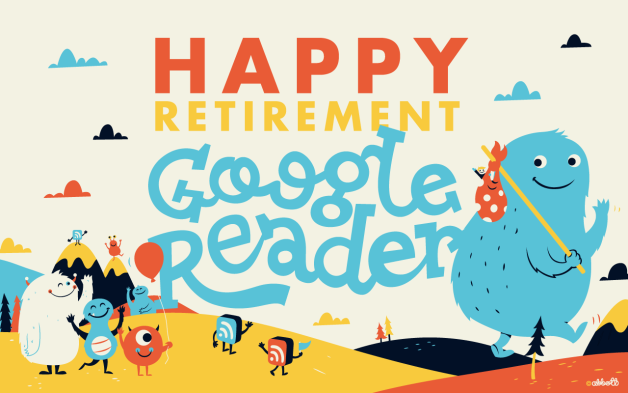 A few months ago, Google Reader announced that it would be retiring on July 1, 2013. If you're like me, you rely on your reader to keep up with everything that's being posted on the blogs you follow in one place. It has taken me a long time to narrow down the results, but one reader stands out the most to me: feedly.
While I appreciate getting certain posts in my inbox every day (like Divergent Lexicon), the truth of the matter is I get so many emails that I don't always have time to read full articles when I'm checking my email. That's why I use(d) Google Reader every single day. For those of you who don't use a reader, it basically takes all of the feeds that you subscribe to and loads it into one place, making it easy to read and mark things that you want to come back to (like contests or places you want to interact and comment). For me, that's over 400 sites and blogs. I love that I can see the titles of all of my subscriptions, so I usually know if I want to read more at a glance.
There are a ton of sites that have done "Choose Alternative RSS reader" posts, so I'm not going to go over everything here. I'm just going to let you know why I'm going with feedly for my preferred rss reader.
Lots of people also seem to be worried about feedburner and Google Friend Connect shutting down, too (me among them). There hasn't been an official announcement about that, and so for now, I'm sticking with feedburner for my feeds. Unless plans to shut down feedburner are released or the service drastically changes, I'm not going to start paying for an email subscription service. I have done about eleventy billion hours of research on this, though, so if you'd like me to make a post about that, let me know, and I will. Parajunkee has a great post on the possibility (probablility) of GFC shutting down, and I recommend checking that out.
I'm only mentioning the possible demise of feedburner and GFC because it seems to go hand in hand with the rise of BlogLovin'. I checked out a lot of other sites and one thing I've noticed is that a lot of my friends and fellow book bloggers are making the move to BlogLovin'. I didn't find anything wrong with BlogLovin', but if I decide to switch from feedburner to another service, I'm definitely not going to switch my subscribers to a service that I can't control. Since I'm using As far as using BlogLovin' as an RSS feed reader, I like the way it looks, but not all the time. And that's why I ultimately chose feedly as my RSS reader.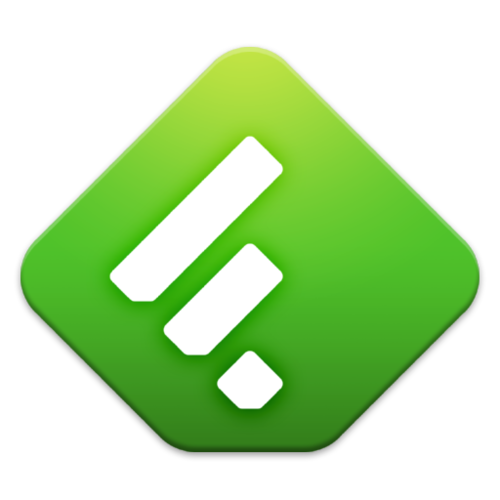 Feedly combines the simplicity of Google Reader and the beauty of BlogLovin' into one neat package that I can change effortlessly according to my moods and needs, and it's only getting better.
You can view feedly as a list just like you did with Google Reader:
You can also view it as "Magazine View", which is great when you want more than just the title and to see a peek of what's in the post.
But if you want (some) more detail, you have more choices. "Card View", which is perfect for viewing more information and bigger pictures: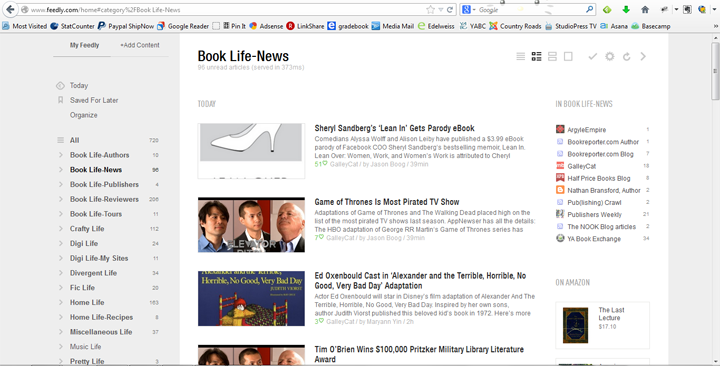 And you can also see the "Full Article" view, perfect for when you need more of this: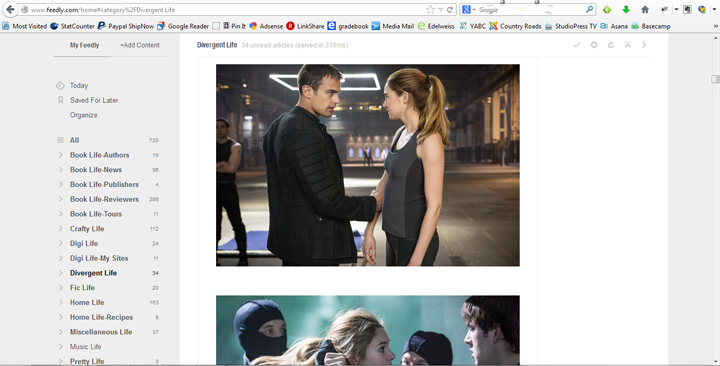 The great thing about Feedly is that you can easily switch views with the click of one icon. Even better, you can have different default views for each category, and Feedly remembers your last choice. So there's no problem (or menacing wait) if I prefer read my "Divergent Life" category as Full Article view, my "Crafty Life" as Card View, my "Book Life" as Magazine View, and everything else as List View. Feedly remembers it all and makes it a cinch to switch when I want a different look.
I can pin images directly from Feedly and share to all of my social media, right from there.
Best of all, it's free. It was easy to migrate (check out this article on Rebekah Radice's Site) and easy to maintain, there are several options so it's totally customizable, and there's a ton of help available out there. Bottom line: I love Feedly.
What don't I like about Feedly? There's no search function, which is the only reason that I'm still exploring my options. Also, you can also change the background color to not be drab gray, but I don't love the colors offered. It's minor, but it's there. Overall, it's like the feed reader gods took all my hopes and wishes and created Feedly, just for me.
I also checked out RSSOwl, FeedBooster, and Bloglines, and they were fine. Feedbin is another alternative to Google Reader that seems pretty good, but you have to pay for it. All of these services (including BlogLovin' and Feedly) offer easy, one-click migration from Google Reader. You can (and should!) also use Google Takeout to download an archive of all of the sites you subscribe to via Google Reader. I'm also keeping an eye out for Digg's new reader, though it's not ready yet.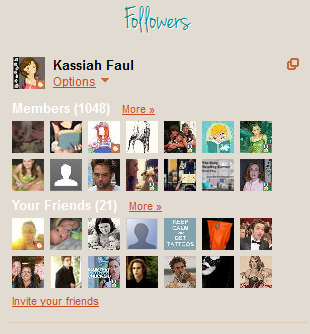 There is one more issue that I want to bring up. If you use blogger and click "Follow" to follow a blog, then that blog's feed would show up in your blog roll on your sidebar (if you use it). They also show up in Google Reader. Those subscriptions won't automatically be added to Feedly or any other reader any more. You'll need to subscribe to the feed directly, which is super easy. I recommend taking a look at Ashley's post about subscribing and following. ♥ her site.
So, there you have it. The reason I made the switch from Google Reader to Feedly. I hope this helps you decide which reader you want to use. Remember! Google Reader will no longer be available on July 1, 2013, so I recommend migrating to a few readers until you've decided which one is right for you. And in the meantime, subscribe to Swoony Boys Podcast here. Let me know if the comments if you've tried out Feedly or any others and what you think. Do you use a feed reader?
Related Posts