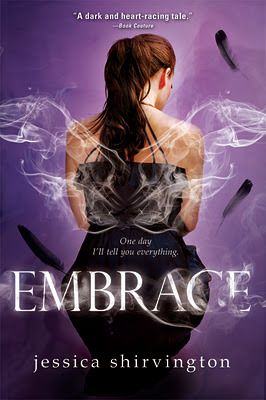 Embrace by Jessica Shirvington
Series: The Violet Eden Chapters #1
Published by Sourcebooks Fire on March 6, 2012
Pages: 369
It starts with a whisper: "It's time for you to know who you are…"

On her 17th birthday, everything will change for Violet Eden. The boy she loves will betray her. Her enemy will save her. She will have to decide just how much she's willing to sacrifice.

Dangerously exciting and darkly romantic, Embrace is a compelling novel of good and evil, seductive desires and impossible choices. A centuries old war between fallen angels and the protectors of humanity chooses a new fighter. It's a battle Violet doesn't want, but she lives her life by two rules: don't run and don't quit. If angels seek vengeance and humans are the warriors, you could do a lot worse than betting on Violet Eden.

LINCOLN: He's been Violet's one anchor, her running partner and kickboxing trainer. Only he never told her he's Grigori—part human, part angel—and that he was training her for an ancient battle between Angels and Exiles.

PHOENIX: No one knows where his loyalties lie, yet he's the only one there to pick up the pieces and protect her after Lincoln's lies. In a world of dark and light, he is all shades of gray.

Two sides: Angel or Exile.
Two guys: Lincoln or Phoenix.

The wrong choice could cost not only her life, but her eternity…

Entice by Jessica Shirvington
Series: The Violet Eden Chapters #2
Published by Sourcebooks Fire on September 1, 2012
Pages: 438
The war between Exiles and Angels is on — and she's wanted by both sides.
The hotly anticipated follow-up to Embrace, Entice ramps up the captivating combination of angel mythology, forbidden romance and intense action. Seventeen-year-old Violet Eden's whole life changed when she discovered she is Grigori – part angel, part human.

Her destiny is to protect humans from the vengeance of exiled angels. Knowing who to trust is key, but when Grigori reinforcements arrive, it becomes clear everyone is hiding something – even her partner, Lincoln.

And now Violet has to learn to live with her feelings for him while they work together to stay alive and stop the exiles from discovering the key to destroy all Grigori. It isn't easy. Especially when the electricity between her and exile Phoenix ignites, and she discovers his hold over her has become more dangerous than ever.

The race halfway across the world to find the one artifact that could tilt the balance of power between Angels and Exiles brings them to the cradle of civilization, where Violet's power will be pushed to the extreme. And the ultimate betrayal exposed.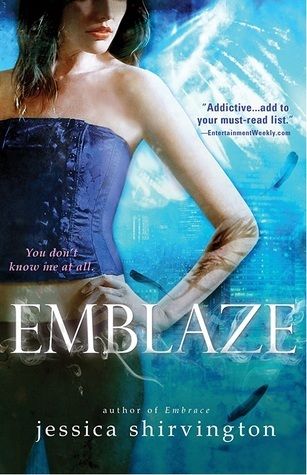 Emblaze by Jessica Shirvington
Series: The Violet Eden Chapters #3
Published by Sourcebooks Fire on March 5, 2013
Pages: 464
Once again Violet Eden faces an impossible choice … and the consequences are unimaginable.

Violet has come to terms with the fact that being part angel, part human, means her life will never be as it was.

Now Violet has something Phoenix – the exiled angel who betrayed her – will do anything for, and she has no intention of letting it fall into his hands. The only problem is that he has something she needs too.

Not afraid to raise the stakes, Phoenix seemingly holds all the power, always one step ahead. And when he puts the final pieces of the prophecy together, it doesn't take him long to realise exactly who he needs in order to open the gates of Hell.

With the help of surprising new allies, ancient prophecies are deciphered, a destination set and, after a shattering confrontation with her father, Violet leaves for the islands of Greece without knowing if she will have a home to return to…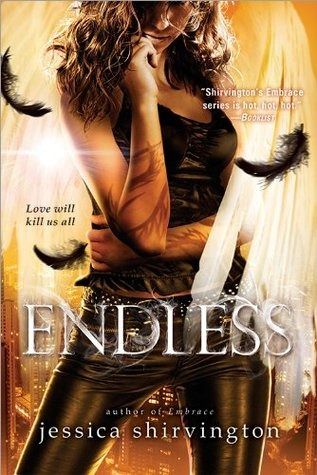 Endless by Jessica Shirvington
Series: The Violet Eden Chapters #4
Published by Sourcebooks Fire on October 1, 2013
Pages: 480
Love will kill us all.

Angels are real. They aren't always kind. Violet Eden is certain of all this because she is Grigori – part angel, part human. She has felt the influence of both light and dark.

When Hell unleashes its worst, Violet must embrace every facet of her angel self to save the people she cares about and the world as she knows it. But death is not the worst thing that Violet will face. For her, the endless question 'Can love conquer all?' will finally be answered.
***Interview***
We were lucky enough to have author
Jessica Shirvington
stop by today to answer a few questions for us.
Give us your twenty second elevator pitch about The Violet Eden Chapters.
It is the story of a girl, who discovers she is more than human and now has to make a series of choices that change not only her life but also those around her. It is a story of bad being good and good being bad. About love and loss and learning to fight. It is a story about choice. About consequence. And kicking ass along the way!
We love girls who kick ass! What was your favorite part to write?
All of it. There are different emotions, research and thought that go into every element of every book. But, I must say, there was a great amount of anticipation going into writing Endless. I knew it was coming as I was writing the first three books and I knew what I was going to have to do. I cried through much of the writing experience, but I loved it all the same.
Awwww. What is it about angels that first caught your eye?
First, it was the story of the Grigori in the Book of Enoch and the insinuation that it was angels who had been the catalyst for the Great Flood. I loved this story so much and it led me down the path of much angel related research. Once I hit the theories of the angel hierarchy, I was hooked.
That's so interesting, Jessica. How do you build your characters? Do you know every single detail of their lives?
They definitely develop on the page. For the main characters I spent a lot of time working on their histories and personality traits, but for many of the other characters I just threw them in the pot and went from there. I love that too. So many of the characters have surprised me and become so much more substantial than I could have ever anticipated. If I have tried to control them too much at the beginning those character developments would have never happened.
How would you introduce Violet to readers?
In the beginning: Flawed. Naive. But strong and loyal and constant. By the time a reader picks up Endless: She is powerful beyond her knowledge. She is fierce. She is hurt and has carried the burden of the consequences for choices she has previously made. She is a warrior.
How would you describe yourself in three words?
Mother. Loyal. Determined.
Love that. Do you have any interesting writing quirks or rituals?
I write all of my chapter breakdowns in pen. I have a large notebook for every novel and that is where the story starts and it then becomes my bible for the novel. I will never change that.
Oh to get our hands on them! How do you feel about writer's block when there's a deadline? How do you remedy that?
I don't believe in writer's block. I just think that sometimes you aren't as good as others or as fast thinking. My opinion is you just keep writing. When it is your job, really, you have no choice and so I just write. I follow my characters around forcing them to do mundane activities, have nonsensical conversations until eventually I stumble across the right scene that moves the plot in the right direction. The worst thing a writer can do, is not write.
Great advice. Thanks so much for coming by, Jessica!
***About the Author***
Jessica Shirvington is the author of The Violet Eden Chapters also known as The Embrace Series, and stand alone novel, Between the Lives. An entrepreneur, author, and mother living in Sydney, Australia, Jessica is also a 2011 finalist for Cosmopolitan's annual Fun, Fearless Female Award. She's also one of the lucky few who met the love of her life at age seventeen: Matt Shirvington, a former Olympian and current sports broadcaster for FOXTEL and Sky News. Married for twelve years with two beautiful daughters, Sienna and Winter, Jessica knows her early age romance and its longevity has definitely contributed to how she tackles relationships in her YA novels.
Find Jessica Here:
Website | Facebook | Twitter | Goodreads
***GIVEAWAY***
We've got a copy of Endless to give away!
a Rafflecopter giveaway
Let us know: have you read The Violet Eden Chapters? Do you love angels?
Related Posts