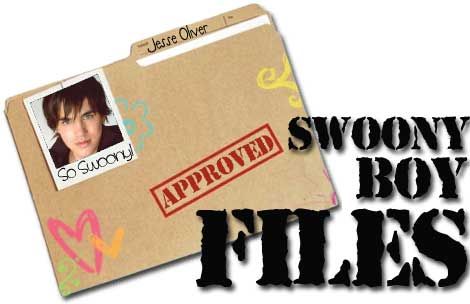 The Book:
Featured in: Also Known As
Made His Debut: 02-27-2013
Author: Robin Benway
Genre: Contemporary
Publisher: Walker Children's
The Boy:
Age: 16
Physical Description: Dark Brown Hair, Green Eyes. "Jesse Oliver, damn him, was really cute. Dark brown hair that curled over his ears and forehead, green eyes, dark olive skin, and teeth that had either been borne from amazing genes or seen a boatload of orthodontia, judging from how straight they were."

Personality Traits: Jesse's facebook page lists "hanging out" and "doing stuff" as his interests. He skips school. The fact that he uses polysyllabic words gives Maggie (and us) butterflies. He's sweet and loyal, and he doesn't mind making out in libraries.
Occupation: student
Relationship Status: In a Relationship
The Swoon
Score on the Swoon-o-Meter: 9
Read about our Swoon Ratings here.
Swoony Things He Says:
You have to want it.
I like looking at you. I like kissing you too.
I'll take weird if it means I'm a good kisser.
I'm gonna date you like you've never been dated before.
You're not gonna fall. Look, I'm here, I'll catch you.
Not only will I not laugh, but I'll beat up anyone else who laughs.
…and every time he calls her Spy Girl.
Why We Like Him: He gives her a ruby red ring pop. He's sweet. He's the perfect blend of devil-may-care and vulnerable rolled into one.
I don't know how I can say this any more clearly: I'm really glad you kissed me last night."

"Yeah, but then you didn't call me back right away this morning and I was just worried…"

"You were worried because it took me fifteen minutes to call you back?"

"Um, maybe?"
Why We Don't: What're we gonna complain about? He let Maggie off the hook a little too easily? Nah, not these girls.
Related Posts