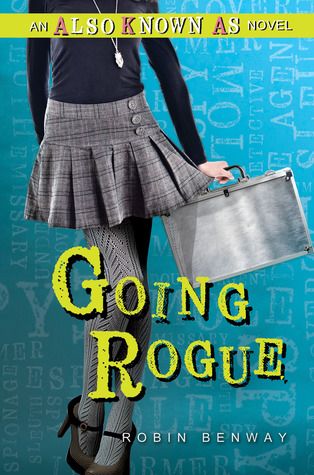 Going Rogue
by
Robin Benway
Also by this author:
Also Known As
Series:
Also Known As #2
Also in this series:
Also Known As
Published by
Walker Children's
on January 14, 2014
Genres:
Contemporary
Pages:
320
Goodreads
Buy the Book
Being permanently based in a local New York City high school as an undercover operative has its moments, good and bad, for 16-year-old safecracker Maggie Silver. Pros: More quality time with her former mark-turned-boyfriend Jesse Oliver and insanely cool best friend, Roux. Getting to spend quality time with her semi-retired and international spy honorary uncle, Angelo. Cons: High school and the accompanying cliques, bad lunches, and frustratingly simple locker combinations. But when Maggie's parents are falsely accused of stealing priceless gold coins, Maggie uses her safecracking skills to try and clear their names. Too bad it only serves to put her and everyone she loves in danger. Maggie and her "new team" flee to Paris where they must come up with a plan to defeat their former allies.
The 411:
Maggie, Jesse, and Roux are at it again with another action-packed adventure in this awesome follow-up to Also Known As. Not much time has passed since the end of AKA (and luckily Benway provides us with a mini-recap in case all you can remember are the Jesseswoons), and Maggie is trying to discover who she is now that she's "done" being a super-spy.
Her self-imposed retirement comes to an abrupt end when she finds out that the Collective is framing agents for crimes they didn't commit and firing them–and that her parents are next on their list. They've been accused of stealing some rare gold coins from a mission several years prior, and if the coins aren't recovered asap, they'll lose their jobs and will potentially be in danger.
Of course, Angelo has a plan, and Maggie's back at work to exonerate her parents. Trouble is, she can't tell anyone what she's up to–not Jesse, not Roux, and especially not her parents. It's a tough situation for her to be in, particularly since she's been trying to deal with assimilating into "normal" society.
I think this is the longest my family has ever been in one place, which is interesting. I've always had wings, never roots, and now I wake up to see the same four walls and have the same name–Maggie–every single day.
We get to follow Maggie on another adventure as she tries to recover the coins and help figure out what's going on with the Collective.  Luckily she has some help, in the form of the characters we've already grown to love, plus some new friends that we loved, too.

What We Loved:
This is another high-stakes adventure, and we loved how fast-paced it was and how authentic the spy stuff seemed to be. We loved the new characters that we got to know in this book, and of course, we loved that we got more of the characters that we already know and love. Like Jesse Oliver. Okay, and Roux and Maggie, too.

Um...Not So Much:
Our only complaint about this book was how almost-slapstick it got toward the end. It was humorous for sure, but a little too over the top to remain believable. Also, where the ending of Also Known As left us wanting more, it wasn't a cliffhanger. Going Rogue wasn't either, but it definitely left things open for more (*fingers crossed*) and felt a little incomplete.
We also could have used a little more swoon.  js

The Boys:
Jesse. Jesse Oliver's sweetness knows no bounds (remember our Swoony Boy File?), and you'll love him in this one, too. He gets to jump into the spy game a bit, and one of the things that we love the most about him is how he stands up for himself. Maggie is a very strong character and it takes a real man to not let her run over him. We appreciate that Jesse loves her enough to make sure she knows he wants to be in everything with her.
"That's what people do when they love each other, Mags. They protect each other. You looked out fro me and Roux, and now you won't let us do the same for you and it makes me crazy."
Angelo. We got to know Angelo a little bit more in Going Rogue, and we have to say that we love him. He's a great mentor and truly loves Maggie and her family. He's a genius, but allows himself to admit that he needs Maggie's help. We know his history has got to be fascinating.
We make the world better.  When you love people, you want the world to be a beautiful place for them.  If you're lucky enough, you can make their world better just by standing next to them.  And if you're very, very lucky, you can work with the people you love to improve things.  You're in it together."
Even though we'd hate to miss out on Jesse Oliver, we wish Benway would write a novella from Angelo's POV.  Even if it's just for us.
Ames (and his crew).  We get to meet some new characters in this one *yay*.  We don't want to be too spoilery, but we have to mention that we ♥ him.

The Girls:
Maggie. We know we said this about her before, but Maggie seriously kicks ass. She's smart and sassy, and the thing that we loved the most about her in Going Rogue was how real she was. She wants to be a normal kid, with a best friend who wants to shop and a swoony boyfriend who's crazy about her. She wants that to be enough…but it's not. And she has a hard time coming to terms with the fact that she's never going to be that girl.
"It's our senior year. I want to apply to colleges and go to homecoming with you–is that a thing? A homecoming dance?"

Jesse nodded.

"Well, I want to do all that. But this is my family and this is who I am. Remember I told you, I have dozens of passports but at the end of the day, all those girls are me." I tried to smile at him, but it felt wobbly. "You fell in love with a spy. Sucks for both of us."
She has to come to terms with that and eventually realizes that she can keep the boy and her BFF and stay true to herself, and we just loved watching her growth throughout this book.
Roux. Roux proves there's more to her character than we thought before (and we loved her then, too!)  We loved the banter between these BFFs. Here's Maggie's description for her:
Roux also had a soft, mushy side, and she was one of the most trustworthy people I knew. "You're like a Cadbury egg," I had once tried to explain to her. "You've got this hard shell, but inside you're all sweet and mushy and gooey."

What We Think Will Happen Next:
We have no idea where this will go next, if the series is continuing. There are so many possibilities. We can only hope it keeps our trio (who could now be a foursome?!?) together, falling in love and kicking butts all over the world.

Bottom Line:
Filled with adventure and swoons and characters we love, you won't be able to put down this fun and fast-paced thriller.

Verdict:
Rating Report
Cover
Characters
Plot
Writing
Swoon
Overall:
4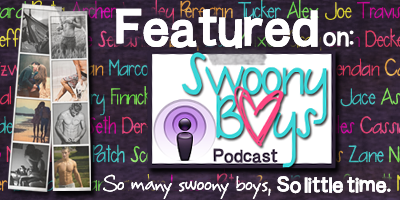 Related Posts