It's time for another installment of Waiting on Wednesday, where we give you the 411 on the books that we can't wait to read.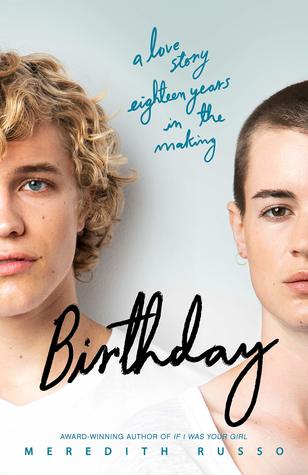 Birthday by Meredith Russo
Anticipated Arrival Date: 5/21/2019
Boyhood meets The Sun Is Also a Star in this unconventional love story about two teens bonded for life when they are born on the same day at the same time by award-winning author Meredith Russo!
Two kids, Morgan and Eric, are bonded for life after being born on the same day at the same time. We meet them once a year on their shared birthday as they grow and change: as Eric figures out who he is and how he fits into the world, and as Morgan makes the difficult choice to live as her true self. Over the years, they will drift apart, come together, fight, make up, and break up—and ultimately, realize how inextricably they are a part of each other.
Why We Can't Wait
If I Was Your Girl is one of the most thought-provoking, emotional books we've ever read, and we can't be happier that Russo's next book is (finally) releasing this year, even though we're sure it will make us cry.
So, like totally tell us what's got you bouncing in anticipation this week. What are you waiting on?
Related Posts