It's time for another installment of Waiting on Wednesday, where we give you the 411 on the books that we can't wait to read.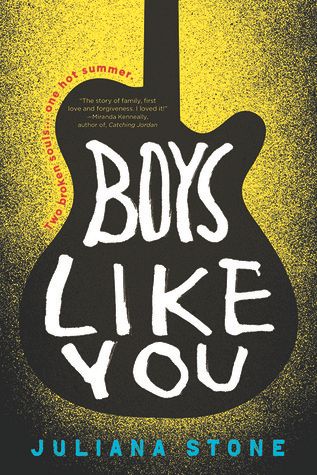 Boys Like You by Juliana Stone
Anticipated Arrival Date: 5/1/2014
One mistake.
And everything changes.
For Monroe Blackwell, one small mistake has torn her family apart –leaving her empty and broken. There's a hole in her heart that nothing can fill. That no one can fill. And a summer in Louisiana with her Grandma isn't going to change that…
Nathan Everets knows heartache first-hand when a car accident leaves his best friend in a coma. And it's his fault. He should be the one lying in the hospital. The one who will never play guitar again. He doesn't deserve forgiveness, and a court-appointed job at the Blackwell B&B isn't going to change that…
Captivating and hopeful, this achingly poignant novel brings together two lost souls struggling with grief and guilt – looking for acceptance, so they can find forgiveness.
Pre-Order Boys Like You Here

♥

Add Boys Like You to Your TBR.
So, like totally tell us what's got you bouncing in anticipation this week. What are you waiting on?
Related Posts