It's time for another installment of Waiting on Wednesday, where we give you the 411 on the books that we can't wait to read.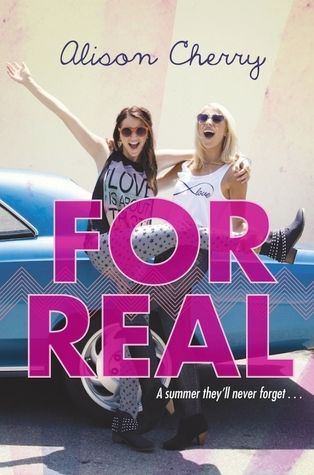 For Real by Alison Cherry
Anticipated Arrival Date: 12/9/2014
No parents. No limits. No clue what they're in for.
Shy, cautious Claire has always been in her confident older sister's shadow. While Miranda's life is jam-packed with exciting people and whirlwind adventures, Claire gets her thrills vicariously by watching people live large on reality TV.
When Miranda discovers her boyfriend, Samir, cheating on her just before her college graduation, it's Claire who comes up with the perfect plan. They'll outshine Miranda's fame-obsessed ex while having an amazing summer by competing on Around the World, a race around the globe for a million bucks. Revenge + sisterly bonding = awesome.
But the show has a twist, and Claire is stunned to find herself in the middle of a reality-show romance that may or may not be just for the cameras. This summer could end up being the highlight of her life… or an epic fail forever captured on film. In a world where drama is currency and manipulation is standard, how can you tell what's for real?
Pre-Order For Real Here

♥

Add For Real to Your TBR.
So, like totally tell us what's got you bouncing in anticipation this week. What are you waiting on?
Related Posts