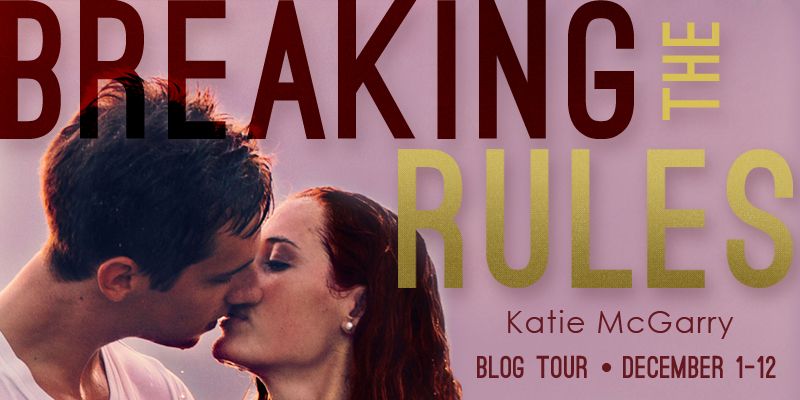 Hey, guys! Welcome to our stop on the Book Tour for Breaking the Rules by Katie McGarry! We're ridiculously excited to participate in this one because you already know that we are obsessed in love with everything Katie writes. We've got an awesome (and swoony!) exclusive from her plus an exciting giveaway that you don't want to miss! Ready to get started? Here we go…
Breaking the Rules by Katie McGarry
Also by this author: Crash Into You, Long Way Home
Series: Pushing the Limits #1.5
Also in this series: Crash Into You
Published by Harlequin, Harlequin Teen on December 8th, 2014
Genres: Contemporary, Contemporary Romance
Pages: 304
Goodreads Buy the Book

A summer road trip changes everything in this unforgettable new tale from acclaimed author Katie McGarry.

For new high school graduate Echo Emerson, a summer road trip out west with her boyfriend means getting away and forgetting what makes her so... different. It means seeing cool sights while selling her art at galleries along the way. And most of all, it means almost three months alone with Noah Hutchins, the hot, smart, soul-battered guy who's never judged her. Echo and Noah share everything — except the one thing Echo's just not ready for.

But when the source of Echo's constant nightmares comes back into her life, she has to make some tough decisions about what she really wants — even as foster kid Noah's search for his last remaining relatives forces them both to confront some serious truths about life, love, and themselves.

Now, with one week left before college orientation, jobs and real life, Echo must decide if Noah's more than the bad-boy fling everyone warned her he'd be. And the last leg of an amazing road trip will turn... seriously epic.
***Katie McGarry Guest Post***
Blushing
Echo and Noah in Breaking the Rules made me blush.
No, I'm not kidding about this. I blushed. Bright red and red hot. I blushed often and my heart fluttered.
There's no doubt that Echo and Noah had explosive chemistry in Pushing the Limits, but Echo and Noah aren't in high school anymore and they are dead set on pushing past previous boundaries.
At the beginning of Breaking the Rules, we are catching up with them as they start the last week of their summer road trip. While they've had some delicious hot nights as they've traveled across the country, there are still some places they haven't explored and this is where my blushing comes into play.
Wondering what I'm talking about? Here's a teaser from Echo's point of view. In this moment, she's hurt her head and Noah's checking out the forming bruise.
"Well?" I ask to fill the silence because the running water creates this weird vacuum effect. "Am I dying?" The answer is yes. I'm dying of embarrassment.
Noah cups my face with both hands, kisses my wound, and something inside me gives. A thawing of frozen muscles. His lips skim lower—a kiss to the end of my nose—then he tips my face up, and he gently presses his mouth to mine.
It's a slow kiss. One that causes my heart to stop, and when it starts again, it doesn't resume at a normal pace. It's the type that washes away my fears and where I automatically tilt my head in a silent plea for more.
His tongue slides against my lips, and I part them. Every inch of me springs to life. Each caress of his hand on my back, along the sides of my waist, near my thighs, stokes a fire that, over the last two months, has been rising in intensity.
Noah rests both of his hands below my butt, and before I can move closer to him, he lifts me and props me onto the sink. I suck in a breath and pop open my eyes. Noah smiles at me in a way that makes me fall in love with him all over again.
"You said you'd only do that if I didn't lower my hands and look at you," I tease.
"What can I say? After I spoke the words, it was a done deal. I'm all about making my fantasies realities with you, Echo."
***About Katie McGarry***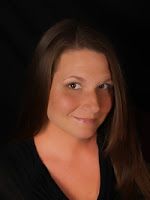 KATIE MCGARRY was a teenager during the age of grunge and boy bands and remembers those years as the best and worst of her life. She is a lover of music, happy endings, and reality television, and is a secret University of Kentucky basketball fan.Katie would love to hear from her readers. Contact her via her website, katielmcgarry.com, follow her on Twitter @KatieMcGarry, or become a fan on Facebook and Goodreads.
Find Katie Here:
Website | Facebook | Twitter | Goodreads
***GIVEAWAY***
Four lucky winners will each receive ONE signed copy of Katie's print books: Pushing the Limits, Dare You To, Crash Into You and Take Me On. One grand prize winner will receive a $100 gift card to Amazon, B&N or iTunes as well as a zodiac necklace.
a Rafflecopter giveaway
Want more
Breaking the Rules
and
Katie McGarry
? There are tons of other great things happening in this tour for you to explore. Assuming you can stop reading the
'Blushing' Guest Post
up there ^^ long enough to do so! SWOON SWOON SWOON Right? Katie definitely made us blush with that one! Check out the other stop here:
Related Posts