It's time for another installment of Waiting on Wednesday, where we give you the 411 on the books that we can't wait to read.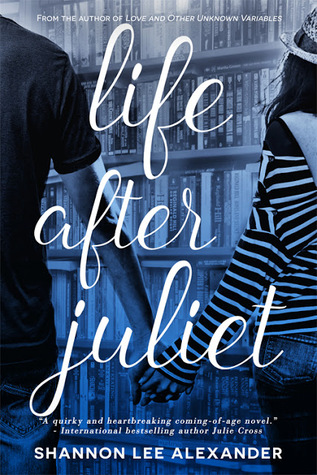 Life After Juliet by Shannon Lee Alexander
Anticipated Arrival Date: 7/5/2016
Becca Hanson is a reader-a "voracious" reader. And with all those fictional friends, she never had time for real ones. Plus real ones come with uncontrollable quirks, like constantly filling a room with song, drawing on any available surface, and worst of all, dying. Real friends are more trouble than they're worth. Since her best-and only-real friend Charlotte's death six months before, Becca has returned to a life of books in order to distance herself from heartache and constant loneliness as her junior year at Sandstone High begins.
When a class project forces her into the Drama Club, she attracts the attention of not one, but TWO guys involved in the production, onstage and off. Meanwhile, she's still dealing with the grief of Charlotte's death–the fact that Charlie is away at MIT–and that she finally has to build a life for herself on her own terms. Ultimately she learns more about who she is, what she wants, how she feels–and how to find what she's looking for. And while she isn't sure what comes next, she's pretty sure there'll be more kissing involved.
Pre-Order Life After Juliet Here

♥

Add Life After Juliet to Your TBR.
So, like totally tell us what's got you bouncing in anticipation this week. What are you waiting on?
Related Posts