We know, guys. So many books come out each week that it makes it hard to decide what to read. The struggle is real, but we want to make it a little bit easier on you by sharing our favorite releases each week and telling you our top 3 reasons why we think you'll love it too!
This week our selection is What We Saw by Aaron Hartzler. Are you ready to hear more about this freaking awesome book and its adorable author? (No, seriously. He is the cutest ever. And no one has better hair than Aaron. No one. Can that be a reason you should read? No? Fine.) Here we go…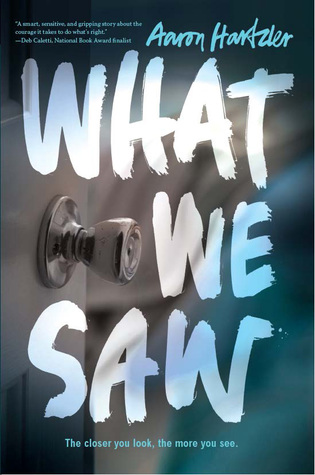 What We Saw by Aaron Hartzler
Published by HarperTeen on September 22, 2015
Genres: Contemporary, Mystery, Suspense, Thriller
Pages: 336
Goodreads Buy the Book

Kate Weston can piece together most of the bash at John Doone's house: shots with Stacey Stallard, Ben Cody taking her keys and getting her home early—the feeling that maybe he's becoming more than just the guy she's known since they were kids.

But when a picture of Stacey passed out over Deacon Mills's shoulder appears online the next morning, Kate suspects she doesn't have all the details. When Stacey levels charges against four of Kate's classmates, the whole town erupts into controversy. Facts that can't be ignored begin to surface, and every answer Kate finds leads back to the same question: Where was Ben when a terrible crime was committed?

This story—inspired by real events—from debut novelist Aaron Hartzler takes an unflinching look at silence as a form of complicity. It's a book about the high stakes of speaking up, and the razor thin line between guilt and innocence that so often gets blurred, one hundred and forty characters at a time.
3 Reasons You Should Read
What We Saw by Aaron Hartzler
Sometimes you read a book and as soon as you close it you know that you want to put it in the hands of as many people as possible. What We Saw is one of those books. If we could buy a copy for every teenager in the world we would. Strike that. Not just the teenagers, their parents too. This story is powerful. It tackles topics that are often shied away from in a big way. It's a realistic insight into issues that we should all be talking about and working together to eradicate.
With such heavy topics being covered, the protagonist had a tough job. Kate handled it perfectly. You will find her moral compass and often humorous voice refreshing. She is a relatable character that you will find yourself rooting for from start to finish.
If you're still not convinced, read this book because Mr. Hartzler is amazing. We got to spend some time with him at BEA this past year and we're not going to lie, we're a little in love. He has a way with words and you won't regret picking up this book, or anything else he ever writes.
***About Aaron Hartzler***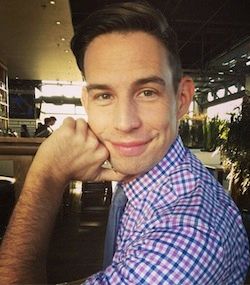 Aaron Hartzler is the author of Rapture Practice (Little, Brown), a memoir about getting kicked out of his Christian high school two weeks before graduation. The New York Times called Rapture Practice "effervescent and moving, evocative and tender." It was also named one of Kirkus Reviews and Amazon's Best Books of 2013, and was a finalist for the Lambda Literary Award. His newest book, a novel called What We Saw, was published by HarperTeen on September 22, 2015. It's the story of a girl named Kate whose friend is assaulted by student athletes at a party, and how Kate navigates small town politics to find out what really happened. Aaron lives by the beach in Santa Monica with his two dogs, Charlie and Brahms. You can find him on Twitter and Facebook.
Find Aaron Here:
Website | Twitter | Facebook | Instagram | Goodreads
Related Posts