Center Ice
by
Cate Cameron
Also by this author:
Winging It
Series:
Corrigan Falls Raiders #1
Also in this series:
Winging It
Published by
Entangled: Crush
on May 19, 2015
Genres:
Contemporary
,
Romance
Pages:
252
Goodreads
Buy the Book
This Entangled Teen Crush book contains adult language, underage drinking, sexual situations, and crazy squirrels. It may cause you to become a fan of hockey - or at least hot hockey players.

The hometown hockey hero won't know what hit him...

Karen Webber is in small-town hell. After her mother's death, she moved to Corrigan Falls to live with strangers - her dad and his perfect, shiny new family - and there doesn't seem to be room for a city girl with a chip on her shoulder. The only person who makes her feel like a real human being is Tyler MacDonald.

But Karen isn't interested in starting something with a player. And that's all she keeps hearing about Tyler.

Corrigan Falls is a hockey town, and Tyler's the star player. But the viselike pressure from his father and his agent are sending him dangerously close to the edge. All people see is hockey - except Karen. Now they've managed to find something in each other that they both desperately need. And for the first time, Tyler is playing for keeps...
If you know us, you know we're slightly totally obsessed with Hockey Romances. Some of our favorite New Adult and Contemporary Romance series feature hot hockey players, so we couldn't wait to read Center Ice by Cate Cameron.
The 411:
After her mother's death, Karen moves to small-town Corrigan Falls to live with her father, who she doesn't really know. There's a lot of drama with her family that we won't detail but it's pretty terrible. She meets Tyler–the town player (on and off the ice) and sparks immediately fly between them. With all of the pressure Tyler's under with his NHL-aspirations and all of the pressure Karen's feeling to fit in with her new family, will falling in love be enough?

What We Loved:
We really liked Tyler and thought he was pretty swoony.

Um...Not So Much:
This story was cute and pretty typical of what you'd expect. We liked it alright, but it didn't really stand out to us.
Like we said, we loved Tyler. But Karen? Ugh. We couldn't stand her. We get that she was going through a lot but geez. Though we liked Tyler, it didn't make up for the lack of something else we needed to happen in this story.

Bottom Line:
If you're looking for a sweet hockey-related high school story that doesn't really go anywhere, maybe check out Center Ice by Cate Cameron.

Verdict:
Rating Report
Cover
Characters
Plot
Writing
Swoon
Overall:
2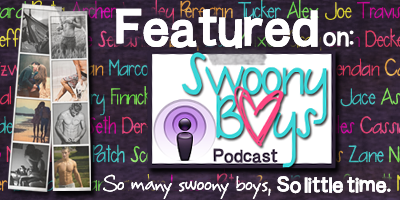 Related Posts