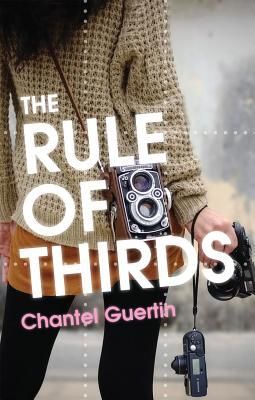 The Rule of Thirds
by
Chantel Guertin
Published by
ECW Press
on October 1, 2013
Genres:
Contemporary
Pages:
196
Goodreads
Buy the Book
Sixteen-year-old Pippa Greene never goes anywhere without her camera. She and her best friend/supermodel-in-training Dace long ago mapped out their life plan: Pippa will be the noted fashion photographer, and Dace the cover girl. But ever since last spring, things have changed for Pippa—and her junior year at Spalding High proves to have its own set of challenges. Not only is Vantage Point, the statewide photography competition, in three short weeks, but her mandatory volunteering placement lands her at St. Christopher's Hospital, a place Pippa never wanted to set foot in again. With humor and pluck, she navigates her new role as a candy striper (watch out for Code Yellows), her changing relationship with her best friend (goodbye, Honesty Pact), and—perhaps most stressful of all—her new love interests (yes, love interests plural). Will Pippa make it to Vantage Point without having a panic attack? Will either one of the guys prove less sketchy than her last boyfriend? Can she and Dace figure out a way to dream big and be best friends? One thing is certain: real life is a lot more complicated than a photograph.
The 411:
Despite recently dealing with some life-altering changes, sixteen year old photog Pippa Greene desperately wants to win Vantage Point, a photography competition that comes with a $5K grand prize and an invitation to exclusive Tisch camp in NYC.  She's also got to log 120 volunteer hours for school and is pretty dismayed when she's assigned to work as a candy striper at the hospital.  Things start looking up when she runs into Dylan McCutter, the super swoony boy she's had a crush on since she first laid eyes on him two years ago when he opened her stubborn locker at school.  Add to that mix Ben Baxter, the hot new student who could steal her spot at Tisch and some drama with Pippa's BFF, Dace, and you've got the perfect combination of fun and heartbreak wrapped up in a neat little must-read package.

What We Loved:
We wanted to get our hands on this book since we heard about it, and it was close to the top of our list to grab at BEA. We love the cover and the boys (most of the time) and Guertin's super snarky writing. Mostly we love Pippa. Well, obviously we mostly love Dylan, but we love Pippa, too. She's such a fun character and definitely someone we'd want to hang out with. We thought that everything that happens with Pippa and her reactions are pretty spot-on, and we love that.

Um...Not So Much:
We loved pretty much everything about this book.  There is one thing–and it's pretty major–that we didn't feel good about not knowing what happened.  We can't say much without giving it all away, but you'll know what we mean when you read it 🙂

The Boys:
Dylan McCutter.
It's him. Dylan McCuter. Excuse me, Dylan McCutter. Two t's. Small detail.

He's tall (but not too tall), thin (but muscular) and as he bends down, his caramel-colored hair falls forward. It's all brown with golden highlights from the summer. Stubble darkens his face and there's the dimple he gets in his left cheek when he smiles. He's wearing a long-sleeved gray jersey, dark jeans faded over the knees and gray Converse high-tops. And those green eyes…
He full names her, opens doors, plays guitar in a band, and is totally swoonworthy. He's a genius (he got into Harvard) and so, so sweet.
"You're blowing my mind, Philadephia Green."

"It's just a cookie." My face is hot.

"But it isn't. I'm starting to get you, I think. You don't do things like anyone else."
In case you couldn't tell, we love him. A lot.
Ben Baxter. We had a hard time deciding what to think about Ben. He's definitely hot:
The Guy in the door looks like he should be standing in the entrance to Abercrombie–minus that colone that totally reeks when you walk past the store. His sandy blond hair is cut so that it's purposely messy, and his blue eyes are piercing. Swoon.
He's a photographer and definitely goes after what he wants:
"You're much more interesting to look at than anything else."
We liked a lot of things about Ben (and really, really hated some things), but we were #TeamDylan from the first strum of  Dylan's guitar.

The Girls:
Pippa Greene.  Pippa has got to be one of our favorite characters ever.  She's snarky and sweet and loyal and everything we could ever want in a friend.  She's strong and vulnerable at the same time.  She's super smart, loves photography, watches The Breakfast Club, and is just real.
"You know what, Glenys?  Can we not do this?  Can we just avoid distilling me down into some noble inspirational sol just because I happen to be Evan Greene's daughter?  I don't feel brave at all.  I don't feel inspirational.  In fact, you know what?  I don't feel anything.  Which my therapist and my mother and my guidance counselor and pretty much everyone else tells me is a real problem.  So that's how I'm doing.  I'm not doing.
Dace. Pippa's BFF started out as someone we really loved, then not-so-much, then liked again.  She's a model and a good friend (most of the time) and definitely pushes Pippa to go for it.  And she's funny.
"So bottom line: you think Callie is his girlfriend because he punched her in the arm?  Did I miss the status updated on how punching someone in the arm means you want to get in their pants?" She punches me in the arm and grins.

What We Think Will Happen Next:
The Rule of Thirds is a stand-alone, but really–we wouldn't mind some more of this.  We'd like to know what happens the next day, and in New York, and in the Fall, and when they get married…

Bottom Line:
We loved practically everything about The Rule of Thirds–the snark, the sweet, the sadness, and the swoon.  Definitely one of our favorite books of the year.

Verdict:
Rating Report
Cover
Characters
Plot
Writing
Swoon
Overall:
4.5
***About Chantel Guertin***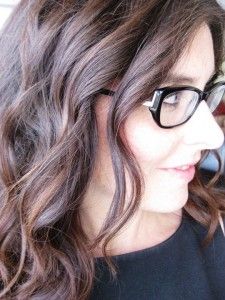 Chantel Guertin is an author, beauty expert and magazine editor. Her first novel (written as Chantel Simmons), Stuck in Downward Dog, came out in 2007, and was a Winnipeg Free Press bestseller, a Chatelaine Best Beach Book and Book of the Month, and a Vancouver Sun Editor's Choice. Her second novel, Love Struck, came out in 2010, and was also a bestseller in Canada.
Chantel is currently the Editor-at-Large of TheKit.ca, a monthly digital fashion & beauty magazine & weekly print feature in the Toronto Star, Montreal Gazette & Vancouver Sun, a beauty expert on The Marilyn Denis Show and faculty at Centennial College in the Book & Magazine publishing program, where she teaches magazine writing and editing courses.
Find Chantel Here:
Website | Facebook | Twitter | Goodreads
***GIVEAWAY***
Win The Rule of Thirds by Chantel Guertin
a Rafflecopter giveaway
Want more ways to win? Chantel and ECW Press are having a contest! You can win an Essence Beauty Pack and a Beauty Consult with Chantel *jumpyclaps* To find out what to do, head over to the Pippa Green tumblr page.
Good luck!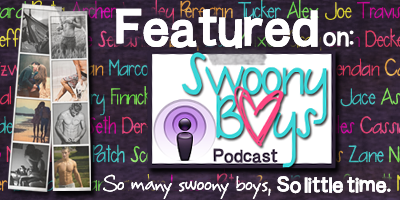 Related Posts