So many books come out each week that it makes it hard to decide what to read. We want to make that a little bit easier on you by sharing our favorite releases from the week and telling you our top 3 reasons why we think you'll love them too!
This week our selection is A Curse So Dark and Lonely by Brigid Kemmerer. Are you ready to hear more about this book and its author? Here we go…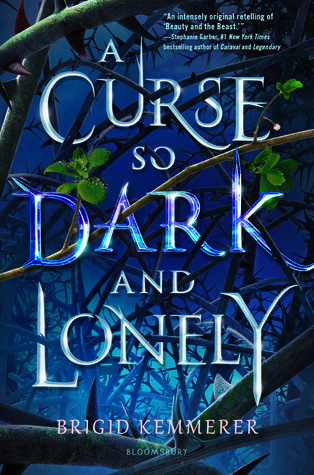 A Curse So Dark and Lonely by Brigid Kemmerer
Series: A Curse So Dark and Lonely #1
Published by Bloomsbury USA Childrens on 1/29/2019
Genres: Fantasy, Retellings
Pages: 496
Goodreads Buy the Book

In a lush, contemporary fantasy retelling of Beauty and the Beast, Brigid Kemmerer gives readers another compulsively readable romance perfect for fans of Marissa Meyer.

Fall in love, break the curse.

It once seemed so easy to Prince Rhen, the heir to Emberfall. Cursed by a powerful enchantress to repeat the autumn of his eighteenth year over and over, he knew he could be saved if a girl fell for him. But that was before he learned that at the end of each autumn, he would turn into a vicious beast hell-bent on destruction. That was before he destroyed his castle, his family, and every last shred of hope.

Nothing has ever been easy for Harper Lacy. With her father long gone, her mother dying, and her brother barely holding their family together while constantly underestimating her because of her cerebral palsy, she learned to be tough enough to survive. But when she tries to save someone else on the streets of Washington, DC, she's instead somehow sucked into Rhen's cursed world.

Break the curse, save the kingdom.

A prince? A monster? A curse? Harper doesn't know where she is or what to believe. But as she spends time with Rhen in this enchanted land, she begins to understand what's at stake. And as Rhen realizes Harper is not just another girl to charm, his hope comes flooding back. But powerful forces are standing against Emberfall . . . and it will take more than a broken curse to save Harper, Rhen, and his people from utter ruin.
3 Reasons You Should Read…
A Curse So Dark and Lonely
by Brigid Kemmerer
Between the cover (we know, we know.), the fact that this one is a Beauty and the Beast retelling and that it comes from an author that we've read and loved- we were sold from the very first page. What we found inside the book reinforced that our instincts were right on track.
A little bit modern, a little bit medieval. A main character with cerebral palsy that is fierce. Plus a whole lot of twists and turns. A Curse So Dark and Lonely is full of all these things and so much more.
We can't say much without spoiling, but if you are looking for something that will read quickly, is beautifully written and leave you wanting more (thank goodness there's another book coming, because that ending left us desperate for more!), this one is probably for you.
Related Posts