So many books come out each week making it hard to decide what to read. We want to make that a little bit easier on you by sharing our favorite release from the week and telling you our top 3 reasons why we think you'll love it too!
This week our selection is Riders by Veronica Rossi. Are you ready to hear more about this flippin' awesome book and its beautiful author? Here we go…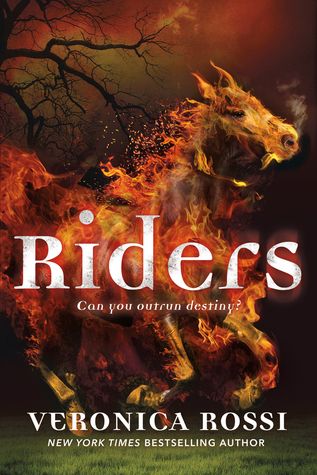 Riders by Veronica Rossi
Also by this author: Through the Ever Night, Roar and Liv, Under the Never Sky, Brooke, Into the Still Blue
Series: Riders #1
Published by Macmillan, Tor Teen on February 16th, 2016
Genres: Fantasy
Pages: 384
Goodreads Buy the Book

For eighteen-year-old Gideon Blake, nothing but death can keep him from achieving his goal of becoming a U.S. Army Ranger. As it turns out, it does.

Recovering from the accident that most definitely killed him, Gideon finds himself with strange new powers and a bizarre cuff he can't remove. His death has brought to life his real destiny. He has become War, one of the legendary four horsemen of the apocalypse.

Over the coming weeks, he and the other horsemen--Conquest, Famine, and Death--are brought together by a beautiful but frustratingly secretive girl to help save humanity from an ancient evil on the emergence.

They fail.

Now--bound, bloodied, and drugged--Gideon is interrogated by the authorities about his role in a battle that has become an international incident. If he stands any chance of saving his friends and the girl he's fallen for--not to mention all of humankind--he needs to convince the skeptical government officials the world is in imminent danger.

But will anyone believe him?
3 Reasons You Should Read
Riders by Veronica Rossi
Male POV? Check. Hot military boy? Check. Only one book in and we are already obsessed with Gideon. This fella has one hell of a story to tell and we can't wait to see where it goes next. (Also, we love him and Daryn together. So, yeah. More of that too!!)
We love a good angels/demons story, and you will find that here, but you will also find something so much more. We love the modern setting, but what really grabbed our attention and made us fall hard for this book was the the addition of The Four Horsemen of the Apocalypse. We don't want to give to much away… but HOLY WOW!
For us, Veronica Rossi can do no wrong. That was proven even further with Riders. It's everything we wanted it to be and so much more. Don't go in expecting another Under the Never Sky. This one is different, very different. It definitely stands on its own. But comes from the same brilliantly, beautiful mind. We loved it, and we know you will too!
***About Veronica Rossi***
Veronica Rossi is a best selling author of fiction for young adults. Her debut novel, UNDER THE NEVER SKY, was the first in a post-apocalyptic trilogy. Released in January 2012, it was deemed one of the Best Books of Year by School Library Journal. The series appeared in the NY Times and USA Today best seller lists and was published in over 25 foreign markets.
Her second series for young adults will begin with RIDERS (publishing February 16, 2016), the story of four modern day teens who become incarnations of the four horsemen of the apocalypse, and the prophetic girl who brings them together.
Veronica completed her undergraduate studies at UCLA and then went on to study fine art at the California College of the Arts in San Francisco. She is a lifelong reader and artist. Born in Rio de Janeiro, Brazil, she has lived in Mexico, Venezuela, and all over the United States, to finally settle in Northern California with her husband and two sons.
When not writing, Veronica enjoys reading (it's worth repeating), painting, and running. She does NOT like anything involving numbers, the addition of them, subtraction of them, you name it. They terrify her. Her obsessions generally lead to fictional works. Currently, she's delving deep in to Ancient Greece.
Find Veronica Here:
Website | Goodreads | Facebook | Goodreads
Related Posts