So many books come out each week that it makes it hard to decide what to read. We want to make that a little bit easier on you by sharing our favorite releases from the week and telling you our top 3 reasons why we think you'll love them too!
This week our selection is Death Prefers Blondes by Caleb Roehrig. Are you ready to hear more about this book and its author? Here we go…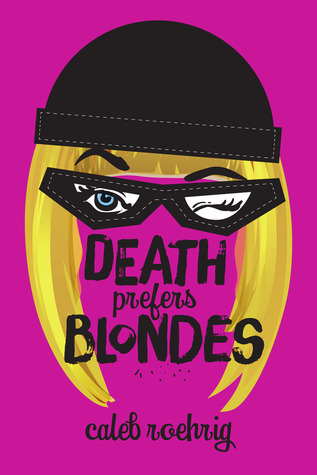 Death Prefers Blondes
by
Caleb Roehrig
Published by
Feiwel & Friends
on 1/29/2019
Genres:
LGBT
,
Mystery
Pages:
444
Goodreads
Buy the Book
Teenage socialite Margo Manning leads a dangerous double life. By day, she dodges the paparazzi while soaking up California sunshine. By night, however, she dodges security cameras and armed guards, pulling off high-stakes cat burglaries with a team of flamboyant young men. In and out of disguise, she's in all the headlines.

But then Margo's personal life takes a sudden, dark turn, and a job to end all jobs lands her crew in deadly peril. Overnight, everything she's ever counted on is put at risk. Backs against the wall, the resourceful thieves must draw on their special skills to survive. But can one rebel heiress and four kickboxing drag queens withstand the slings and arrows of truly outrageous fortune? Or will a mounting sea of troubles end them — for good?
3 Reasons You Should Read…
Death Prefers Blondes by Caleb Roehrig
A rebel heiress that doubles as a cat burglar at night, a crew of drag queens, and non-stop, edge of your seat action and suspense? Really what more could you possibly ask for?
This is a Caleb Roehrig book, so you know it's a must read, especially for fans of mystery and suspense. And you know what else? Cosmo (yes, THAT Cosmo magazine! o.O) has Death Prefers Blondes listed as one of their top 11 YA books You'll Be Obsessed with in 2019! Way to go Caleb!
The cover alone is worth picking this book up for, but the wild roller coaster ride inside is even better. The twists and turns had us guessing what was going to come next and we kept being surprised right until the very end!
Related Posts