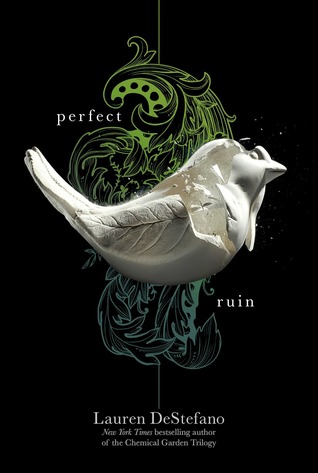 Perfect Ruin
by
Lauren DeStefano
Also by this author:
A Curious Tale of the In-Between
,
Burning Kingdoms
,
Broken Crowns
Series:
The Internment Chronicles #1
Also in this series:
Burning Kingdoms
,
Broken Crowns
Published by
Simon & Schuster Books for Young Readers
on October 1, 2013
Genres:
Dystopian
,
Mystery
,
Sci-Fi
Pages:
356
Goodreads
Buy the Book
On the floating city of Internment,you can be anything you dream - a novelist or a singer, a florist or a factory worker... Your life is yours to embrace or to squander. There's only one rule: you don't approach THE EDGE. If you do, it's already over.

Morgan Stockhour knows getting too close to the edge of Internment, the floating city and her home, can lead to madness. Even though her older brother, Lex, was a Jumper, Morgan vows never to end up like him. There's too much for her on Internment: her parents, best friend Pen, and her betrothed, Basil. Her life is ordinary and safe, even if she sometimes does wonder about the ground and why it's forbidden.

Then a murder, the first in a generation, rocks the city. With whispers swirling and fear on the wind, Morgan can no longer stop herself from investigating, especially once she meets Judas. Betrothed to the victim, Judas is being blamed for the murder, but Morgan is convinced of his innocence. Secrets lay at the heart of Internment, but nothing can prepare Morgan for what she will find—or whom she will lose.
The 411:
Picture a giant shovel scooping up a small city and placing it upon a cloud in the sky. Now imagine that city has an invisible force field all the way around it. Inside this city is everything that one would need to live a happy life…so long as one stays away from the edge.
After a murder shakes the city to its roots, Morgan has to decide for herself if Internment is everything she has been taught that it is. And she can't help but begin to wonder, what's really over the edge?

What We Loved:
Daphne's essay pieces that were at the beginning of every chapter were so lovely and thought provoking.
We absolutely loved the love between Basil and Morgan. We also really enjoyed Lex and Alice; oh if every love could be a love like these! Their love was so palpable that they definitely take spots as some of our favorite couples.
One of our favorite scenes of theirs was Morgan to Basil:
It takes me a moment to work up the courage to look at him.

"What if you can't stop me?" I say. "What if I go mad and I jump?"

He squeezes my hands. "I won't let you go alone."
We also adored Pen, Morgan's best friend. One of my favorite things that Pen says to Morgan is:
"We didn't make ourselves," she says. "We aren't the greatest things to exist. I can't believe that. I won't believe that. We have too many faults."

Um...Not So Much:
This part is always so hard for us. We really did enjoy so many things about this book and disliked very few. We really didn't like what happened to Lex and Alice in the past. That's about as much detail as we can give on that, but it made us very sad. At the same time, it was something that showed the power of their government so we see it for its importance to the story.

Bottom Line:
Readers both young and old will enjoy Perfect Ruin by Lauren DeStefano.

Verdict:
Rating Report
Cover
Characters
Plot
Writing
Swoon
Overall:
4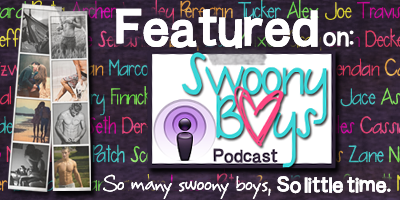 Related Posts