So many books come out each week that it makes it hard to decide what to read. We want to make that a little bit easier on you by sharing our favorite releases from the week and telling you our top 3 reasons why we think you'll love them too!
This week our selection is Meet Me Here by Bryan Bliss. Are you ready to hear more about this book and its author? Here we go…
Meet Me Here
by
Bryan Bliss
Published by
Greenwillow Books
on May 31, 2016
Genres:
Contemporary
Pages:
272
Goodreads
Buy the Book
In a single night—graduation night—Thomas has to decide: Do what everyone has always expected of him? Or forge an entirely new path? Bryan Bliss's absorbing examination of one boy struggling with expectations and realities will appeal to readers of Sara Zarr and Chris Crutcher.

Thomas is supposed to leave for the army in the morning. His father was Army. His brother, Jake, is Army—is a hero, even, with the medals to prove it. Everyone expects Thomas to follow in that fine tradition. But Jake came back from overseas a completely different person, and that has shaken Thomas's certainty about his own future. And so when his long-estranged friend Mallory suggests one last night of adventure, Thomas takes her up on the distraction. Over the course of this single night, Thomas will lose, find, resolve, doubt, drive, explore, and leap off a bridge. He'll also face the truth of his brother's post-traumatic stress disorder and of his own courage. In Bryan Bliss's deft hands, graduation night becomes a night to find yourself, find each other, find a path, and know that you always have a place—and people—to come back to.
3 Reasons You Should Read…
Meet Me Here by Bryan Bliss
Look at that cover. I mean, really look at it. It's beautiful! We know you aren't supposed to judge a book by its cover, but that doesn't mean you can't admire it and use it as a reason to bump something up on your tbr list.
Books addressing military life, and more importantly PTSD aren't that common. Especially in the YA world. Meet Me Here does a wonderful job of depicting what it's like to live with a family member who struggles with this disorder.
Bryan Bliss created relatable characters and a story that will hold your attention. If it's not already, you should add this one to your reading list!
***About Bryan Bliss***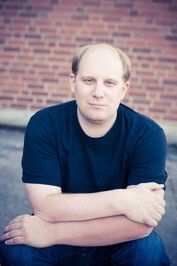 Bryan Bliss is the author of No Parking at the End Times. He holds master's degrees in theology and fiction and – shockingly – found a professional job that allows him to use both of those degrees. His political philosophy degree, however, is still underutilized. His nonfiction has been published in Image Journal, along with various other newspapers, magazines, and blogs. He lives in Minneapolis with his wife and two children, both of whom wish he wrote books about dragons. Or wizards.
You can visit him online at www.bryanbliss.com and on Facebook and Twitter.

Find Bryan Bliss Here:
Website | Twitter | Facebook| Goodreads
Related Posts