So many books come out each week that it makes it hard to decide what to read. We want to make that a little bit easier on you by sharing our favorite releases from the week and telling you our top 3 reasons why we think you'll love them too!
This week our selection is All in Pieces by the amazing, Suzanne Young. Are you ready to hear more about this book and its author? Here we go…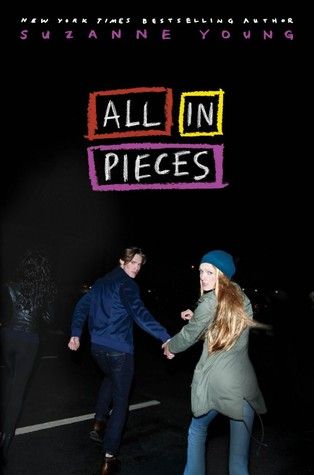 All in Pieces by Suzanne Young
Published by Simon & Schuster, Simon Pulse on November 8th, 2016
Genres: Contemporary
Pages: 272
Goodreads Buy the Book

From New York Times bestselling author Suzanne Young comes a heartrending new novel about a girl struggling to deal with anger issues while taking care of her younger brother with special needs.

"Anger-management issues."

That's how they classified Savannah Sutton after she stuck a pencil in her ex-boyfriend's hand because he mocked her little brother, Evan, for being disabled. That's why they sent her to Brooks Academy—an alternative high school that's used as a temporary detention center.

The days at Brooks are miserable, but at home, life is far more bleak. Savvy's struggling to take care of her brother since her mom left years ago, and her alcoholic dad can't be bothered. Life with Evan is a constant challenge, but he's also the most important person in the world to Savvy.

Then there's Cameron, a new student at Brooks with issues of his own; a guy from a perfect family that Savvy thought only existed on TV. Cameron seems determined to break through every one of the walls Savvy's built around herself, except if she lets herself trust him, it could make everything she's worked so hard for fall apart in an instant.

And with her aunt seeking custody of her brother and her ex-boyfriend seeking revenge, Savvy's fighting to hold all the pieces together. But she's not sure how much tighter she can be pulled before she breaks completely.
3 Reasons You Should Read…
All in Pieces by Suzanne Young
Anything Suzanne writes is a must read for us, which means there was no doubt that we wanted to get our hands on All In Pieces. It's full of emotion, heartbreak, and healing- it was worth the wait
We love contemporary books, that's no secret. But one of our favorite things about the contemporary genre is that it allows authors to address serious issues. All in Pieces does exactly that. Some of these things might be difficult to read about, but that makes it even more important for us to do exactly that.
If you're looking for a beautiful read full of real characters, all the feelings (no, really.), and a story that will have you staying up late to finish it- then All in Pieces is for you.
***Meet Suzanne Young***
Suzanne Young is the New York Times bestselling author of The Program series. Orginally from Utica, NY, Suzanne moved to Arizona to pursue her dream of not freezing to death. She is a novelist and an English teacher, but not always in that order.
Suzanne is the author of several bestselling books, including THE PROGRAM, THE TREATMENT, THE REMEDY, THE EPIDEMIC, and HOTEL RUBY.
Find Suzanne Here:
Website | Twitter | Instagram | Goodreads
Save
Save
Related Posts