So many books come out each week making it hard to decide what to read. We want to make that a little bit easier on you by sharing our favorite release from the week and telling you our top 3 reasons why we think you'll love it too!
This week our selection is When We Collided by Emery Lord. Are you ready to hear more about this swoony book that we've been waiting for forever for and its pretty author? Here we go…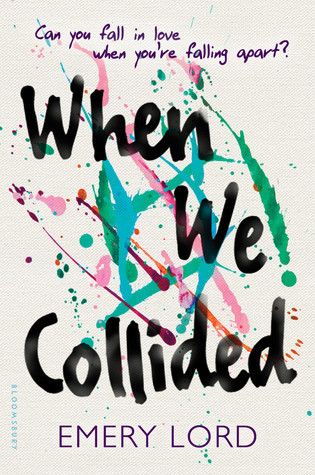 When We Collided by Emery Lord
Also by this author: The Start of Me and You
Published by Bloomsbury Publishing, Bloomsbury USA Childrens on April 5th, 2016
Genres: Contemporary, Contemporary Romance
Pages: 352
Goodreads Buy the Book

We are seventeen and shattered and still dancing. We have messy, throbbing hearts, and we are stronger than anyone could ever know…

Jonah never thought a girl like Vivi would come along.

Vivi didn't know Jonah would light up her world.

Neither of them expected a summer like this…a summer that would rewrite their futures.

In an unflinching story about new love, old wounds, and forces beyond our control, two teens find that when you collide with the right person at just the right time, it will change you forever.
3 Reasons You Should Read
When We Collided by Emery Lord
When you pick up a book by Emery Lord there's a certain set of expectations that come with it. You expect characters you'll fall in love with, you expect writing that vividly paints you a picture, you expect emotion, and you expect swoon. When We Collided gives you all that and so much more. Our expectations were definitely met.
Reading in multiple points of view is hit or miss for us. Sometimes we love it, sometimes we don't. But in this one it's a definite hit. We love hearing from both Vivi AND Jonah. And actually, we feel like we needed to hear from both of them to fully understand their journey. While we have a special place in our hearts for Jonah, we also enjoyed being in Vivi's head.
One of our favorite things that Emery does is realism. This story definitely gives you a real look at mental illness. It's raw. And it's perfect. Teens need that. Adults need that. WE need that.
***Meet Emery Lord***
I'm Emery, and I write books about flawed girls who are really trying, complicated families, friends who show up even when everything's going down in flames, the boy who Gets You even when you don't expect it, and the summer that changed everything.
Open Road Summer is out now, and The Start of Me & You releases March 31st, 2015.
I don't check my GR inbox, but feel free to get in touch via ways listed on my website!
Find Emery Here:
Website | Twitter | Goodreads
Related Posts