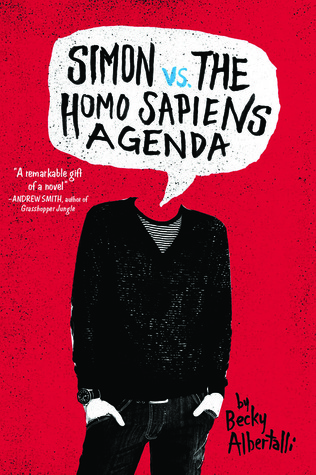 Simon vs. the Homo Sapiens Agenda
by
Becky Albertalli
Published by
Balzer & Bray
on April 7, 2015
Genres:
Contemporary
Pages:
303
Goodreads
Buy the Book
Sixteen-year-old and not-so-openly gay Simon Spier prefers to save his drama for the school musical. But when an email falls into the wrong hands, his secret is at risk of being thrust into the spotlight. Now Simon is actually being blackmailed: if he doesn't play wingman for class clown Martin, his sexual identity will become everyone's business. Worse, the privacy of Blue, the pen name of the boy he's been emailing, will be compromised.

With some messy dynamics emerging in his once tight-knit group of friends, and his email correspondence with Blue growing more flirtatious every day, Simon's junior year has suddenly gotten all kinds of complicated. Now, change-averse Simon has to find a way to step out of his comfort zone before he's pushed out—without alienating his friends, compromising himself, or fumbling a shot at happiness with the most confusing, adorable guy he's never met.
So, there once was this book with a really cute cover and an even cuter title. There was a blurb that caught our interest (who can resist a book with a character named Blue?) There were recs and flails all over the place, so of course we were all like, "we need to read this book!" so we did. And holy Oreo's are we ever glad we did!
Simon vs. the Homo Sapiens Agenda is the brilliant, sweet, funny, PERFECT debut novel by the immensely talented Becky Albertalli. Trust us when we say … You need this book in your life! Immediately.


The 411:
A book about boys and friends and families and navigating the exciting, terrifying experience of first love, Simon vs. the Homo Sapiens Agenda will make you smile and laugh and leave you feeling like your heart might explode from joy.

What We Loved:
Well, in a word—EVERYTHING! Truly. There isn't one thing we would change. Simon's story is so real, so true, so HONEST that from the very first word until the last, we were completely captivated. The writing itself flows effortlessly, from the laugh out loud moments to the ones that made our hearts ache a little bit (because really, what's love without a little pain from time to time?) Albertalli wove a story that will definitely be one of our favorites of the year.
We really loved the secondary characters. Simon's friends and family play a VERY important part in his life and as such, are really important parts of the book. Another plus about the friends—their diversity. It was a refreshing change to see the many different ethnicities represented. Simon's relationships with his friends aren't perfect, but that's what makes them so real and so relatable. His sister Nora is sweet and she is crazy about her brother; their relationship made us smile. Simon's parents are pretty fantastic, too, but not perfect. We loved this realism because let's face it, parents are human and for sure not ever perfect.
Another thing we loved: the emails with Blue. They painted such a vivid picture of both Simon and Blue. We really got to know them from the things they share with each other. Albertalli did a brilliant job of keeping Blue's identity a secret until the end (we had NO clue who Blue was until it was revealed) but even if you figure it out (and kudos for being a smarty pants if you do!), it won't spoil a thing. We promise.
There's also a plethora of Harry Potter references and as devout HP fanatics, these were super fun!
We also really, REALLY loved the … Oreos. Oreos you might say, but trust us. Yes. Oreos. You'll see.

Um...Not So Much:
Nothing. We didn't even mind Martin … much. As the blackmailer and evil outer of Simon, you'd expect we wouldn't love him, but believe us when we say, Martin isn't ALL bad. Wrong for sure, but not bad.

The Boys:
Simon Spier. *sigh* Where to even begin with Simon? The book is told entirely from Simon's POV and because of that, boy is he ever a well-developed character! He's so adorable and funny and witty, full of snarky dialogue that will make you grin. He's also vulnerable and unsure at times and it's these contrasting characteristics that makes him so totally lovable and relatable. He's also gay, but the way Albertalli has told this story, it's not even the most important part about him … which is as it should be, really. The book is about his growth and his relationships with his family and friends as well as his journey into falling in love for the first time. Being blackmailed isn't fun for anyone, even teenagers, and I loved how Becky Abertalli used this device to show Simon's acceptance of himself, or more specifically, his struggle to do so.
This is one of our favorite scenes in the book … with the not-quite-so-evil Martin.
"And you know what? You don't get to say it's not a big thing. This is a big fucking thing, okay? This was supposed to be—this is mine. I'm supposed to decide when and where and who knows and how I want to say it."
And there are these magnificent words from Simon …
"Sometimes it seems like everyone knows who I am except me."
And this line when he's talking about Blue …
"The way I feel about him is like a heartbeat – soft and persistent, underlying everything."
All. The. Feels!
Blue. It's next to impossible to explain anything about Blue since his identity is a secret until toward the end. Becky Albertalli definitely gives you hints along the way though, so pay attention! The best thing about Blue is how true and honest he is with Simon. Even though we only get to know Blue through his emails to Simon, there is no doubt he's quite something.
I completely understand what you mean about feeling locked into yourself. For me, I don't even think it has anything to do with other people thinking they know me. It's more that I want to leap in and say certain things and do certain things, but I always seem to hold myself back. I think a big part of me is afraid. Even thinking about it makes me nauseated. Did I mention I get nauseated easily?
His emails are full of such honesty and rawness that you have no choice but to love him. And we promise, you will!

What We Think Will Happen Next:
Simon and Blue will live happily ever after and will start a restaurant where all they serve is Oreos. (These boys LOVE their Oreos!)

Bottom Line:
This book will find its way to your favorite's shelf by the time you read the last page. Funny, sweet and charming, Simon vs. the Homo Sapiens Agenda will stick with you for a very long time.

Verdict:
Rating Report
Cover
Characters
Plot
Writing
Swoon
Overall:
5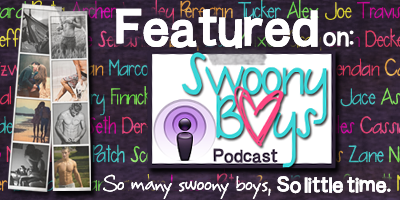 Related Posts