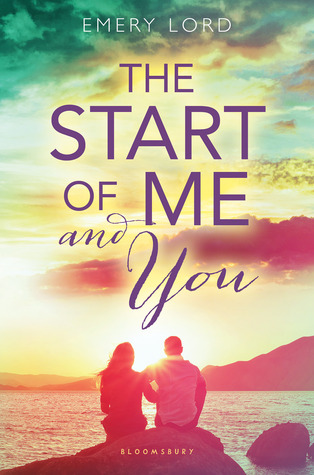 The Start of Me and You
by
Emery Lord
Published by
Bloomsbury USA Childrens
on March 31, 2015
Genres:
Contemporary
Pages:
384
Goodreads
Buy the Book
Following her pitch-perfect debut Open Road Summer, Emery Lord pens another gorgeous story of best friends, new love, & second chances.

Brimming with heartfelt relationships and authentic high-school dynamics The Start of Me and You proves that it's never too late for second chances.

It's been a year since it happened—when Paige Hancock's first boyfriend died in an accident. After shutting out the world for two years, Paige is finally ready for a second chance at high school . . . and she has a plan. First: Get her old crush, Ryan Chase, to date her—the perfect way to convince everyone she's back to normal. Next: Join a club—simple, it's high school after all. But when Ryan's sweet, nerdy cousin, Max, moves to town and recruits Paige for the Quiz Bowl team (of all things!) her perfect plan is thrown for a serious loop. Will Paige be able to face her fears and finally open herself up to the life she was meant to live?
We loved this book with the fire of a thousand suns, and we get all jumbly inside when trying to articulate all of the things that we loved about it because there were just so. many. feels.
This book is for you if:
Something bad has ever happened to you and you just wish that wasn't the defining thing of your life.

You've ever felt the security in knowing that, no matter what, your BFFs have got your back.

You've ever lost someone that you love.

You've ever had a crush on an unattainable guy and practically died when he finally noticed you.

You've ever thought you wanted someone a lot a lot a lot and then realized that he wasn't who you wanted after all because you met his nerdy cousin who could turn out to be your soulmate/other half, then, yeah…this book is for you.
Basically, we're saying this book is for you.


The 411:
A year ago, Paige Hancock's first boyfriend died in a freak accident. Now, determined to turn over a new leaf, she decides to make her junior year the year of beginning again, starting with being more social, joining new things at school, dating (hopefully her longtime crush Ryan Chase), traveling, and conquering her greatest fear: swimming. She doesn't expect for Ryan Chase to notice her, much less become friends with her. And she definitely doesn't expect to fall for his cousin, Max Weston.
The year goes by in a flash with Paige crossing some things off of her list and realizing that maybe she's not meant to have some of the things she wished for. She experiences epic triumphs and suffers heartbreaking losses that had me sobbing in the corner. As life around her constantly changes and rearranges, one thing remains constant: the love she feels for her four best friends.
Her relationship with Max shifts from Quiz Bowl partners to something more.
Ryan Chase was my eight-grade collage, aspirational and wide-eyed. But Max was the first bit of grilled cheese on a snowy day, the easy fit of my favorite jeans, that one old song that made it onto every playlist. Pleanut-butter Girl Scout cookies instead of an ornate cake. Not glamorous or idealized or complicated. Just me.
*sigh*

What We Loved:
Can we say everything? The words, the boys, the friends, the flails.
We loved the characters so much and will talk about them more in just a sec. But, if you read this book for only one reason, read it because this is what true friendship is about. Her three best friends have a great relationship, holding each other up and encouraging each other. They're just awesome.
Before I could tell them I was fine, Morgan's arms engulfed me and Kayleigh was right beside us, pulling Tessa in, too. I could pick out their scents–the soft vanilla of Morgan's perfume and the floral of Kayleigh's hair and the spearmint gum that Tess chewed any time we were outside of school. With our arms around each other, I almost believed that strength could travel between us like the heat of our bodies. Nothing, not even sadness, could be greater than the sum of us.
This might surprise you, but we love that there wasn't instalove here. They had to work for their relationship, and that made it all feel that much more real. No doubt about it, Emery Lord is a genius. There were parts of this book that we had to read out loud to our friends. There's an argument between Paige and Max where he compares her to Jane Bennet, rather than Elizabeth. She's insulted, and he meant it as a compliment. It's our favorite thing ever, and we read it a thousand times. Max calls her Jane after that, and we seriously could not stop grinning everytime he said it. He's just so perfect! #lovethisboy

Um...Not So Much:
There wasn't anything that we didn't like. We just wanted more, View Spoiler »especially a companion book with Tessa and Ryan. « Hide Spoiler We want to see Senior year and prom and college and when Max proposes with a paper airplane and everyone helping them househunt and babies and just…more. We want more. And we want a button like JaimeArkin got *poutsforever*
We also could have stood with a little more making out at the end. *grin*

The Boys:
Max Weston. Ah, sweet, sensitive, Firefly-loving Max. He's one of our favorite boys (new top 10 list?!?), and we just loved everything about him. He can cook. He loves his mom and respects women. He's the most loyal guy ever, but he's not a doormat. And he'd rather read than party. He makes perfect paper airplanes. He's protective and crazysmart and just…gah. Paige says that he takes the award for World's Least Likely to Corrupt Your Daughter. We love that he's optimistic and helps Paige see things from a different perspective. And he's so damn cute.
"You have a type now?"

I shrugged. "Possibly."

"Yeah." He thought for a moment. "Your type is nerd."

"Maybe your type is nerd."

"Oh, it absolutely is."
We just want to squeeze him. Even before Paige realized what a total catch he is, we were definitely rooting for him the whole time. And don't get us started on how hot he was in the closet 😉
Ryan Chase. He was sweet and funny and a great guy. We loved how much of a bumbling idiot Paige became around him.
"Hot dogs are so good," I said, after what felt like minutes. What. Did. I. Just. Say?
He just charms everyone.
"What did Ryan Chase say to you?"

"Um, he said, 'Bye, Paige.'"

"Oh. Well, he totally gave you the eyes."

"I think that's just…how his eyes are."

"Dreamy? True."

The Girls:
Paige. She was vulnerable and so realistic, but strong and totally kick-ass. She makes mistakes and puts her foot in her mouth and is just authentic. She feels the things that we feel. And she read (and re-read) Looking for Alaska, which you know is (also) one of our favorite books ever.
You know we loved her friends and how they stuck together. They each brought a strength and a levity to their relationship. And they were so fun.
"Our little nerd," Kayleigh said, pretending to dab at her eye. "All grown up and competing against other nerds."
Not choosing friends, but Tessa was our favorite. She's smart and sassy and supportive, and seriously the best friend you could ever have.
"I am your best friend," she told me, avoiding my gaze. She was still on her bed, picking at her nails. "Which is why I won't let you make hair-related decisions when you're this upset."

Bottom Line:
You need this book in your life. The characters, the way Emery Lord strings together words and sentences into full-out flails and swoons, the authenticity of real kinship, butterfly-flutters of first love, and utter heartbreak–it's all perfection.

Verdict:
Rating Report
Cover
Characters
Plot
Writing
Swoon
Overall:
5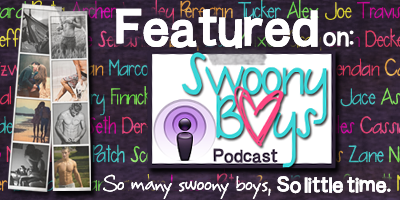 Related Posts